Kick off summer with a simple charcuterie board! Pair it with your favorite bottle of wine and you are ready to share it with your family and friends!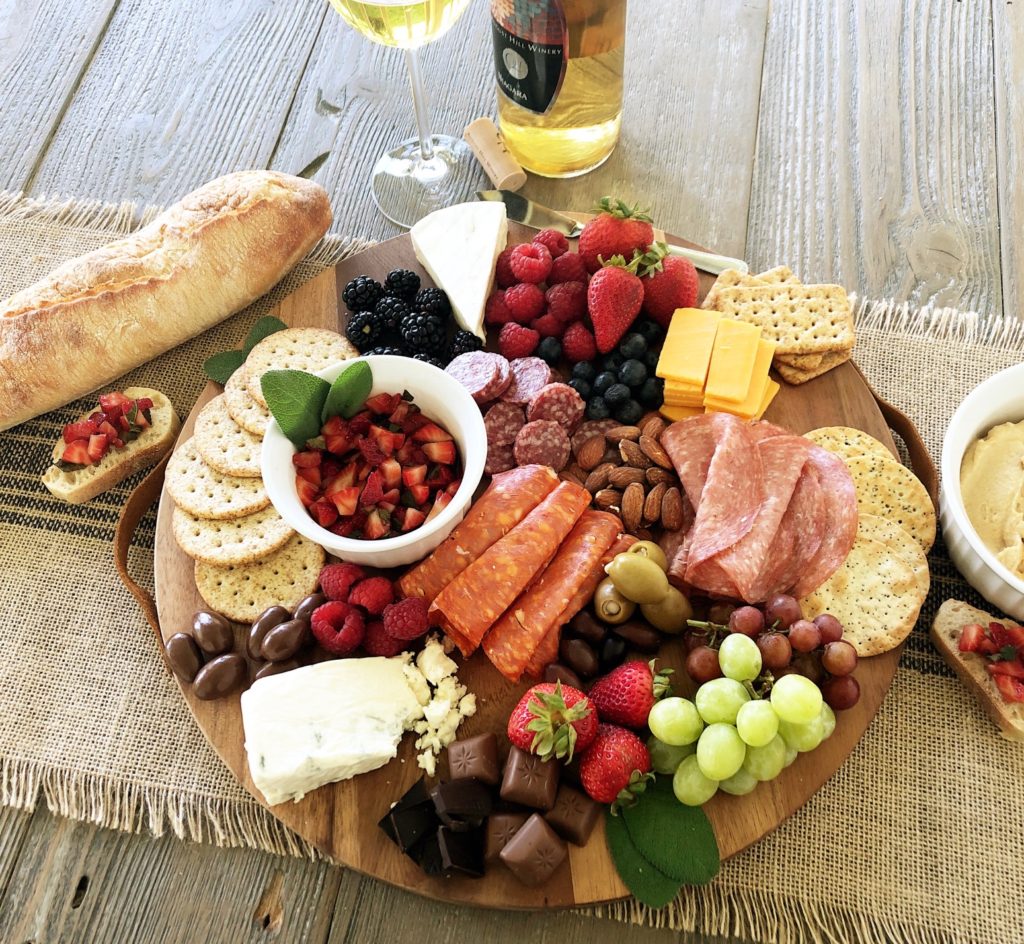 It is hard to believe that it is already summer! We spend a lot of time by the pool or at our lake cottage in the Northwoods of Wisconsin. I am always looking for an easy appetizer that is sure to be a crowd pleaser.
A charcuterie board seems to be the answer! They are easy to put together, yet look (and sound) sophisticated. There is something on it that everyone at your party will like, absolutely no cooking is involved, and it is the perfect focal point for the table. You can even assemble it ahead of time for less stress.  Oh, and did I mention a bottle of wine is the perfect complement to a charcuterie board? Sign me up!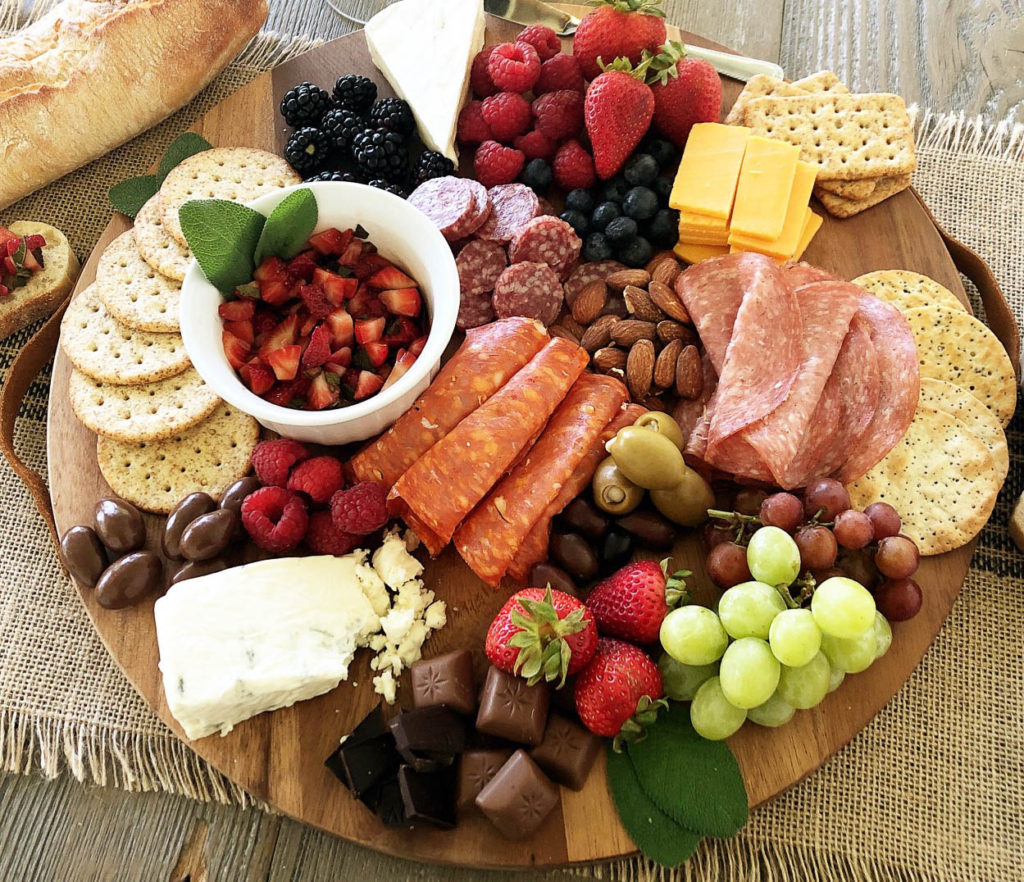 For this charcuterie board, I used fruit that is in season for the summer. Strawberries, red raspberries, blueberries, grapes and black raspberries placed on the board bring the perfect amount of added color. I also added a fresh strawberry bruschetta that is to die for! It pairs perfectly with fresh, crusty bread and a glass of white wine.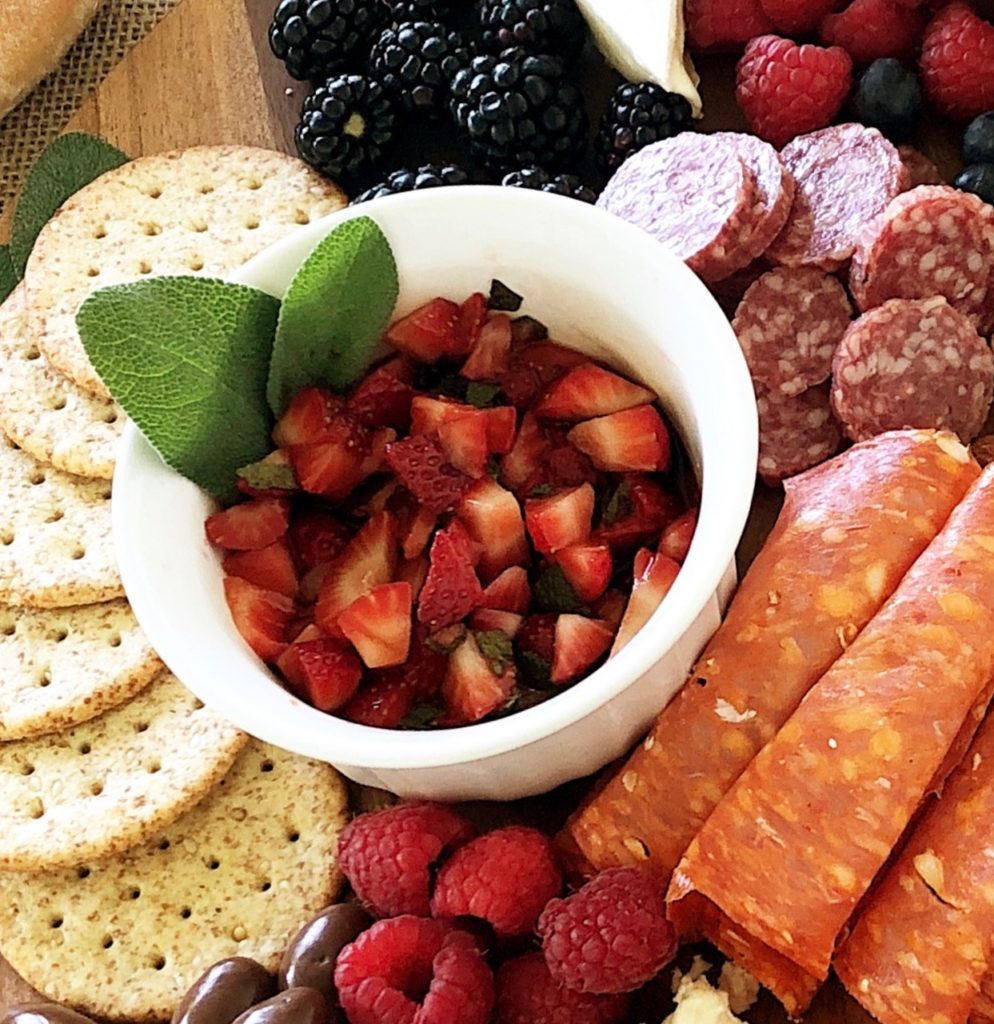 An assortment of cheeses is a must for a charcuterie board. A soft cheese, like Brie, along with an aged cheddar, and a stronger cheese, like feta or blue cheese, help to add a variety and ensure there is a cheese to please everyone.  I also placed some garlic hummus near the board, for an added element sure to satisfy everyone's taste buds.
Of course, you have to have some charcuterie to make it a "charcuterie board"! For this board, I used pepper salami, hot calabrese, and dry salami. I also added some kalamata olives and bleu cheese stuffed green olives.  I placed almonds, as well as some dark chocolate and chocolate caramel covered sea salt almonds.  These are so good! They didn't make it home from the grocery store without me sneaking a few for the car ride home. They are that good!
Throw in some crackers, a fresh baked baguette and a bottle (or more) of wine and you have the perfect summer charcuterie board bound to please all! So easy, yet so good!!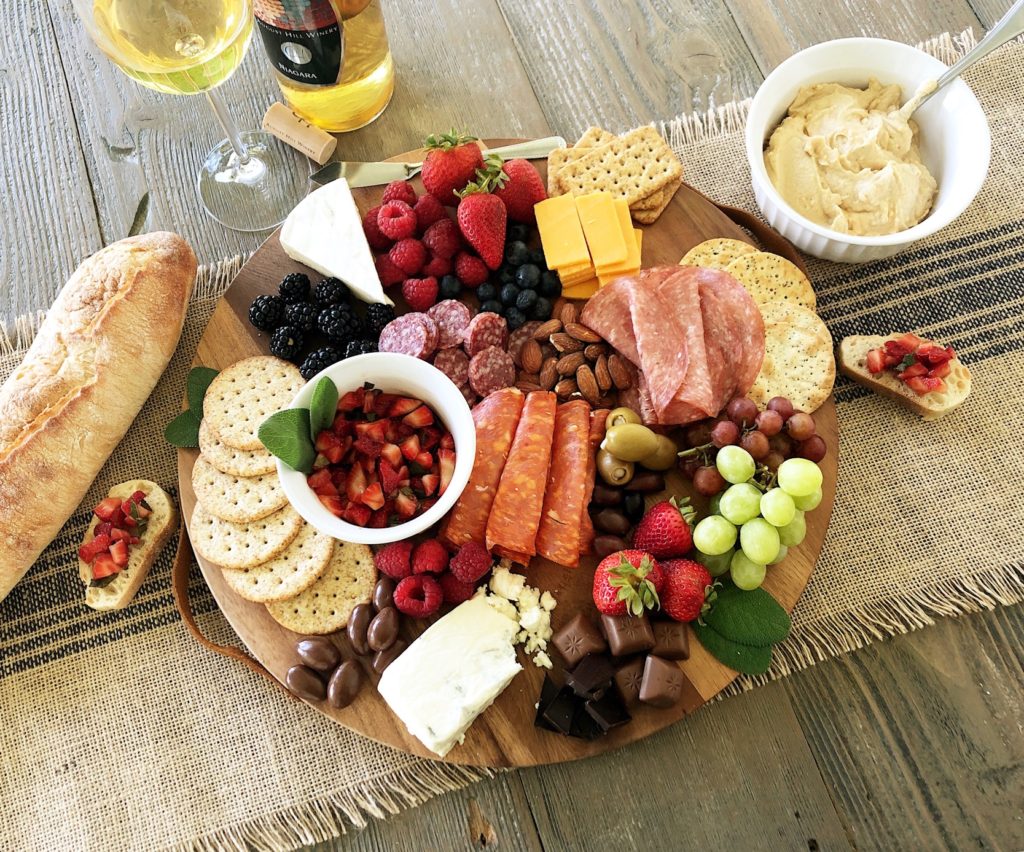 Hopefully you have been inspired to make your own charcuterie board that is sure to impress!  It is the perfect centerpiece, and all your friends are sure to enjoy munching on it, surrounded by great company, while sipping wine!
What is your favorite crowd-pleasing appetizer?
-Callie