Summer is here!  That means that we spend our days running from park to splash pads, a quick trip to check out the animals at the zoo, rushing to practices and backyard barbeques.  We are always on the go!  Sometimes we make a last-minute decision to take the boat out for a day on the river, or even just to go grocery shopping.  It seems that inevitably almost every day I wish I had something in the car that I had forgotten.  I came up with a Summer Car Kit to leave in the car to eliminate that problem!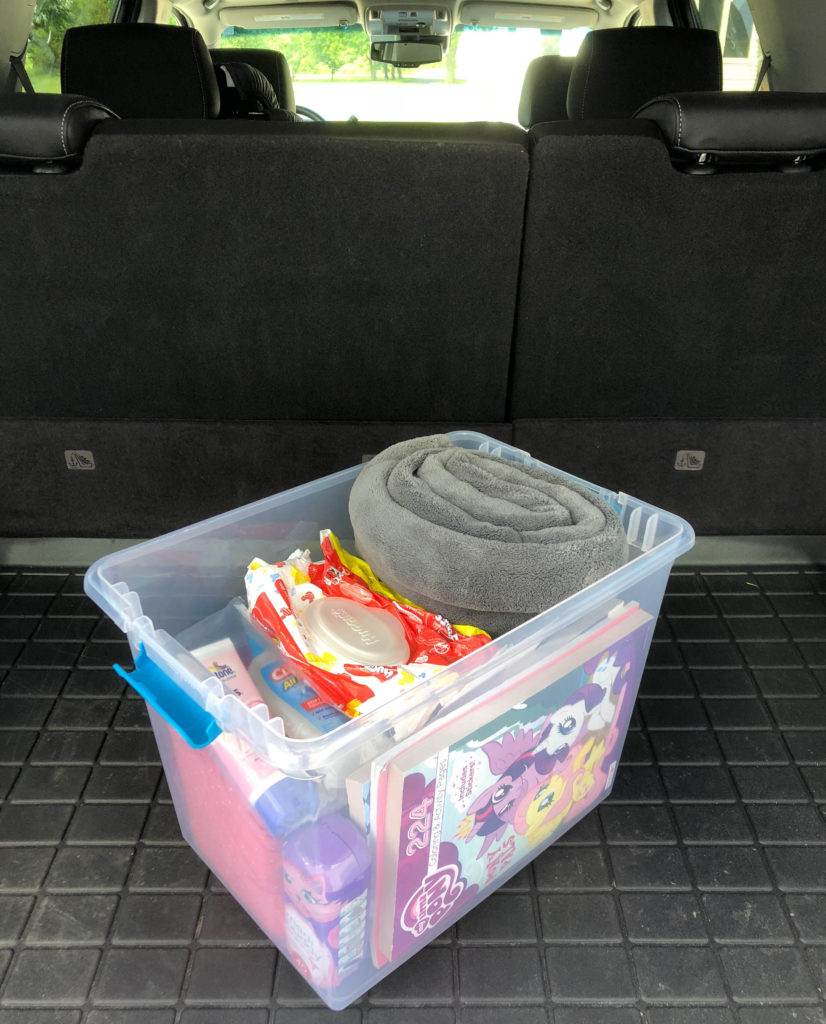 I will share with you what I have included in my Summer Car Kit.  You can customize yours to fit your needs!  I have younger kids, so mine is geared towards them.  Feel free to swap out or add any items that you think you will need.
I grabbed a clear plastic tote with a lid to hold everything that we needed.  Now to fill it with what we need!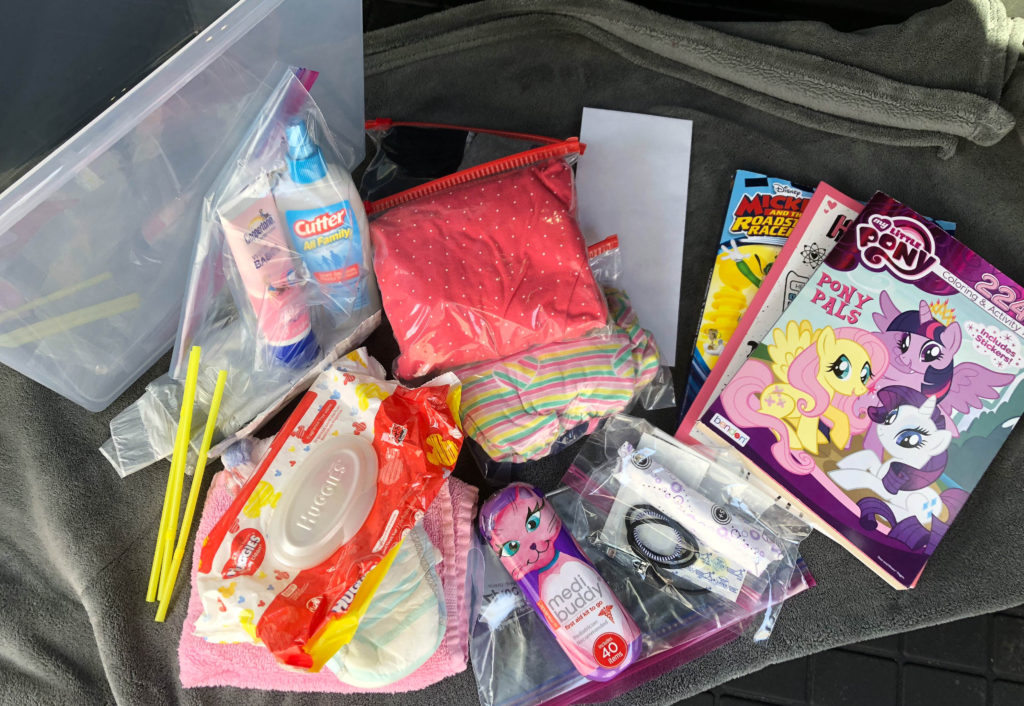 Blanket – This can double as a picnic blanket, or to keep warm when evenings are a little chilly
Extra Set of Clothes – I have an extra set of clothes for each one of my kids in their own Baggie.  Whether they spill in the car or get wet at the splash pad, we are ready!
Sunscreen – This one is an important one for summer!  I put mine in a Baggie, in case a little bit squeezes out so that it does not make a mess all over everything else
Bug Spray – In Illinois, there are always mosquitoes waiting to attack!  I have bug spray ready to fight them off.  This is essential for those nights at the baseball diamonds or an afternoon at the park
Baby Wipes – Essential to wipe off sticky hands and faces full of ice cream
First Aid Kit – The kit that I have has antiseptic pads, various sized bandages, gauze, and stickers.  Everything that you may need to help clean an owie!
Coloring/Activity Books – These come in handy to entertain the kids when one is at a practice or playing a baseball game.  Just make sure NOT to include crayons, as they will make a mess if they melt!!
Garbage Bag – If you have wet or dirty clothes or stop for an impromptu picnic at a park that doesn't have garbage cans, an empty garbage bag will come in handy!
Pull-Up – I have a toddler that still wears a Pull-Up to bed.  So I included one in case we stay somewhere late and he may fall asleep on the way home.  If you have a little one that is still in diapers, a swim diaper may be another item you want to include in your Summer Car Kit
Hair Ties – On a hot and humid day, you may want to pull your hair up.  So I threw in a few hair ties for those times!
Band-Aids – I know there are Band-Aids in my First Aid Kit, but my kids really like their character Band-Aids.  Seems like they can cure anything!  So I have a few of those in, as well
Towel – I have an old towel/rag.  If the kids' feet get dirty from playing, it is nice to have one to wipe them off before getting in the car.  Or, if your toddler decides to hide in the back seat and go potty all over it, it will help to clean that up too (yes, I am speaking from experience)
Money – I keep an envelope with some cash.  You never know when you will stop at a little ice cream shop that does not take plastic!
Random things – I also have a tampon and straws.  Straws may seem odd, but have you ever gone through a drive-thru and drove away, only to find out one of the kid's straws was not in the bag?!?  Instant hysterics for the kid!  So, that is one thing I have thrown in as a just-in-case.
That is what I have in my Summer Car Kit so that we are ready for any summer adventure!  What would you include in yours?
XOXO,
Callie