Thanksgiving is almost here!  Make Thanksgiving a little more special for the kids by setting their own simple and fun Thanksgiving table with fun-filled activities and décor geared to entertain them.
Thanksgiving is a day you spend a little extra time and attention on the table settings, pulling out your best china and linens, lighting candles, and decorating by placing pumpkins and other fall decor to make sure the tablescape looks as special as Thanksgiving Day is.  Of course, oftentimes the kids' table gets overlooked.  A card table with some folding chairs quickly gets thrown up, and you grab whatever mismatched plastic plates you have for the kids to eat their Thanksgiving feast off of.  This year, let's change that!
I have put together a fun Kids' Thanksgiving Table that is sure to keep them busy while you are finishing the final preparations on the Thanksgiving meal.  This table may even leave some of the grown-ups wanting to join the kids this year! ?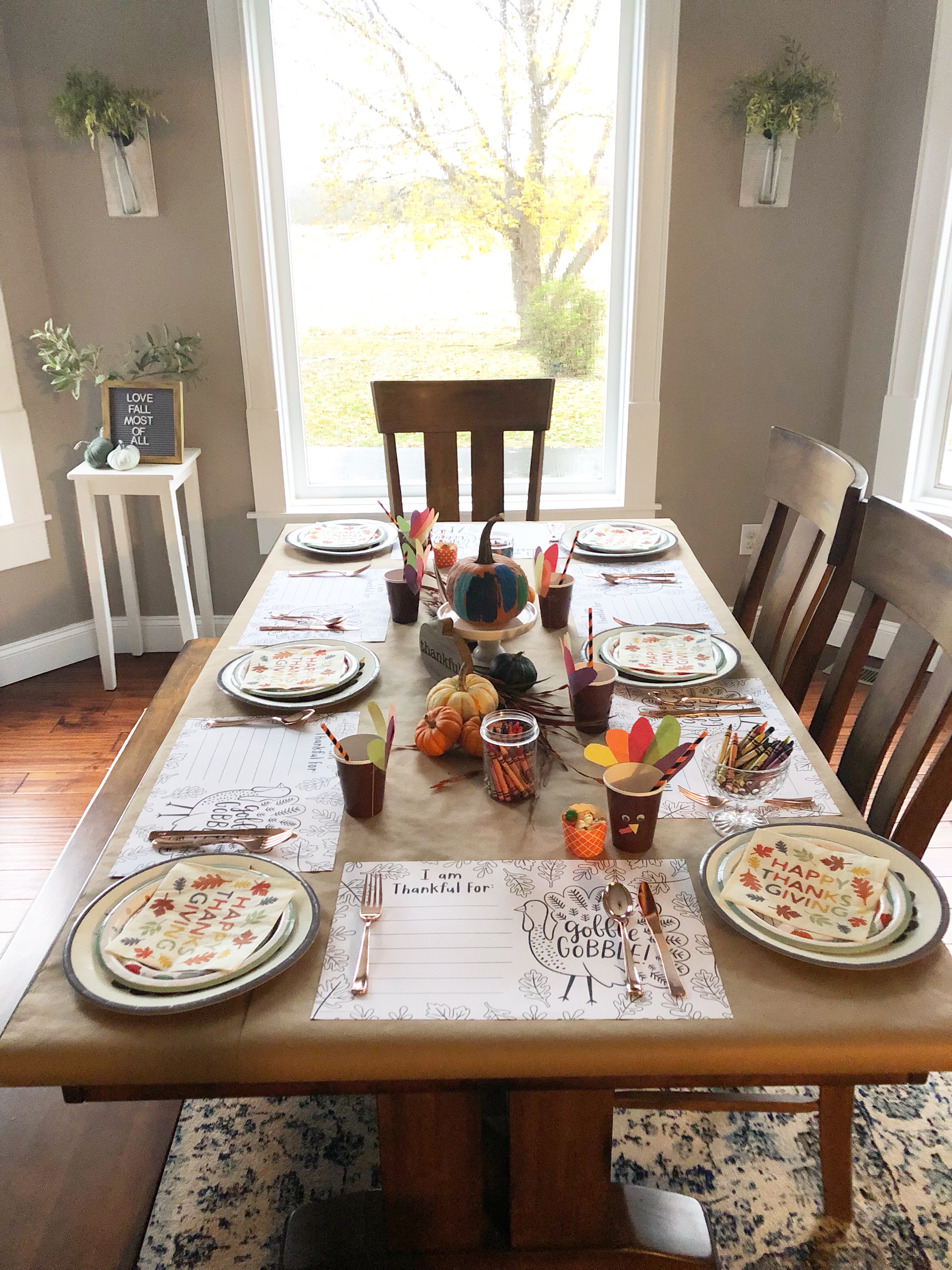 Start by covering your table with brown craft paper, wrapping paper or butcher's paper. This is an inexpensive alternative to a tablecloth, and it can then be thrown away afterwards. Also, it is perfect for the kids to draw and doodle on or even play Tic Tac Toe.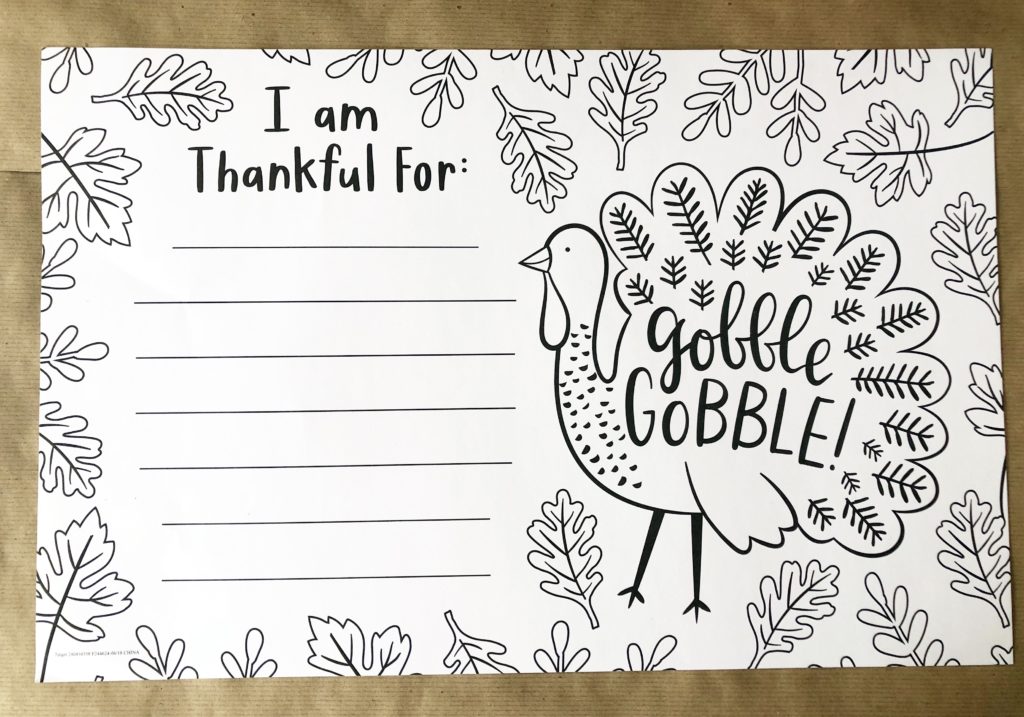 These placemats that I found at Target for $3 are perfect for a kids' table! They can color them and then fill in what they are thankful for.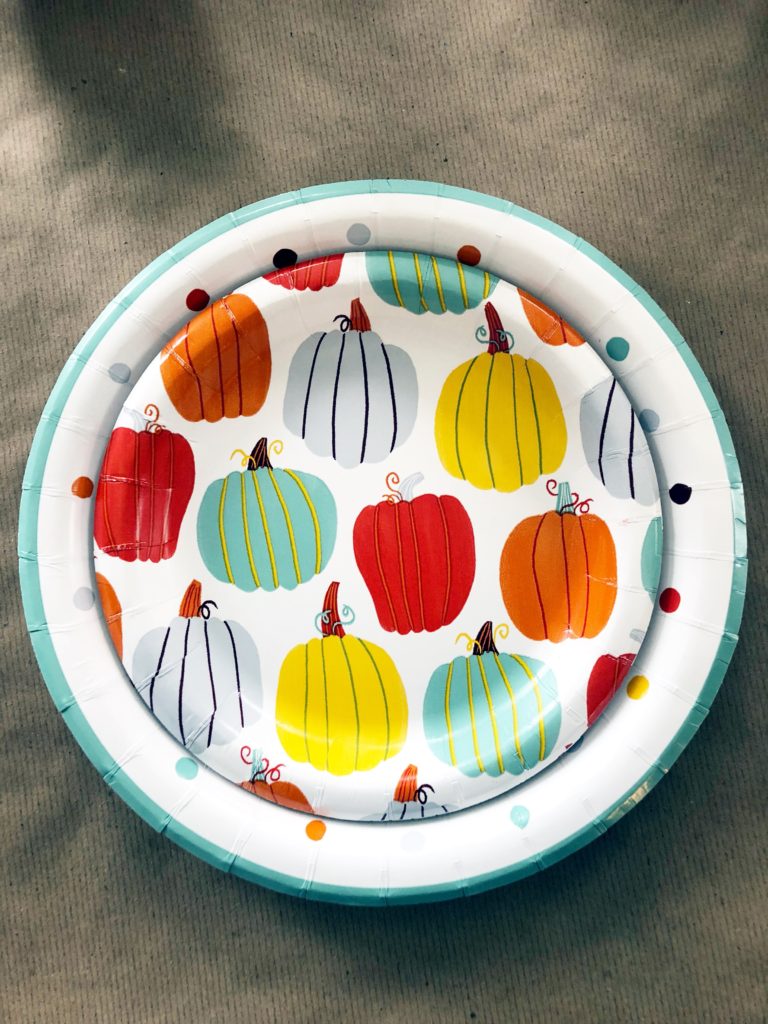 A perfect alternative to mismatched plastic Frozen and Paw Patrol kids' plates that you have in your cupboard is using paper plates that are Thanksgiving themed. They add color to the table, and then are an easy clean up. I placed all the plates on top of each other and to the side of the place mat while the kids are coloring and until dinner is served.
The turkey plate is perfect for the main course, while the polka dot plate serves as a charger for the dessert plate, which has colorful pumpkins, and also doubles as an appetizer or salad plate.
These gold plastic silverware sets are also perfect to make the kids feel fancy ? and, once again, helps to make the clean up of the kids' table a breeze.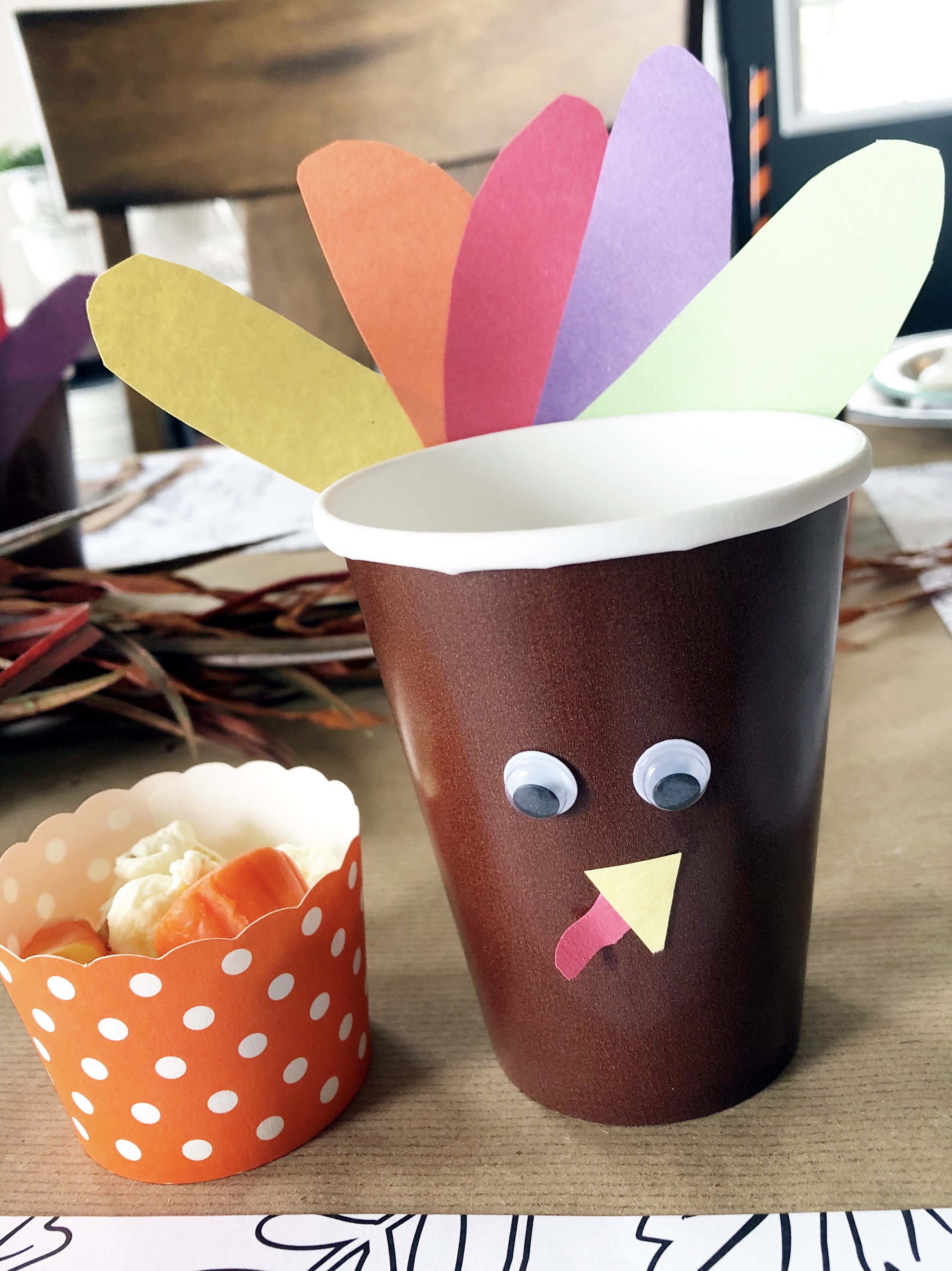 How fun is it to drink out of turkey cups?!? The kids loved to help make these! They used construction paper to cut out feathers, and just taped them to the back of the cup. Then used construction paper for the beak and snoods (yes, I had to Google 'turkey hangy thing' – which apparently I am not not the only person that has had to, because it popped right up on my search! ?), and glued those on. They also glued the eyes on. Add a fun straw, and the kids are super excited to drink out of these cups.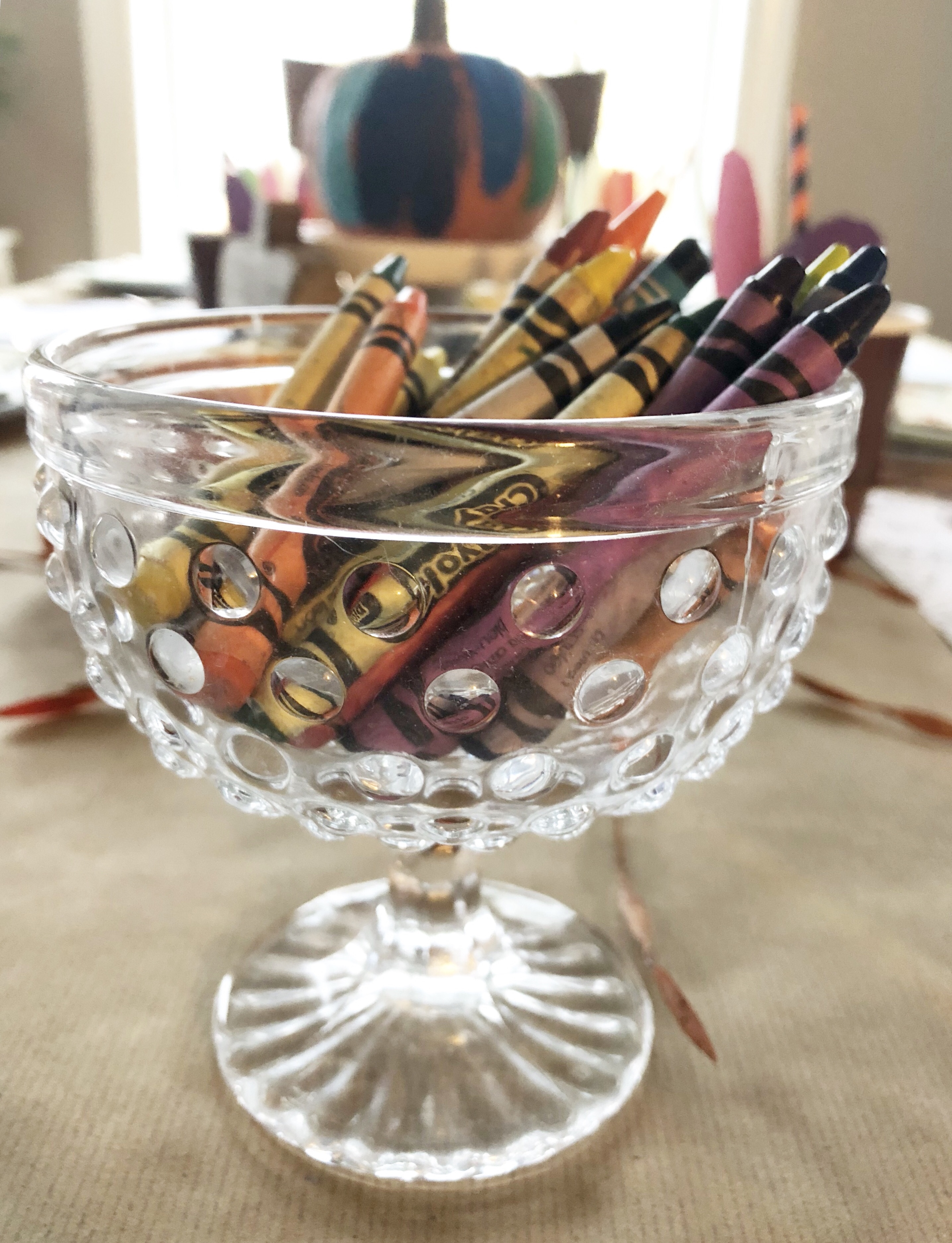 Crayons placed in different containers on the table make it easy for the kids to grab and color their masterpieces ?‍?
** Tip: if you do not want a mess on clothes and hands or faces, stick to the crayons and do not use markers!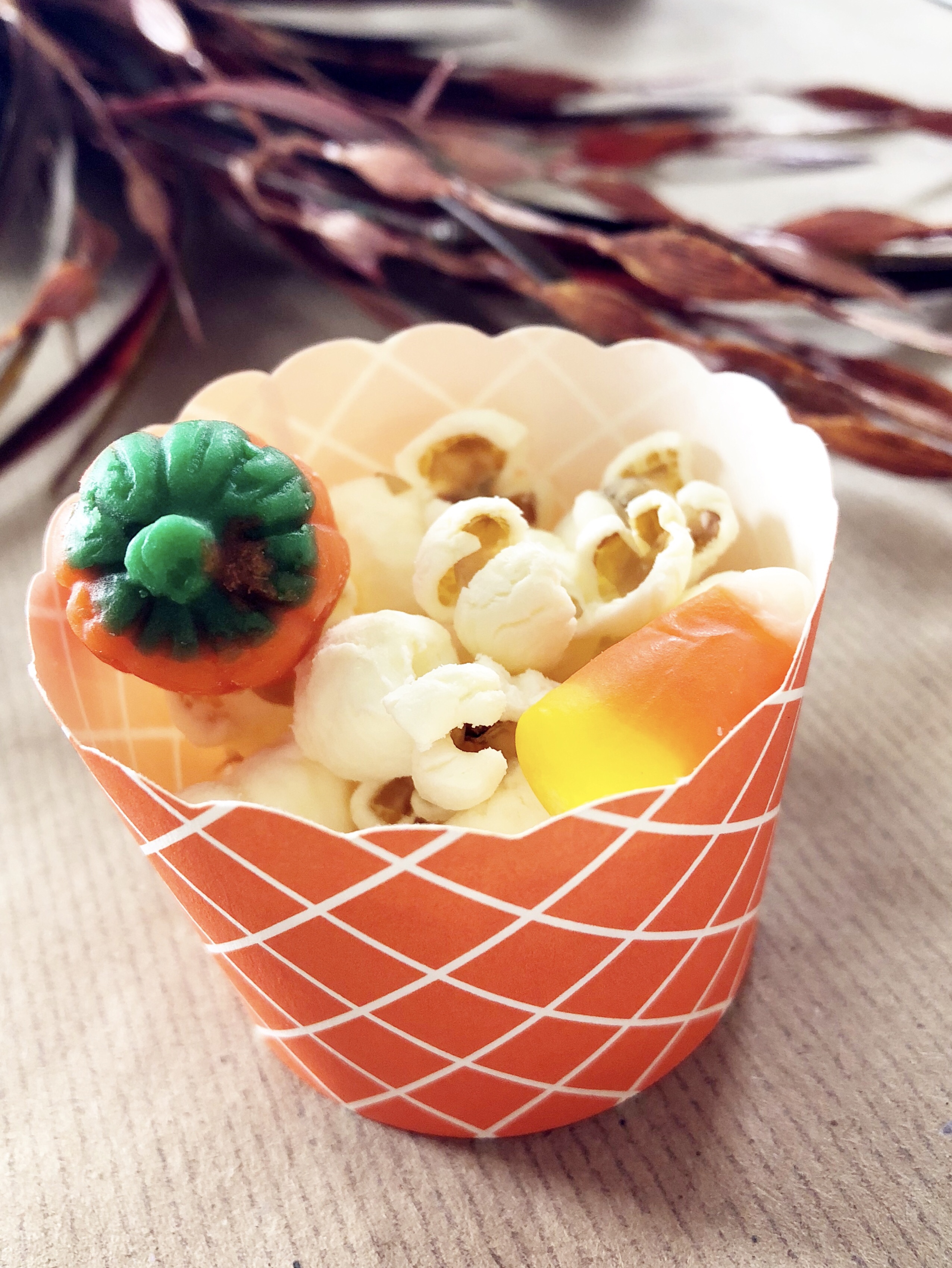 To add a little color to the table, I added small cups filled with popcorn and a couple pieces of candy corn for the kids to munch on while coloring. If you don't want to ruin their appetites, add veggies and ranch to the cup as a healthier alternative. My opinion though, it's one day of the year that it is okay to eat what you want … and wear stretchy pants! ?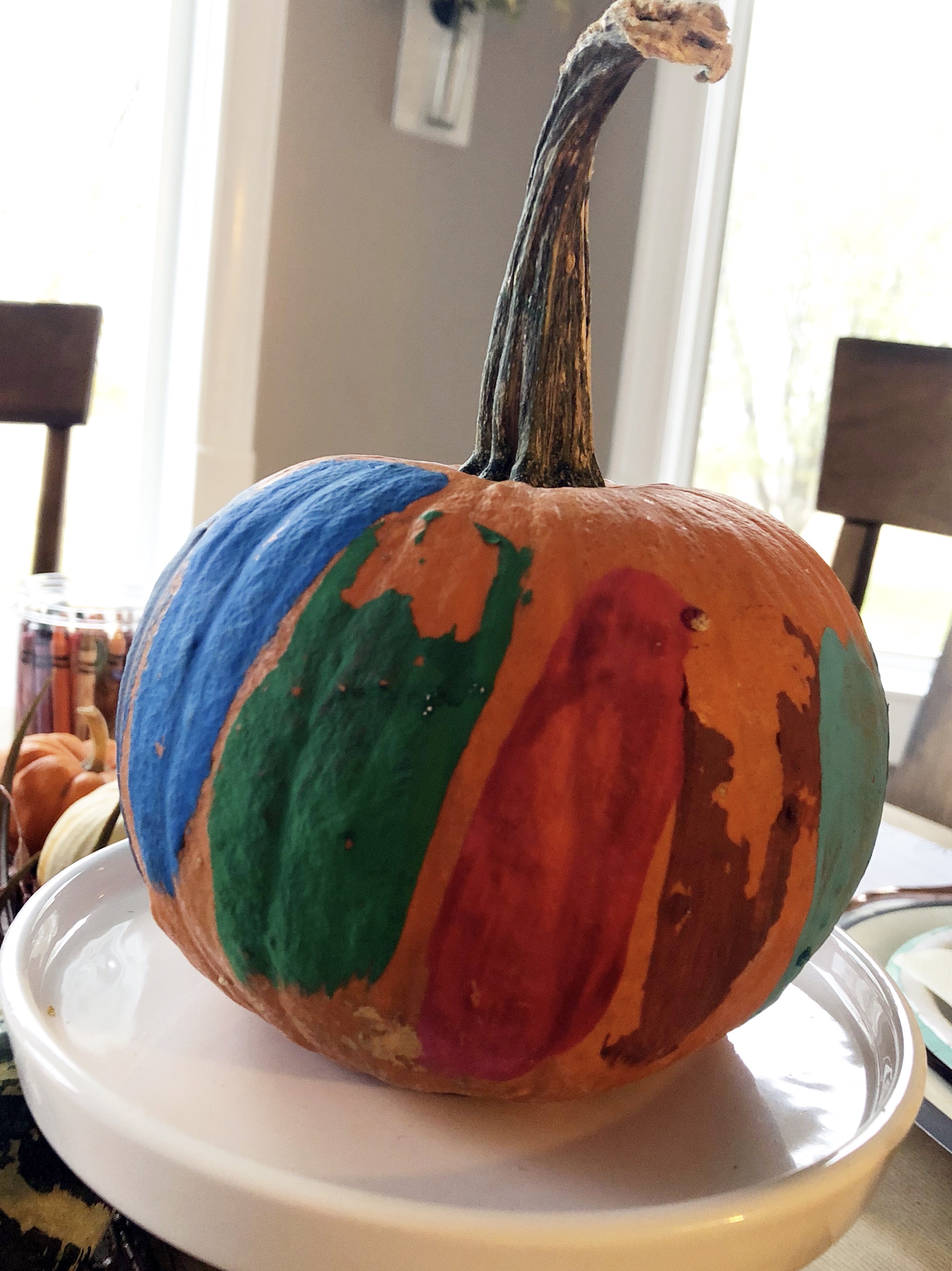 A Thanksgiving kids' table should be fun for the kids. Plan on using what you have around the house to decorate. My 3-year-old painted this pumpkin, and it adds the perfect amount of color for the centerpiece at the kids' table.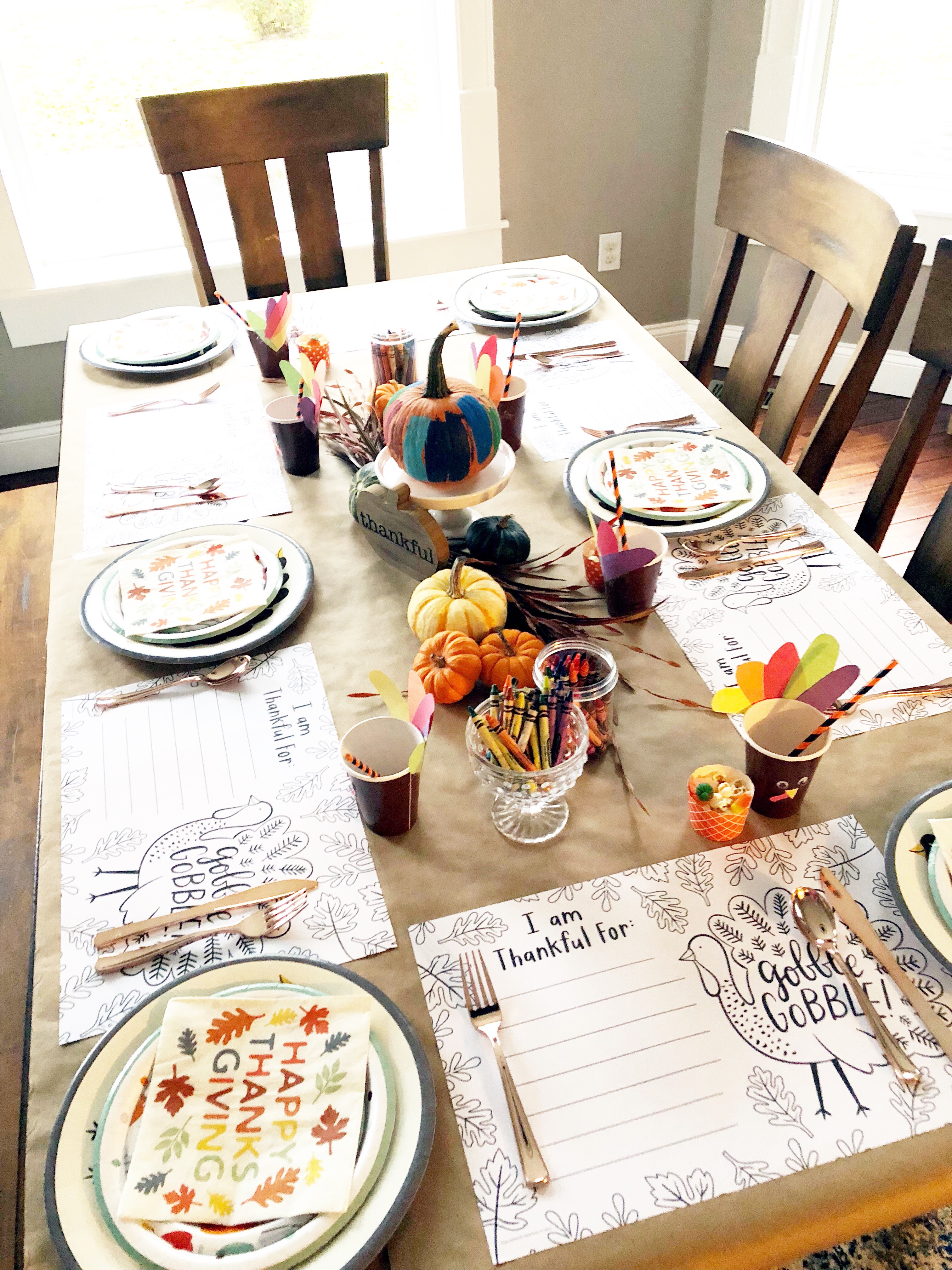 I hope I have inspired you with ideas to make a simple and fun kids' table for Thanksgiving!
-Callie