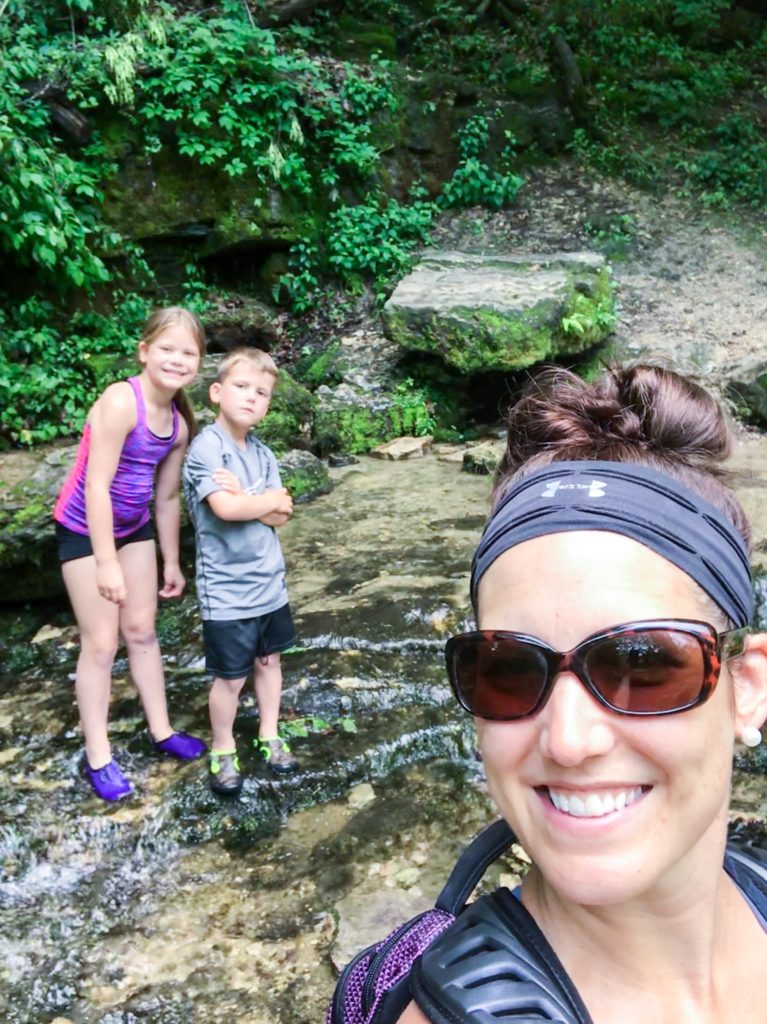 So last summer was the first summer the kids were home with me everyday of summer break.  It was awesome (no more daycare payments!) and exhausting (trying to keep them entertained, without fighting, and get anything done around the house?!?!) at the same time.  Within the first couple weeks of break, a Facebook friend had shared pictures of taking her children on a hike to nearby Franklin Creek State Natural Area. They were on trails and in the water and it looked like they had a blast. I wanted to take my kids!
The next day, we packed lunches, dressed in old clothes and tennis shoes, threw some snacks and water in a book bag and headed off.  We were only slightly unprepared…let's just say the fact that we were the only ones at the natural area that day and the fact that we were only about 15 minutes from home made stripping the kids out of their wet clothes without anything to change into for the ride home a little easier!
The extent of my hiking experience growing up was pretty much limited to the 5 days spent at 4-H camp in the summers. We were so excited to go out, not much thought was given to what we might need.  Throughout the last year we have gone hiking a handful more times at places like Starved Rock State Park, Castle Rock State Park and Matthiessen State Park (our favorite location so far).
The list of 9 items below is one that will ensure a fun filled day and still allow you to be put-together-enough to be seen in public when you are done!
1.) Clothes and shoes you don't mind getting muddy with a change of clothes and shoes for when you finish
It can get pretty muddy out on hiking trails, especially after a good rain.  An old pair of running shoes works perfectly.We usually hike around 3 – 4 miles total so it is important you have something comfortable and supportive.  My kids have also done old tennis shoes or this last time we went to Franklin Creek, they wore a pair of water shoes.  They were both glad they wore their water shoes (similar to these) so they didn't have to walk around in wet socks!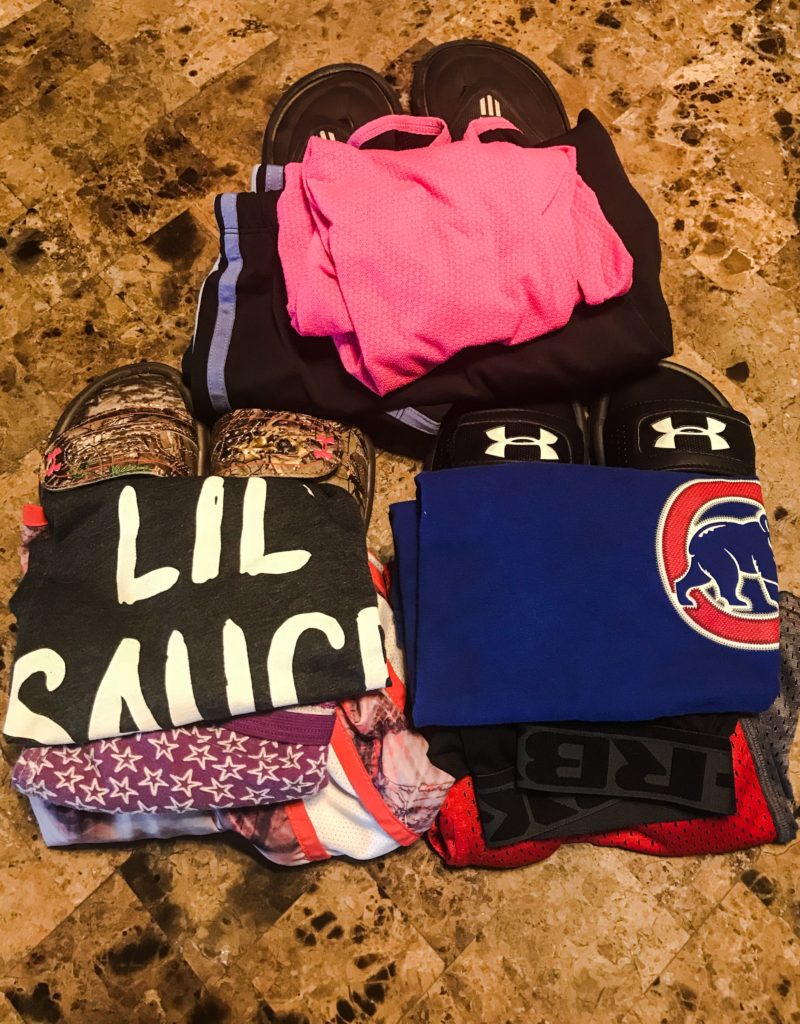 For after the hike, you need an extra t-shirt and shorts with undies and sandals as well.  The first time we went to Franklin Creek, we did NOT do this.  Wading across the spring and playing in the spring were a blast but resulted in being soaked from the waist down by the time we were done!  When we got back to the car they were over their wet clothes and who wants kids sitting in wet clothes in their car seats?!  Luckily there were a couple extra adult t-shirts in the car that they were able to throw on but no extra shoes.  They had to ride home with no undies in a big t-shirt, haha!
When packing the clothes up, put them in a Wal-Mart bag.  This serves a double purpose of keeping everything together on the way there but then when you need to take anything wet off, it can all go in the Wal-Mart bag and not get anything else wet!
2.) A Back Pack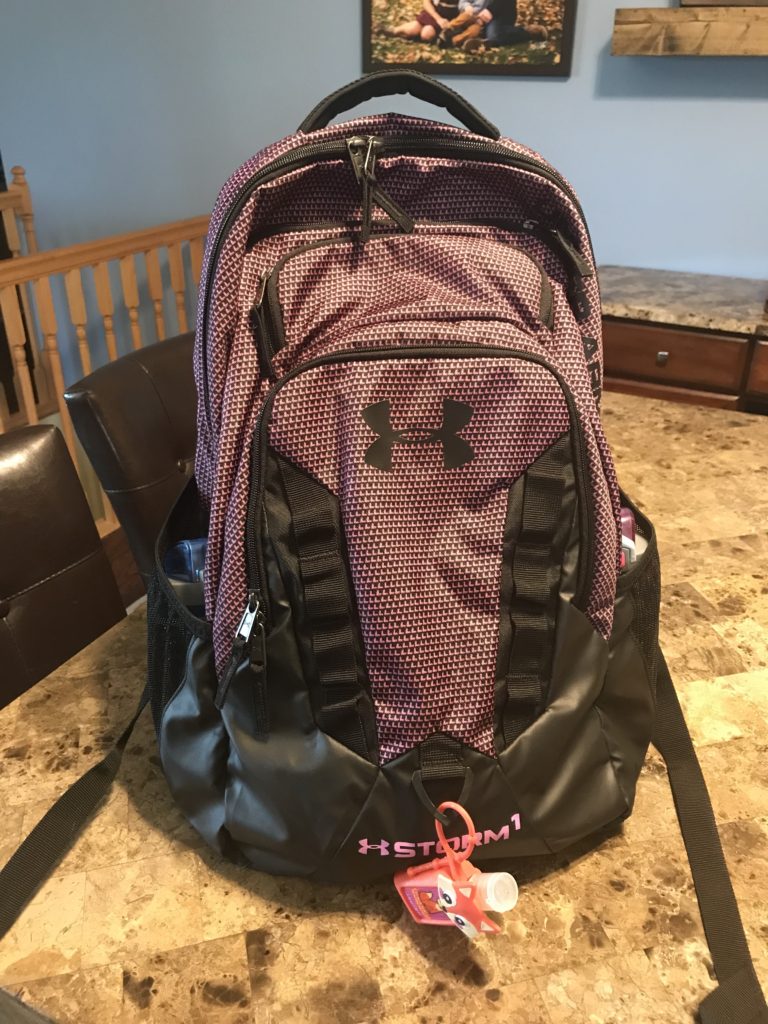 If the kids kids are young, consider taking one back pack for the whole group. A bag with multiple compartments is great to do things like keep snacks separate from sunscreen. This Under Armour Recruit back pack has a small compartment right above the symbol that is the perfect size for a phone.  It makes it easy to keep your phone put away when needed but then quickly get it out for photo opps.  The bag is made of water-resistant material too so it can withstand an occasional splash that is bound to happen.  The bag also has two netted pockets on the sides that are perfect for the kids water bottles.  They can just walk up to the back pack, take their bottle out, drink, and replace it when they're done without having to come to a complete stop and dig through the bag to find their water bottle.
If you look closely at the above picture, you can see the little fox hand-sanitizer holder hanging off the front of the bag.  When you are out on the trails, there are bound to be some trips and falls or just touching of less than desirable things so when it comes time for a snack (or lunch), it's nice to be able to clean your hands off first.
4.) Snacks
Is it just me or are kids always ready for snack time, no matter when the last time they had a meal!  Snacks that don't need to be kept cold and are single serving packs are great. Applesauce pouches are super convenient (my kids have been loving the Mott's unsweetened cherry flavor lately) and some different versions of granola/fruit & grain bars (love the Key Lime Larabar)  Abbi wanted a Mixed Berry Fruit & Grain bar and Cooper wanted a Peanut Butter Chocolate Chip Annie's granola bar.  Too bad we don't have any options around here…lol! Making up different trail mixes as well and putting them into small Tupperware containers is also a good option and more environmentally friendly. No garbage!
5.) Sunscreen
Most of the time when we are hiking, we are in shaded areas, but no one likes a sunburn, especially for the kiddos, so you should always bring sunscreen.  This summer we tried the Bare Republic brand and have been loving it.  It is a barrier type of sunscreen made with mineral active ingredients, not chemicals, so its good for us and the environment as well!  Depending on where you go, you may want to slather up before heading out.  It is supposed to sit for 15 minutes before sun exposure.
6.) Bug spray
Being eaten alive by bugs is no fun (my kids get huge welts when they get bitten by a mosquito, poor things) so bug spray is a must. I prefer a natural bug spray but in a pinch (when you can't find the one you're looking for) the Cutter will work. This is especially recommended if you have had a lot of rain recently.
7.) Reusable water bottles
A water bottle that will hold enough water to get you through your hike is SO important!  This Camelbak one currently is my favorite and it has lasted me almost 2 years now. And these from Bubba brand have been my go to for the kids.   No straws or special valves to clean!
This small microfiber cloth can come in really handy when hand sanitizer won't do.  Just get it wet and wipe down whatever needs to be wiped down and and feel confident yucky germs have been taken care of.
9.) Beach Towel
This will come in handy when you get back to the car to be able to dry off a little bit more before putting dry clothes or shoes on.
Now pretty much everything mentioned above will fits nicely in a back pack along with keys and a phone. Extra clothes and towel can be left in the car. Stopping at the welcome center of the park or visiting a billboard to see if they have any paper maps is beneficial. It helps to feel more confident out on the trails and the kids like to help read them as well.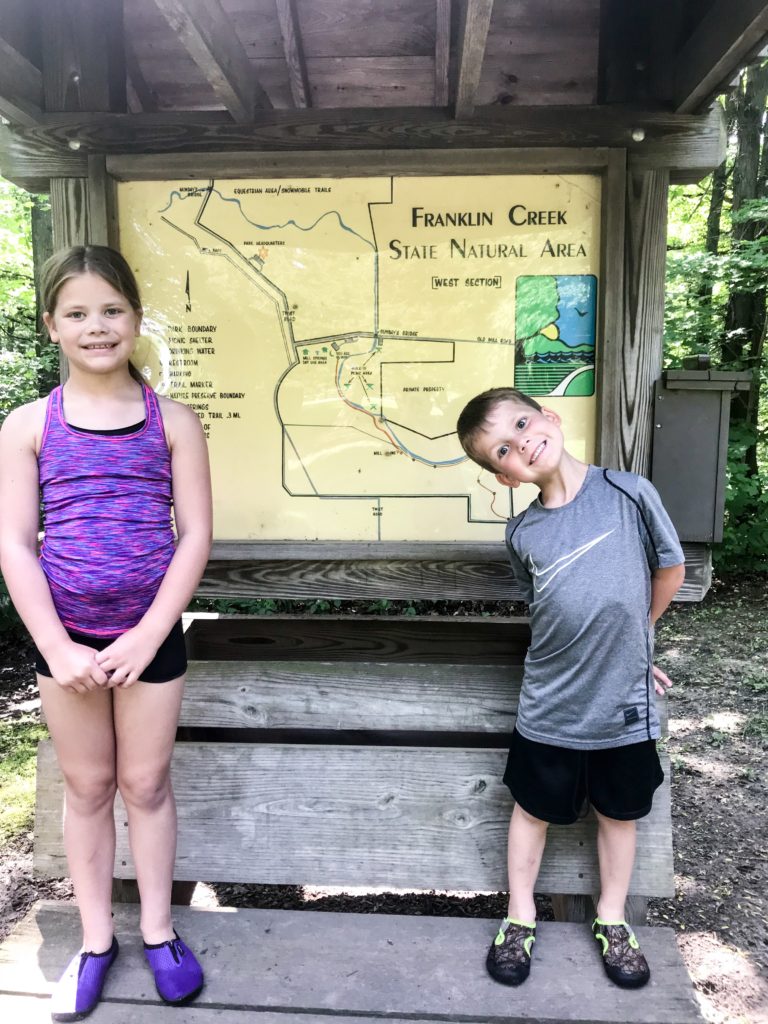 Of course the last time we went, there were no hand-held maps left in the little box over Cooper's left shoulder. If you find yourself in that position, look up the map online and screen shot it, in case you lose reception out in the wilderness.
So here are some pics from our most recent hike. They love leading the way.
And we made it to the spring!  They call it the waterfall 🙂 They love just playing in the water there.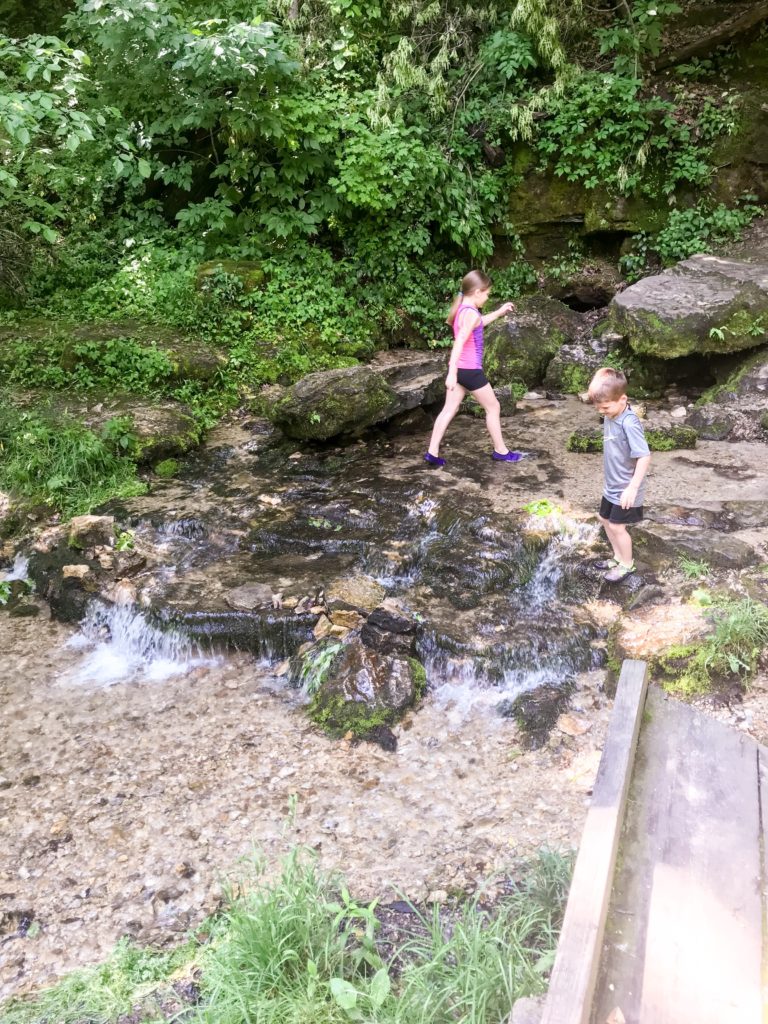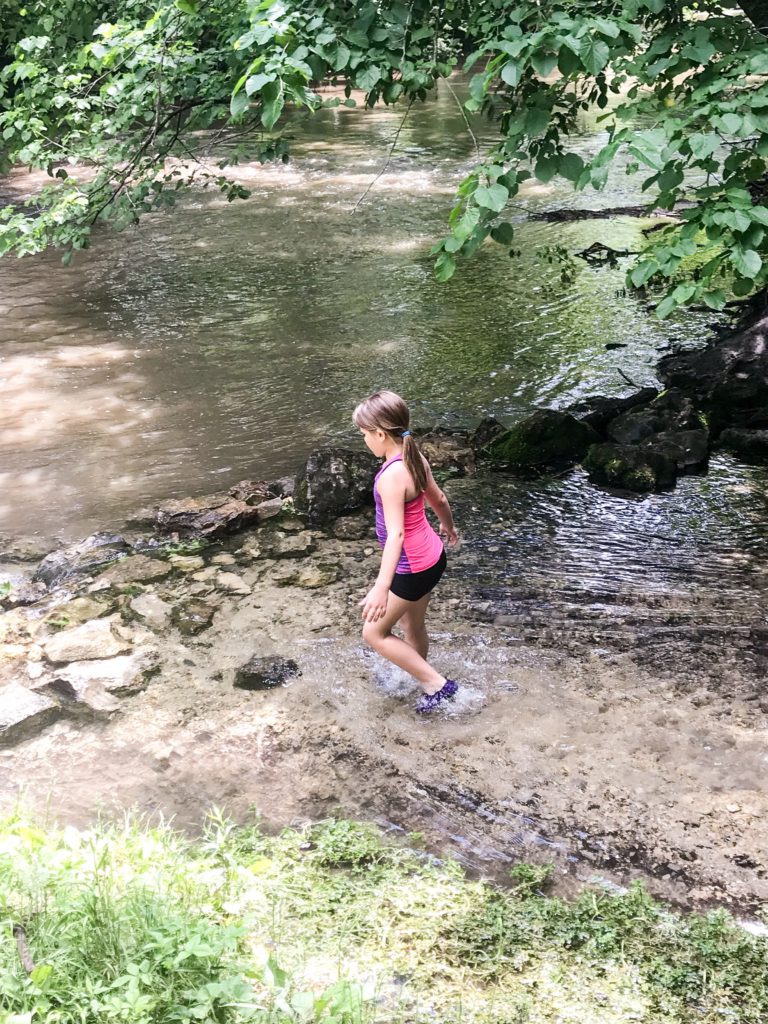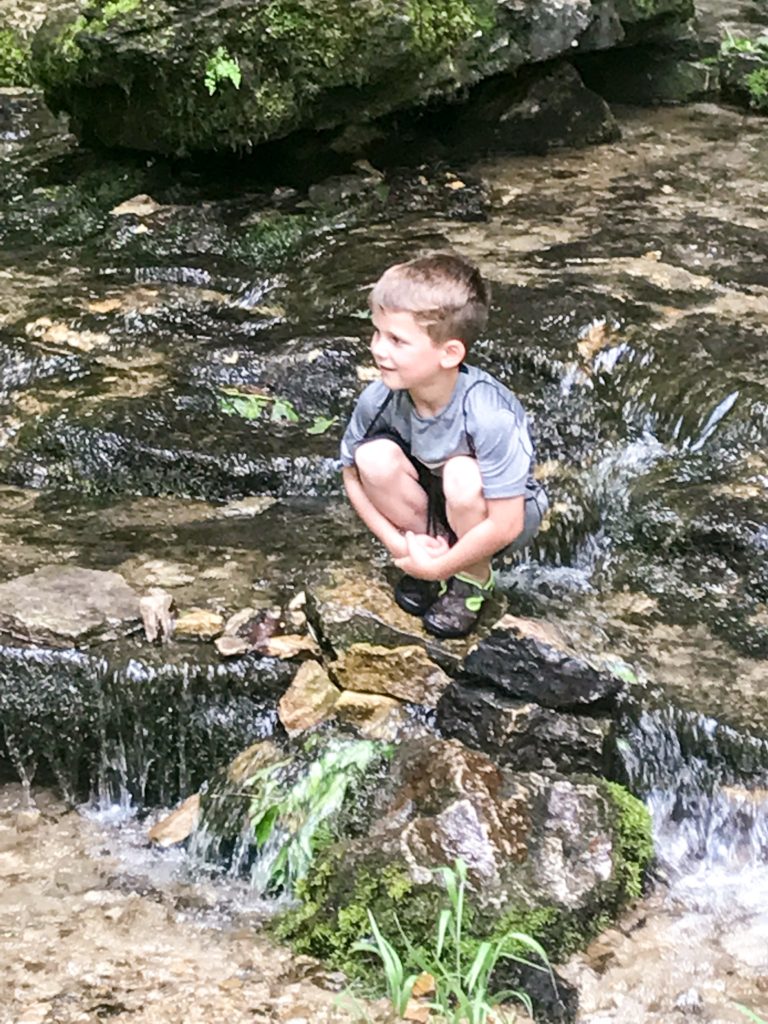 Once we got a ways into our hike, things got interesting…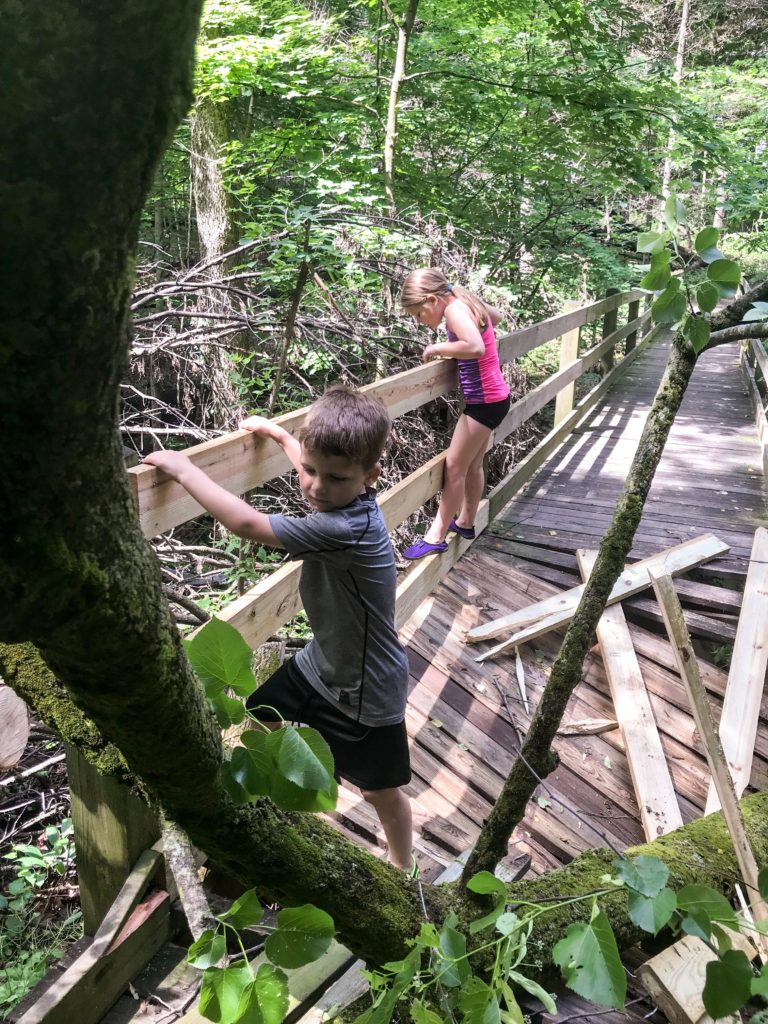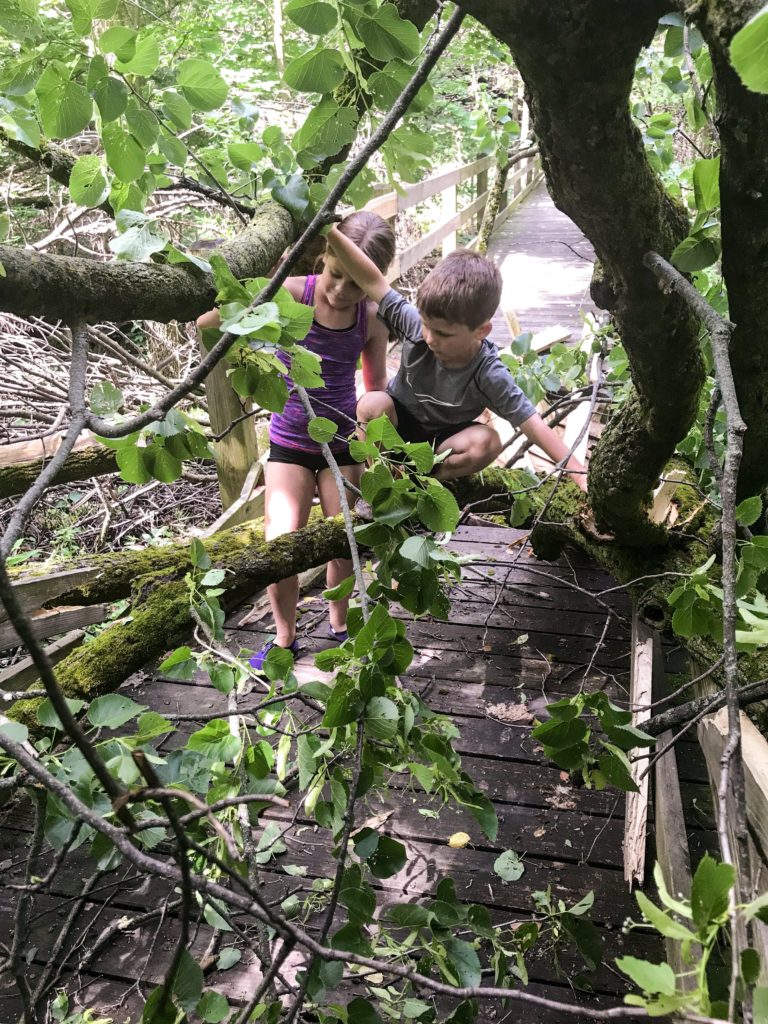 They loved it. "It's like American Ninja Warrior, mom!"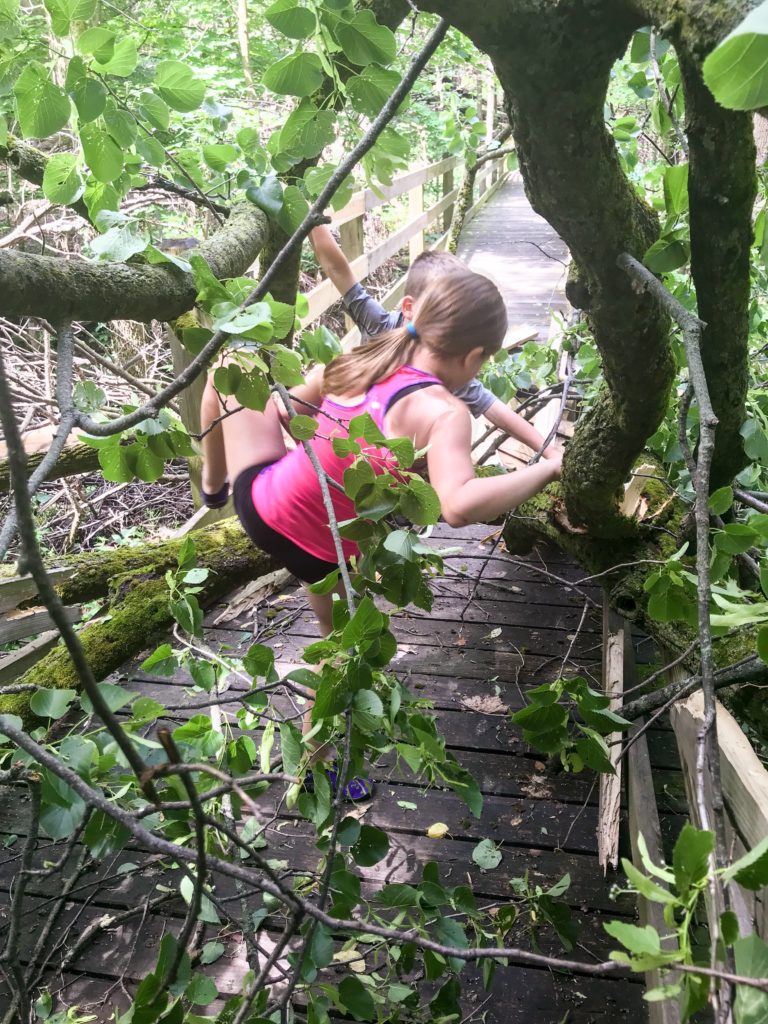 And we found a friend on our way back!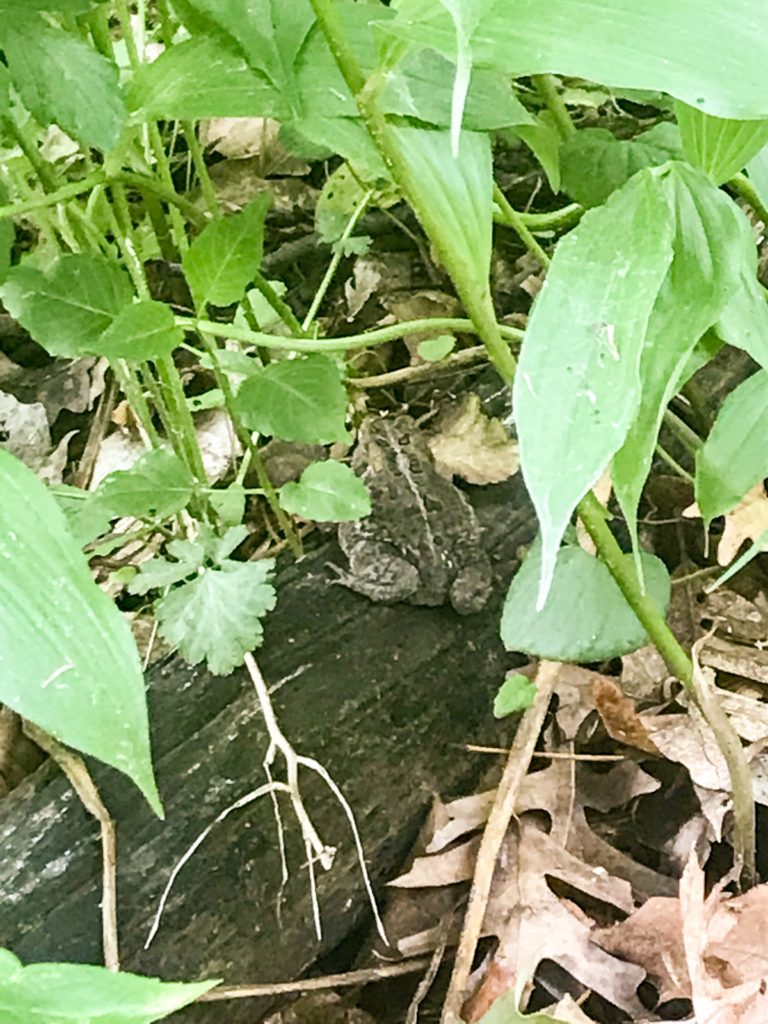 Since it had rained so much the day before, it was unsafe for us to cross the creek. They, of course, were bummed but the water was moving pretty fast so sometimes you gotta be the bad guy!  When we got back to our car, we just had to take our wet shoes off and then we were ready to have our picnic.  The kids love to do picnics when we go hiking.  You can do your picnic before or after your hike depending on the time of day you head out. Sandwiches, a mini cucumber, and a mix of berries were on the menu that day. We sat and ate (after using our hand sanitizer, of course!) in the shelter and it was a perfect way to end our hiking adventure for the day!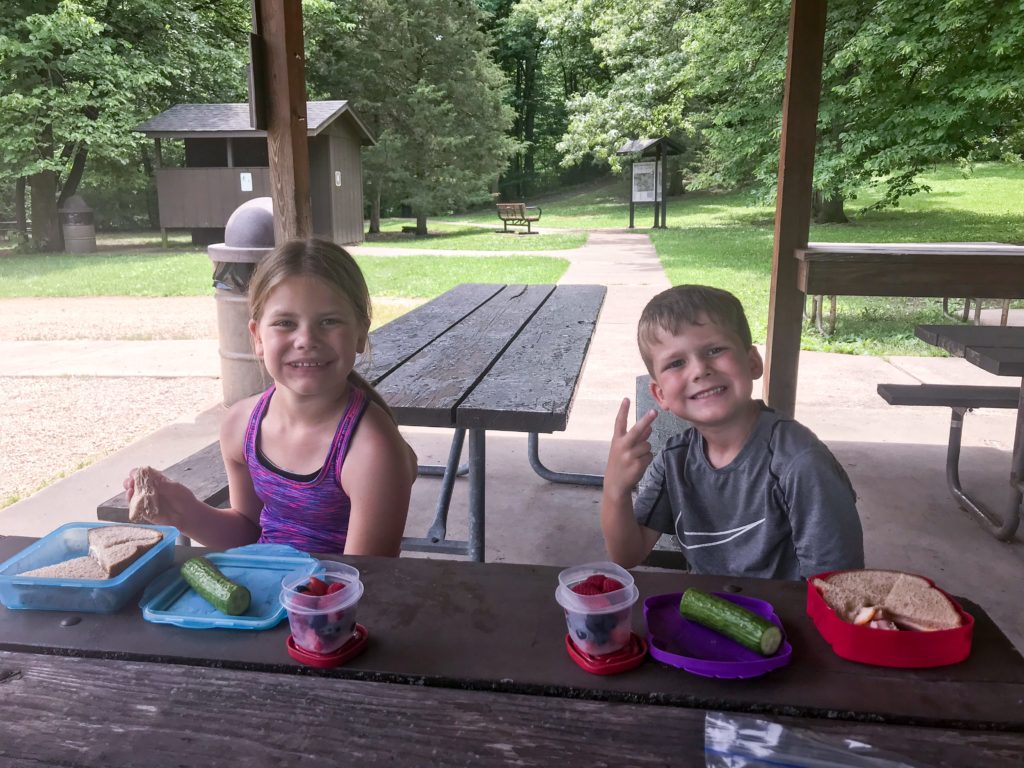 I hope these tips help you to plan your own hiking adventure.  If there are any seasoned pros out there, did I leave something off?  Leave me a comment with any of your must haves!
Happy hiking,
Allison