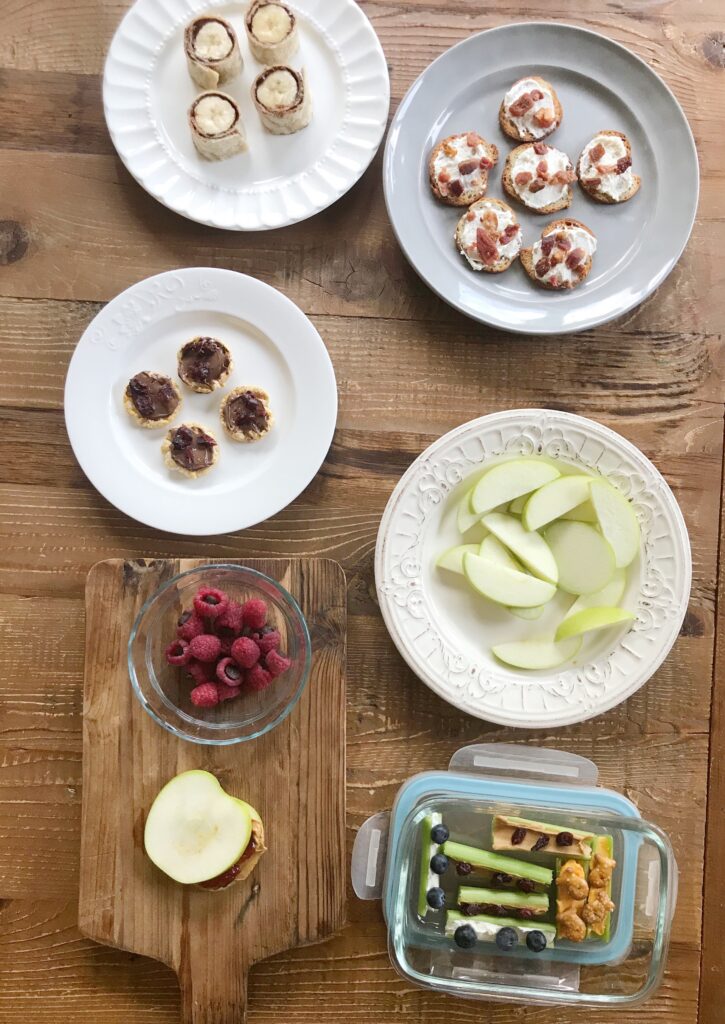 Getting kids to choose good-for-them snacks can be a challenge, but with these healthy snack ideas, your kiddos will have no problem making the right choice. Choose 2 or 3 to make this week and set them out occasionally throughout the day. Your kiddos will start munching on these nutrient dense foods and leave the pre-packaged snacks behind.
Why are kids so hungry in the summer? I am constantly telling my kiddos to get out of the pantry. They head into it in search of any prepackaged snack they can find only to gobble it down quickly and then head in for another.
I was constantly trying to redirect them to the fruit bowl or the fridge for some cheese sticks, but those options weren't always exciting to them. So, I decided to brainstorm some healthy options that they would find appealing and tide them over until their next meal. Some of these you can make ahead and have ready when hunger strikes, others are super easy to throw together in a minute or two.
Apple PB & J Sandwiches
These are so cute and a hit at my house. I simply slice an apple thinly, add on some peanut butter and strawberry jelly and top with another apple slice.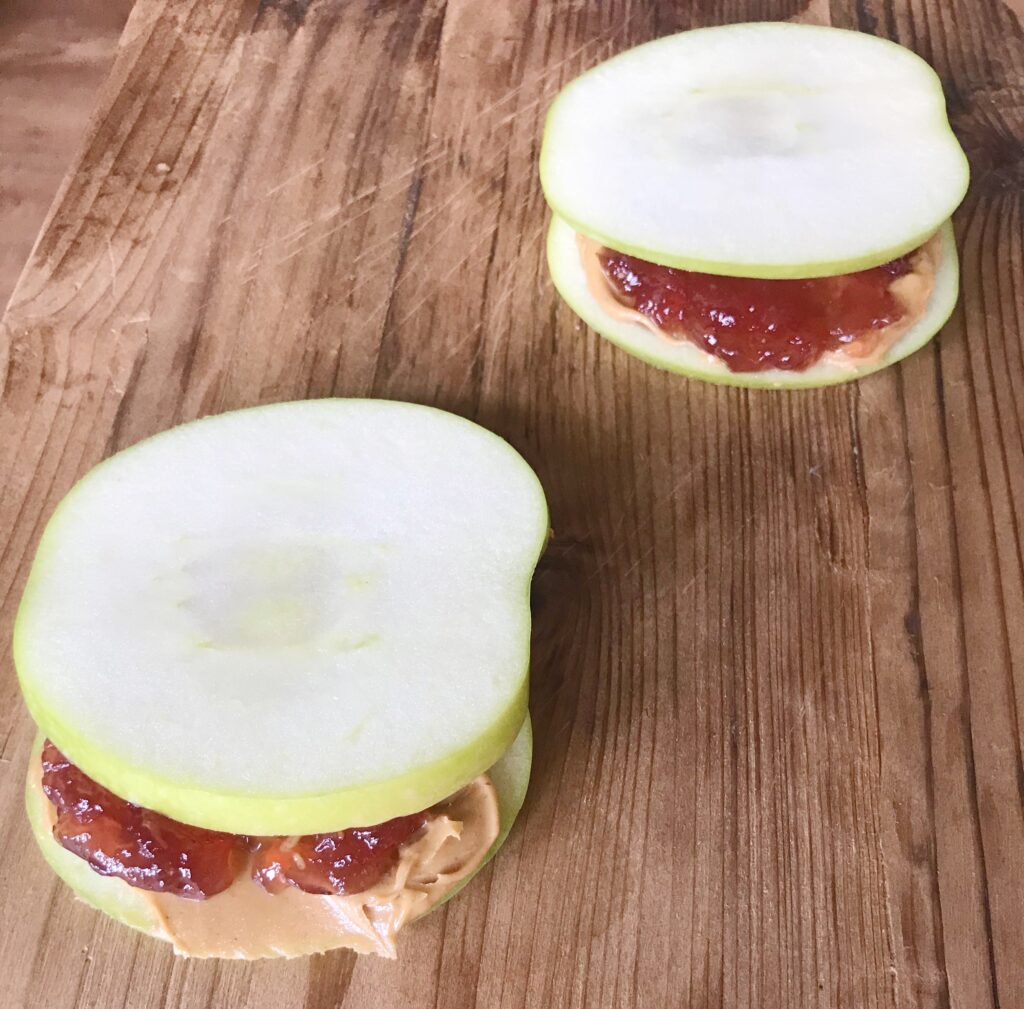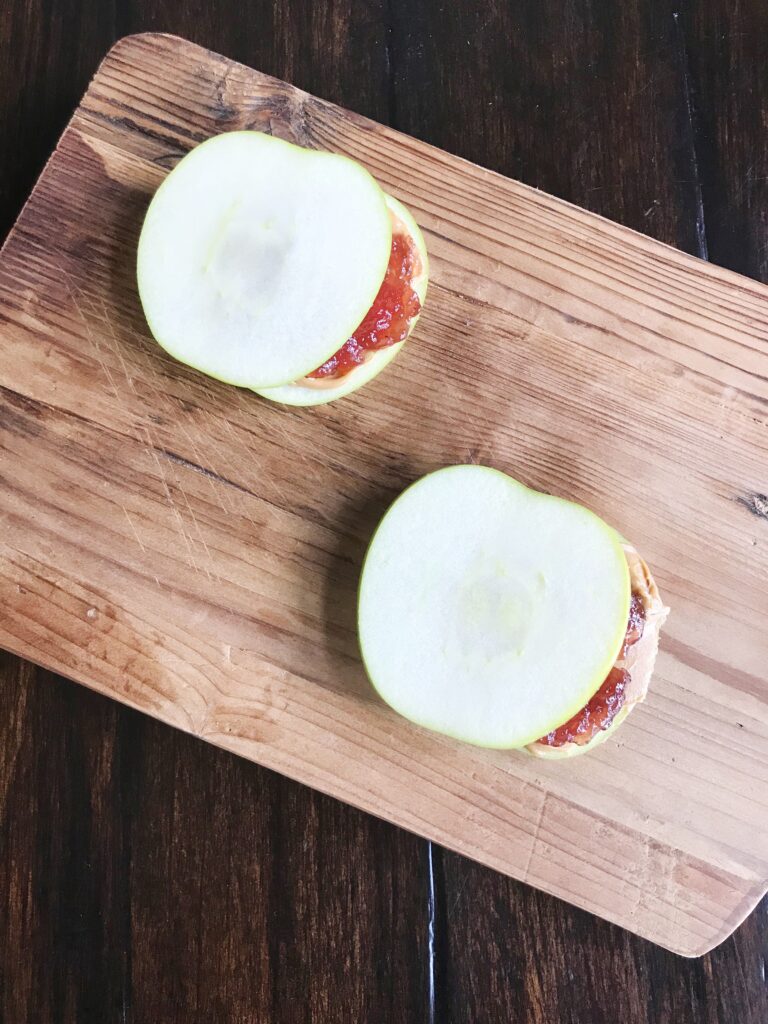 Grape Suckers
These "suckers" originated due to my own personal love of the flavor combination of sweet grapes with salty pretzels. I used to sandwich a grape between two pretzels growing up so I turned my favorite into these fun little snacks for my kiddos. All you do is put a grape on the end of a pretzel stick. I do get nervous with my almost three year old with grapes, so I will usually slice her grapes in half before placing them on the pretzel.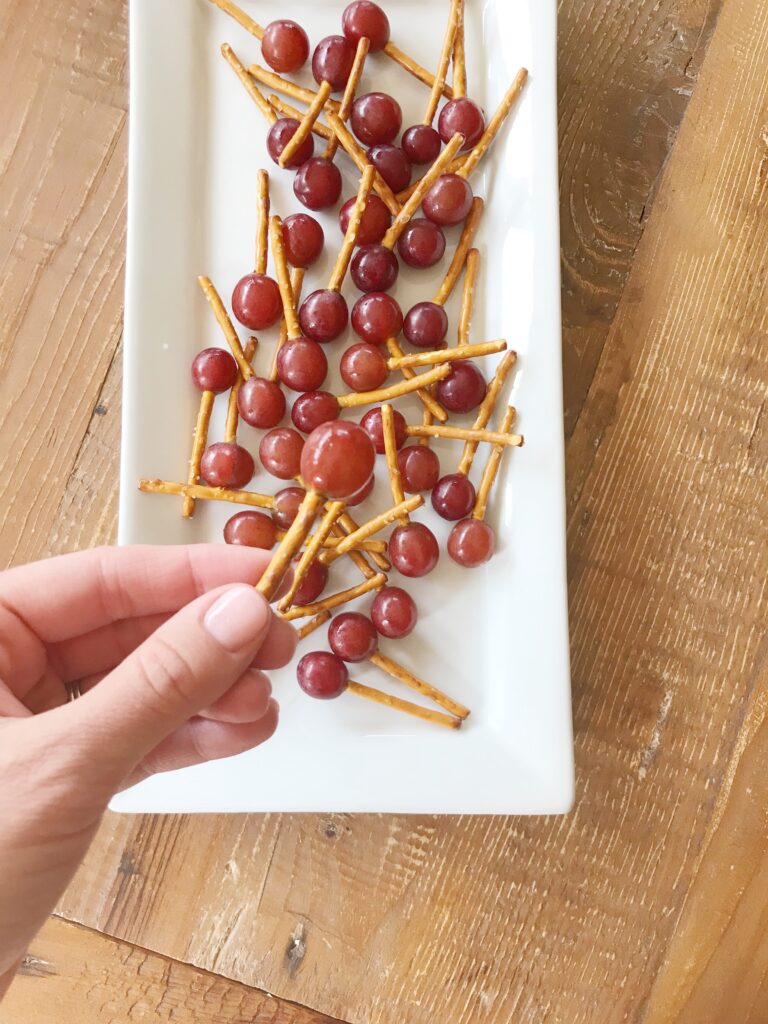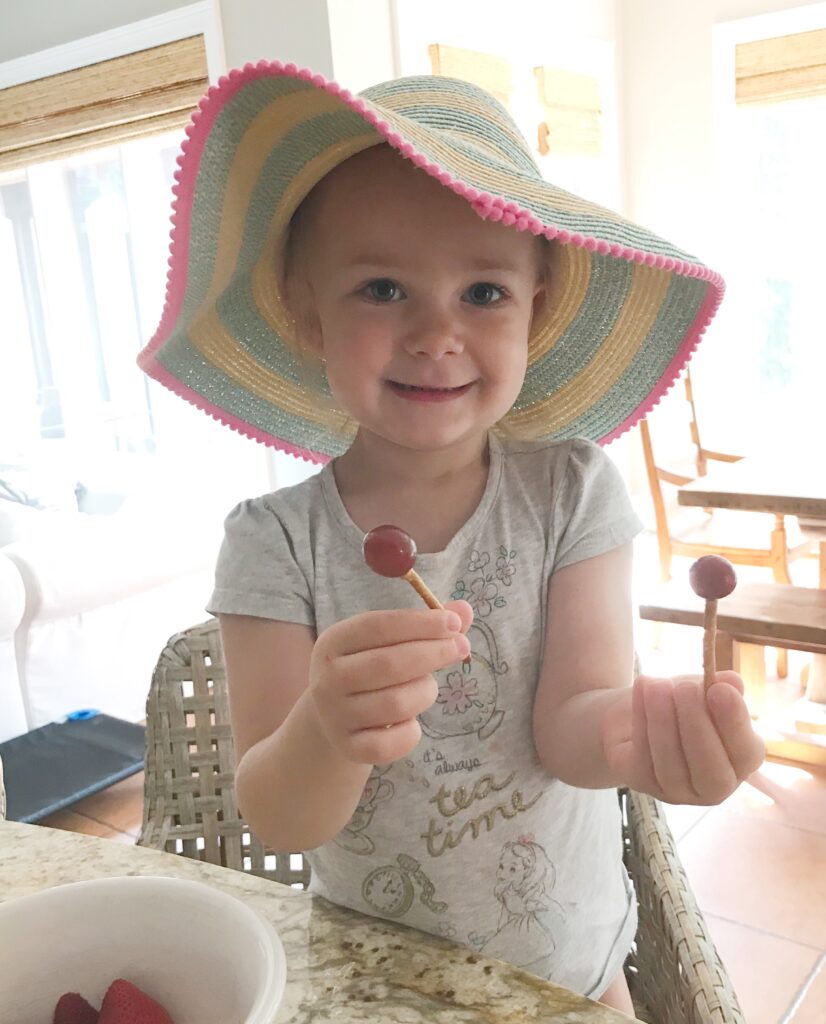 Raspberry Kisses
This super easy snack is a favorite with my son! And it's easy to tell why! The chocolate/raspberry combo is so good and they are fun to pop in your mouth while continuing to play. (Make-Ahead)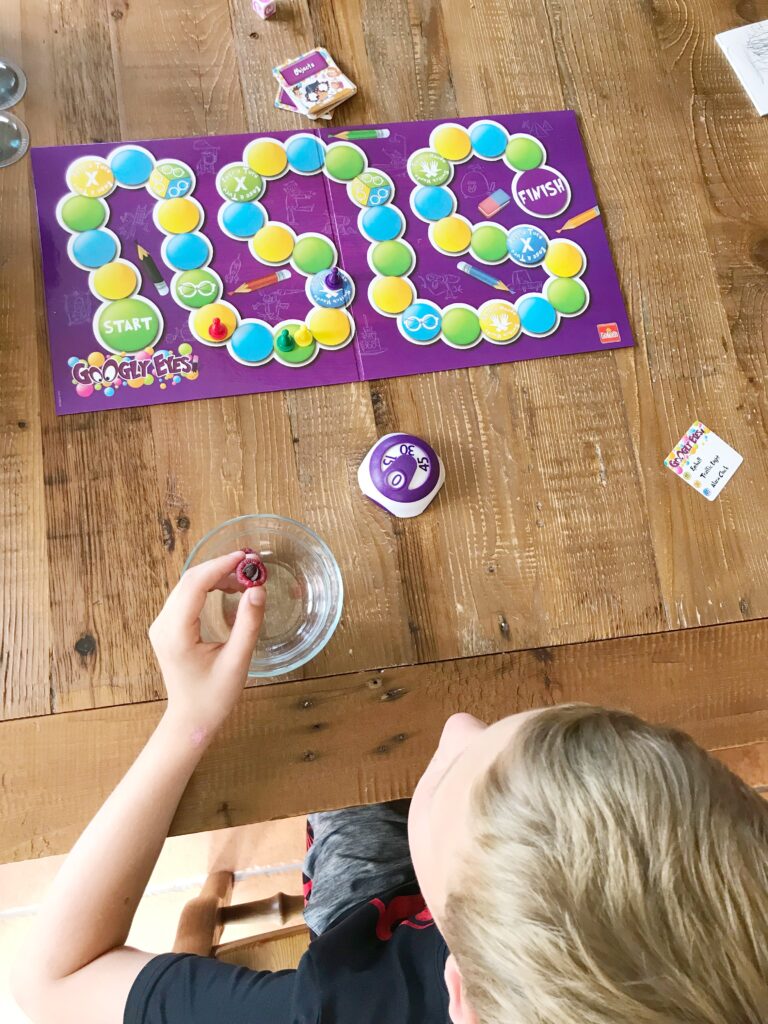 Veggie Tray
I know this isn't a new idea, but just having this tray made up and then setting it out when I know my kids will start getting hungry soon, has worked really well. And think outside of the box. I will throw lots of different veggies on like mini bell peppers and jicama to change it up. (Make-Ahead)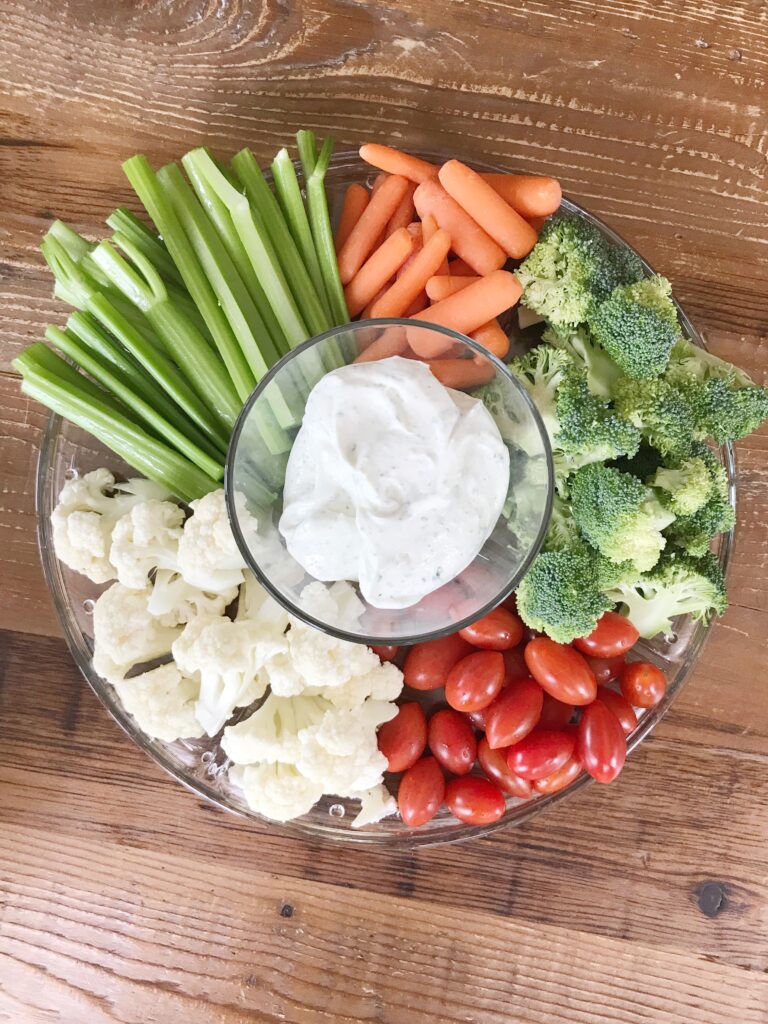 Ladybugs on a Stick, Bumps on a Log and Fish in a Stream
Raisins…forget about them! I have no idea why my kids absolutely won't eat them. But, if I had to guess, I'd say its because they're ugly and not that good. Haha! So I decided to do my own take on the classic and let my kids name them. Ladybugs on a Stick have dried cranberries and peanut butter. Bumps on a Log are blueberries with whipped cream cheese and Fish in a Stream are spreadable cheese with pretzel goldfish. Make these or try your own combinations to suit your kids' tastes. (Make-Ahead)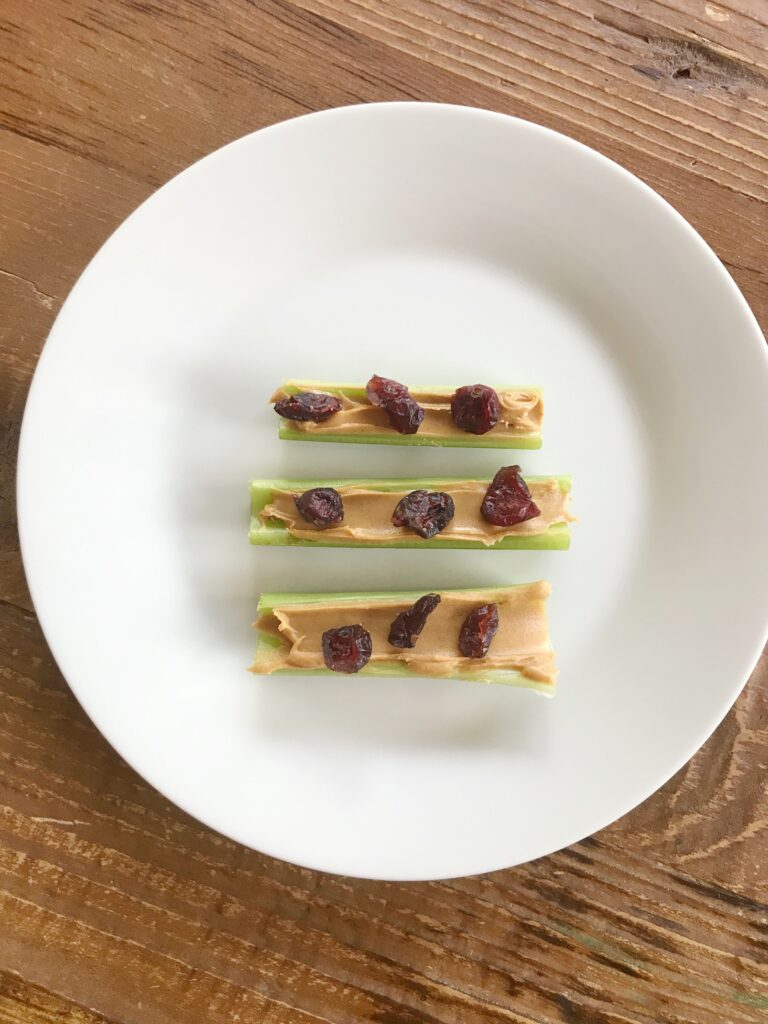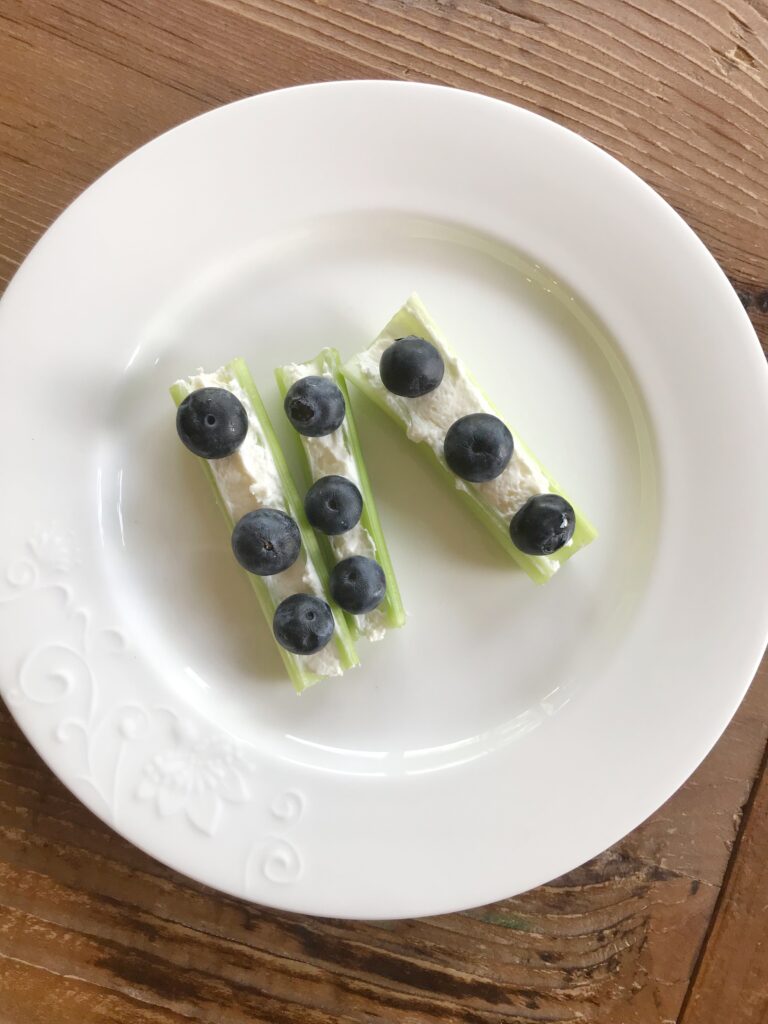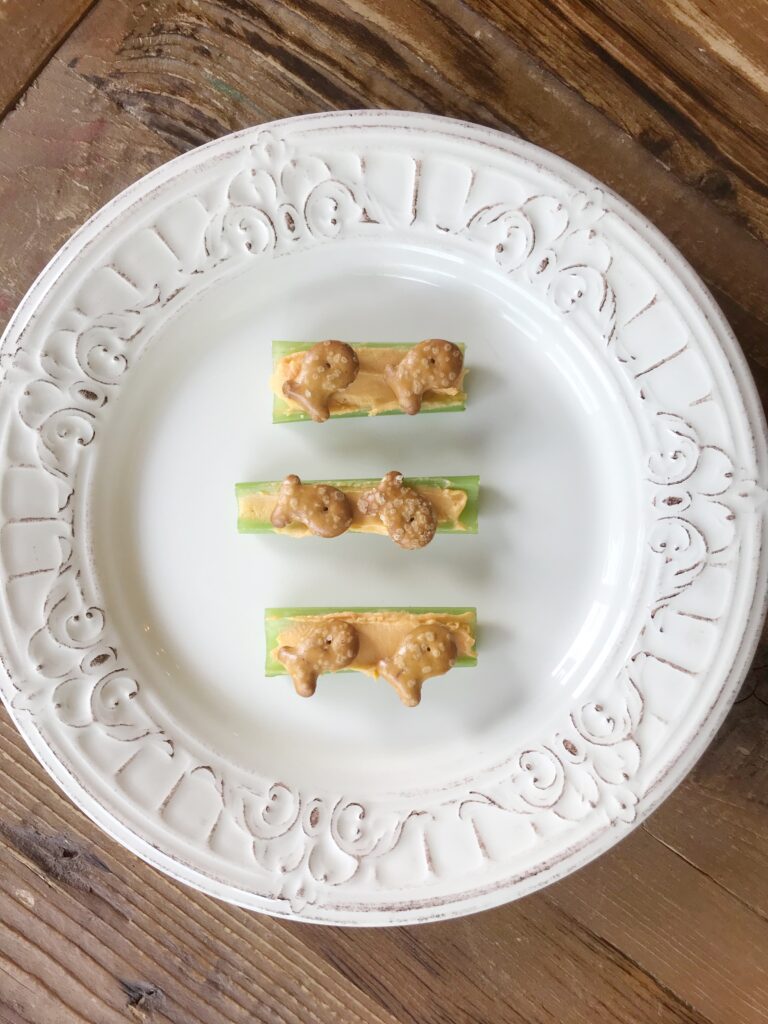 Pickle Wraps
I decided to bring back one of my favorite appetizers as a child to introduce to my own kiddos and I think I have sealed my spot as their favorite parent. (Sorry Brian!) Thank goodness for innovation, because whipped cream cheese has made making these exponentially easier. If you've never made them before, spread some cream cheese on a slice of ham and roll a dill pickle spear in the middle. Delicious! (Make-Ahead)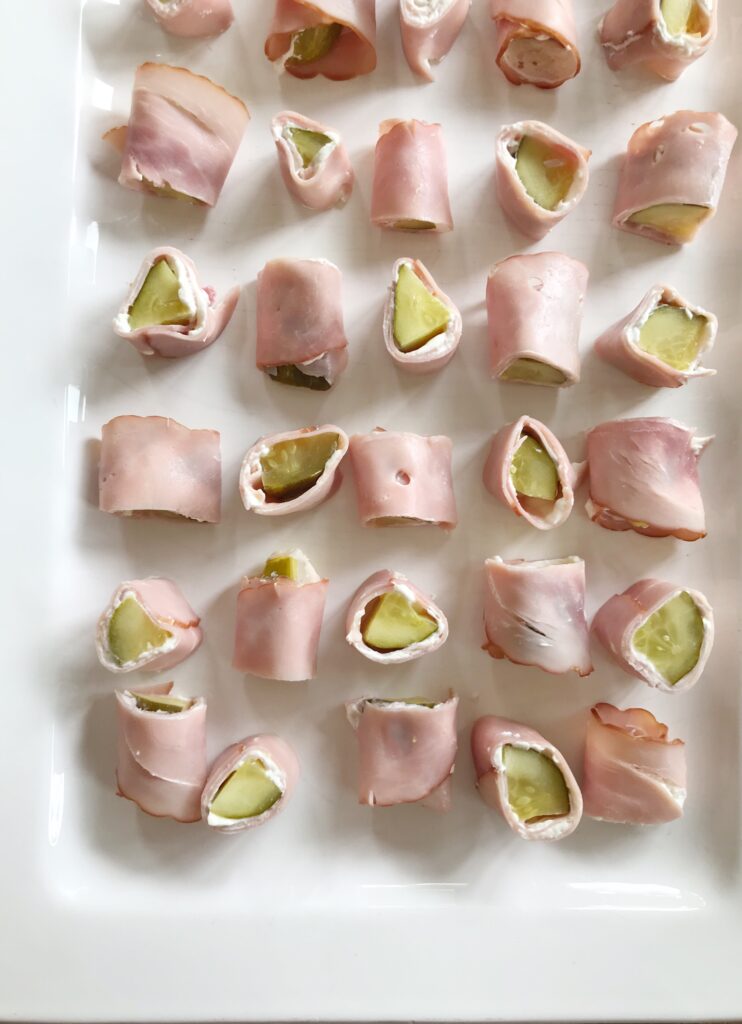 Hard-Boiled Eggs
Simple idea, but this snack is commonly overlooked! My kids like to peal and eat or I will make them into Chipotle Deviled Eggs. Also, check out my post on how to make the perfect hard-boiled egg! (Make-Ahead)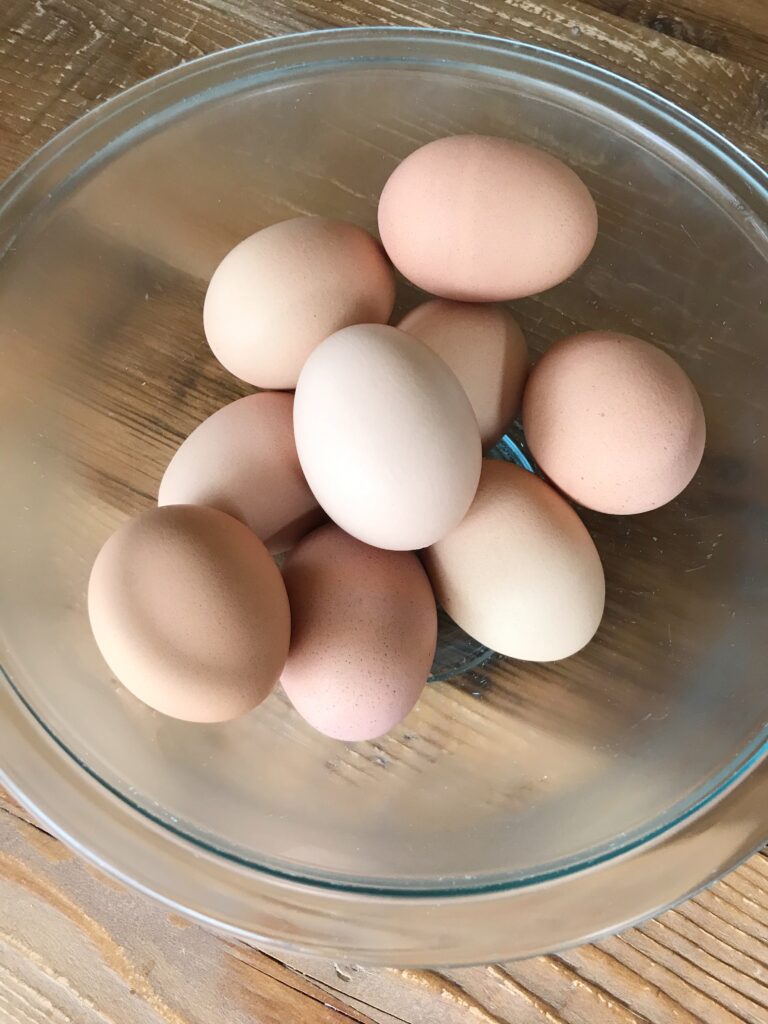 Fruit and Fluff
Who doesn't love to dip! It's basically my 2 year olds favorite pastime. I whipped up this fruit dip from Like Mother Like Daughter and serve it along fresh cut up fruit all summer long. (Make-Ahead)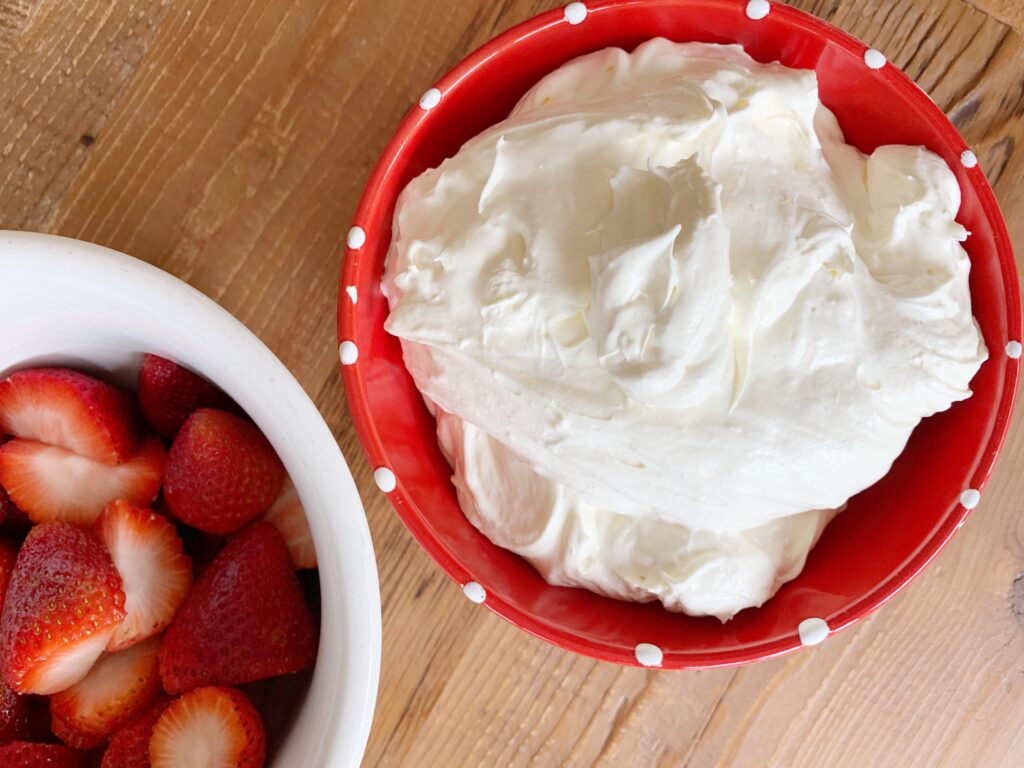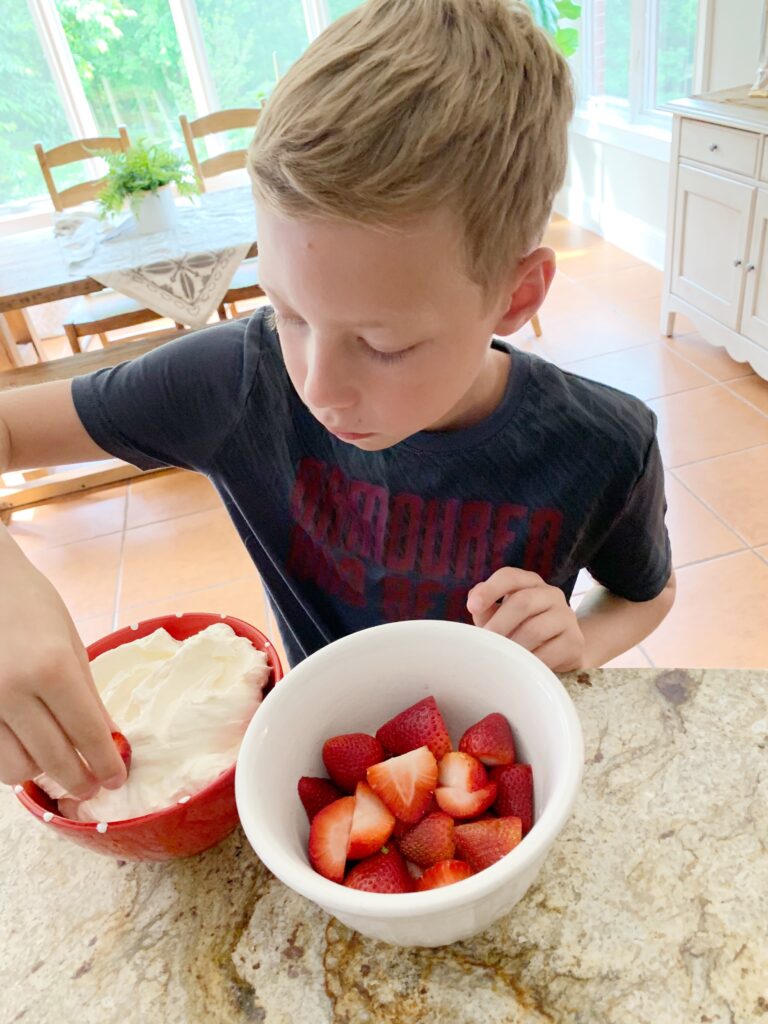 Banana Sushi
I call this sushi simply because it's a cute name. However, I give my kids chopsticks to eat it, because it's funny to watch. With this snack, I simply spread Nutella on a wheat wrap, roll a banana up in the middle and slice. It's so good!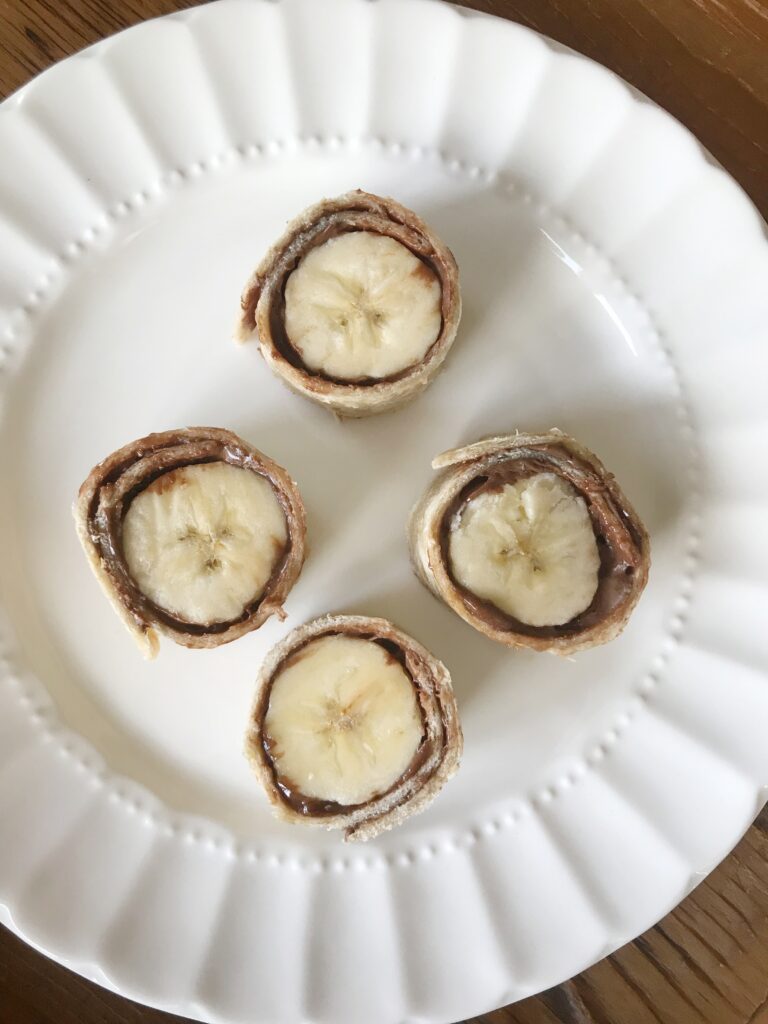 Chili Watermelon Sticks
Watermelon is delicious on its own. I do like to kick it up a notch by slicing it into sticks and sprinkling on some salt and chili powder. It's savory, it's sweet, and it doesn't have any heat!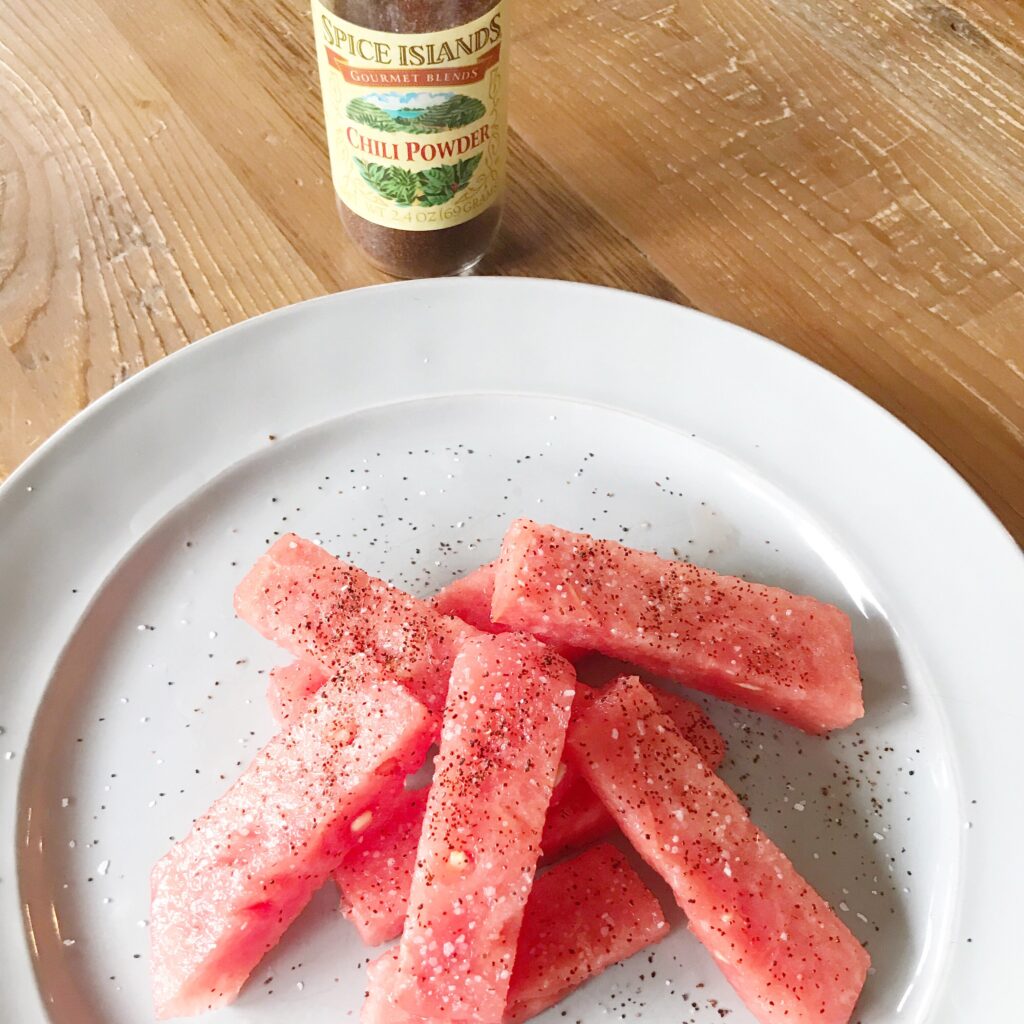 Salami Rolls
My older two kiddos love salami, so I will take some slices and spread on whipped cream cheese. I will then cut some cheese sticks into quarters horizontally and wrap a slice of meat around each. A fun variation is turkey wrapped around pepper jack cheese. (Make-Ahead)
Nutella Crisps
My 7 year old daughter is a Nutella fanatic. Like I have to hide it because I will find her face covered in it and half of the jar gone. So I decided to create these portion controlled Nutella crisps which have turned into one of my favorite little snacks. I take caramel mini rice cakes, spread some Nutella on and then add some dried cranberries to add some brightness and a healthy touch.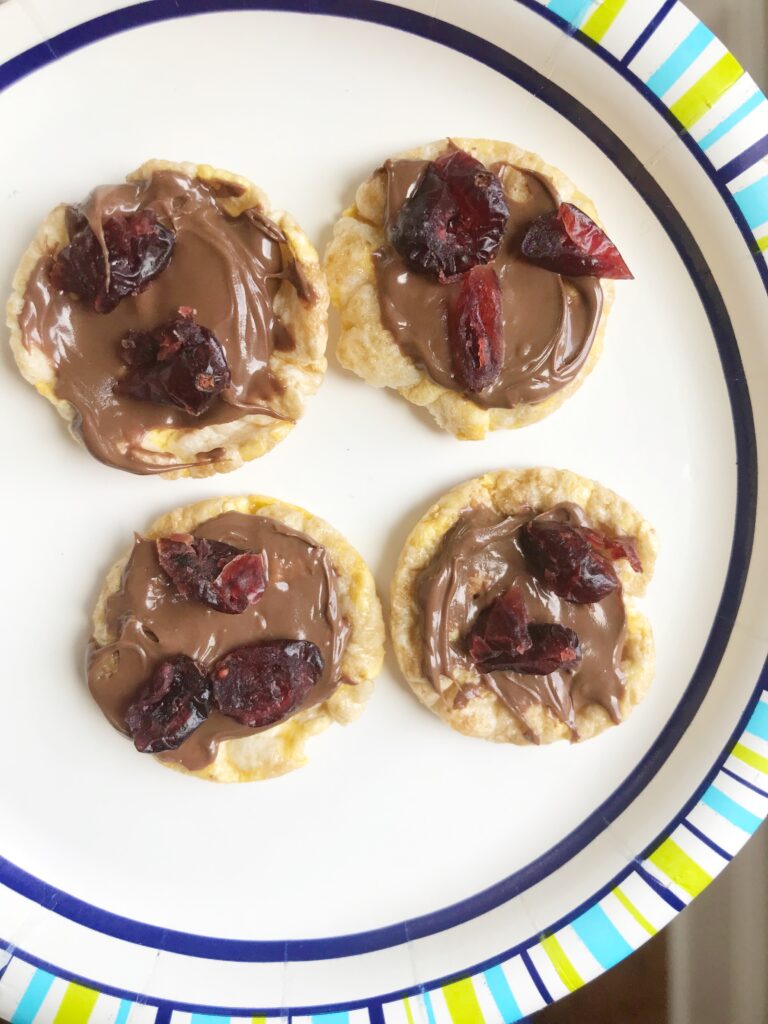 Meat and Cheese Platter
Like the veggie tray, this isn't a new snack, but not one that is commonly made up for kids. And, it isn't even a platter as I usually make it up in a bowl, but nevertheless, it's a crowd pleaser. My kids love cheddar and Dubliner Aged Cheddar is our house's favorite. Sometimes, I'll stick some crackers next to it and call it a "Lunchable". (Make-Ahead)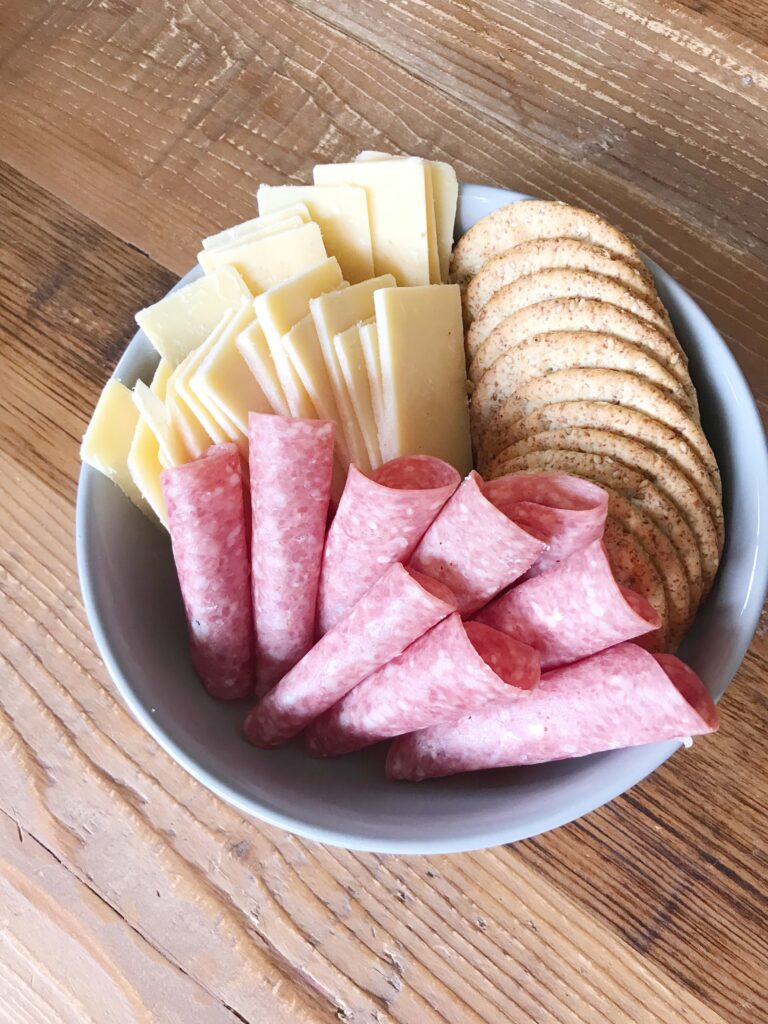 Bacon and Cheddar Chips
This is for all the bacon lovers in my family…so for everyone. I take spreadable cheddar and spread it over bagel chips, then sprinkle bacon pieces on top. Yum!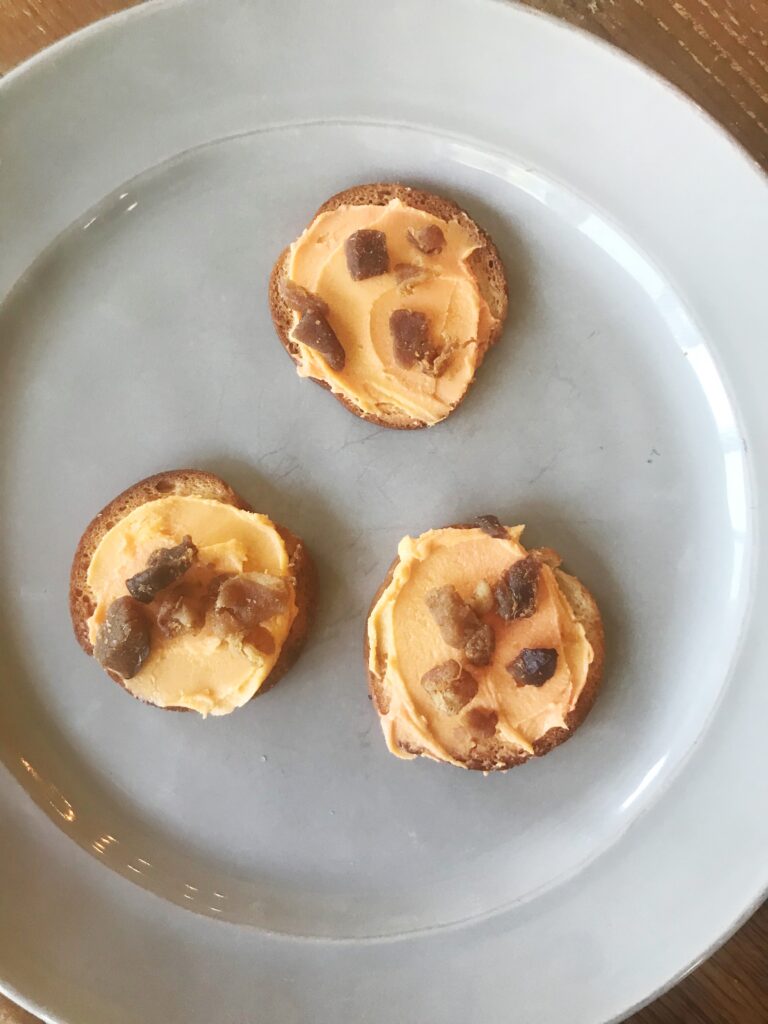 To be honest, the options are endless. You just need to be creative and present your treats in a fun way. Also, catchy little names help too!
-Brittany