A listing of free websites that are educational and fun for kids to explore while at home.
Schools across the country are cancelling classes due to COVID-19. Here is a list of free websites that are educational and fun for your children to continue expanding their education and knowledge during their time outside of the classroom.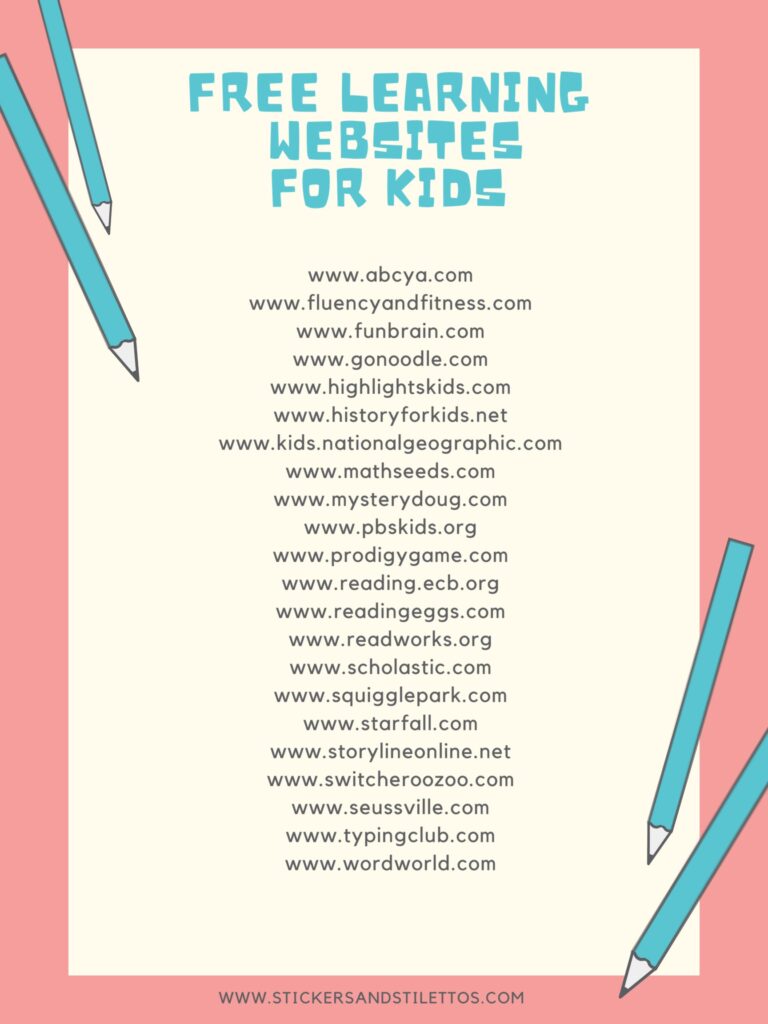 www.abcya.com – ABCya — Practice math and reading skills, while playing games. For all ages. Free trial.
www.fluencyandfitness.com – Fluency & Fitness — Incorporate learning and movement, while keeping your child engaged and having fun. Offering 21 days of free trial.
www.funbrain.com – Fun Brain — Games that teach reading and math. Free.
www.gonoodle.com – GoNoodle — Gets kids up and moving to fun, engaging content and games. Every dance party, yoga session, mindfulness activity, and game session is an opportunity for kids to wake up their bodies, engage their minds, and be their best. Free.
www.highlightskids.com – Highlights Kids — The place for children of all ages to play games and discover new jokes, surveys, answers to science questions, and fun crafts and recipes from Highlights. Free.
www.historyforkids.net – History for Kids — A free website devoted to learning about history. The website is packed with games, articles, worksheets and even a quiz on each section. Free.
www.kids.nationalgeographic.com – National Geographic Kids — Learn about geography and animals. Free.
www.mathseeds.com – Mathseeds — Teaches kids aged 3-9 the core math and problem solving skills needed to be successful at school with fun, highly interactive and rewarding lessons. Mathseeds combines highly structured lessons with fun motivational elements that keep children engaged and keen to learn. Free trial.
www.mysterydoug.com – Mystery Doug — Free, easy science for remote learning. All of the lessons are expertly designed to engage students, achieve learning outcomes, and to be easy to use. All of the activities are designed to use simple supplies a parent will likely already have at home. Free.
www.pbskids.org – PBS Kids — A new weekday newsletter offers activities and tips to help kids play and learn at home. Free.
www.prodigygame.com – Prodigy — Engaging curriculum-aligned math platform that easily motivates 1st through 8th graders to learn and practice math. Free.
www.reading.ecb.org – Into the Book — A reading comprehension resource for elementary students and teachers. Games that practice reading strategies. Free.
www.readingeggs.com – Reading Eggs — Makes learning to read interesting and engaging for kids, with great online reading games and activities. Free trial.
www.readworks.org – ReadWorks — Improve your child's reading comprehension with ReadWorks. Access thousands of high-quality, free K-12 articles, and create online assignments with them. Free.
www.scholastic.com – Scholastic — New learning projects daily for kids ages pre-k and up to keep them reading, thinking, and growing. 3 hours of learning opportunities per day. Projects include writing and research based in nonfiction articles and stories, virtual field trips, reading and geography, and more. Includes kid-friendly resources for learning about COVID-19. Free.
www.squigglepark.com – Squiggle Park — A reading learning game for students that is so much fun they choose to play. This engagement means kids practice their reading skills independently, while being challenged, and ultimately making the skills they need to be strong readers automatic. Free.
www.starfall.com – Starfall — Teaches children reading, language arts and mathematics for preschool, kindergarten, first grade, second grade, and third grade. Emphasizes exploration, play, and positive reinforcement—encouraging children to become confident. Free.
www.storylineonline.com – Storyline Online — Have some of your children's favorite stories read to them by movie stars. Free.
www.switchzoo.com – SwitchZoo — Watch, listen and play games to learn all about animals. Free.
www.seussville.com – Seusville — Read, play games, and hang out with Dr. Seuss and friends. Free.
www.typingclub.com – TypingClug — Teaches typing skills. Free.
www.wordworld.com – WordWorld — Reading and word games geared towards preschool-aged children. Free.
We all play an important part in this uncharted territory. Surround yourself with your family and make the most of your time together. Laugh, read, color, play games. Live simply. Pray together as a family.
– Callie