Although I ran track in high school, I did not really 'love' or even 'like' running until my adult years.  Now, my favorite way to start my day is to sneak out of the house when my husband is just getting up for work and the kids are still sleeping and get a good run in.  There is just something about getting your workout checked off the list first thing in the morning that makes you feel like you can get so many other things accomplished in your day!
In theory, running doesn't take any equipment, but to really be able to enjoy yourself, here are a few things you need.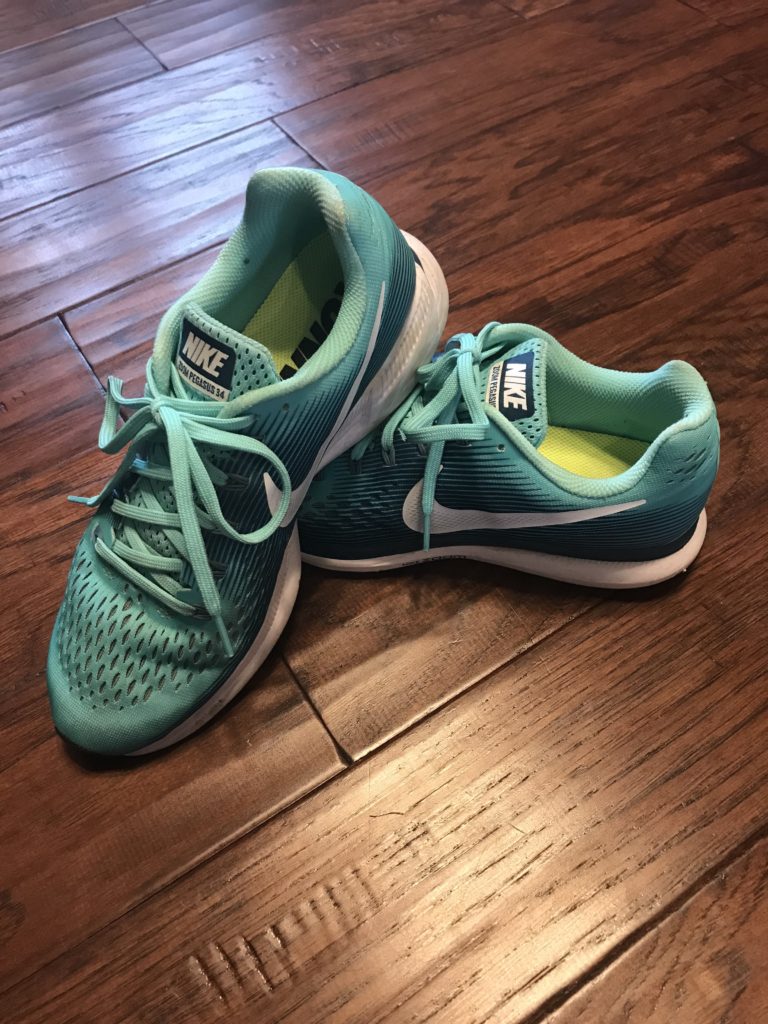 If you are going to be logging miles as a runner, you need a shoe with lots of cushion for all that impact.  I love the Nike Zoom Pegasus line!  (I will write a separate post about how this came to be the ONLY style of running shoe I have purchased over the last 4 years.)  With that being said, everyone's feet/strides are different so I highly recommend going to a running store to get fitted for a shoe that meets your needs best.  I personally used Naperville Running Company a few years ago and it was an AMAZING experience.
2. The Flipbelt
Looking for something to hold your stuff all in one place without having to carry a bag of some kind?  Enter Flipbelt.  This belt has several openings around the belt that allow easy access to the contents.  It fits my iPhone8 perfectly.  There is also a little clasp that is perfect for tucking away a key.  This option is a more reliable than say, tying your apartment key to your shoe laces and then your shoe coming untied and losing the key somewhere along the way….(yes, this actually happened to me in college, and yes, I realize those of you that know me are not surprised in the least!) You can store things all the way around the entire belt so if there is something else small you would need to store, like an ID, money, gym membership card, it can fit right in there.  They even make water bottles that fit in the belt so you can stay hydrated on your long runs.
Sunglasses that don't move around when you run or bend over? Yes, please!  My sister had actually gotten a pair of these shades for herself and her husband last year and she told me I should get them but I never got around to it. Now I ask myself why I waited so long.  There is a new running store that just opened up near me, Stone Bridge Running Company, and I was looking for a reason to go scope it out and these sunglasses were the perfect excuse!  Back to why I love these sunglasses though.  They are very lightweight, have polarized lenses and stay put when you are running.  To top it all off they are very affordable, only $25!  The first time I went for a run with these bad boys, it was a 'feels like' temp of 98 degrees. I was a hot mess and full of sweat but these sunglasses did NOT BUDGE.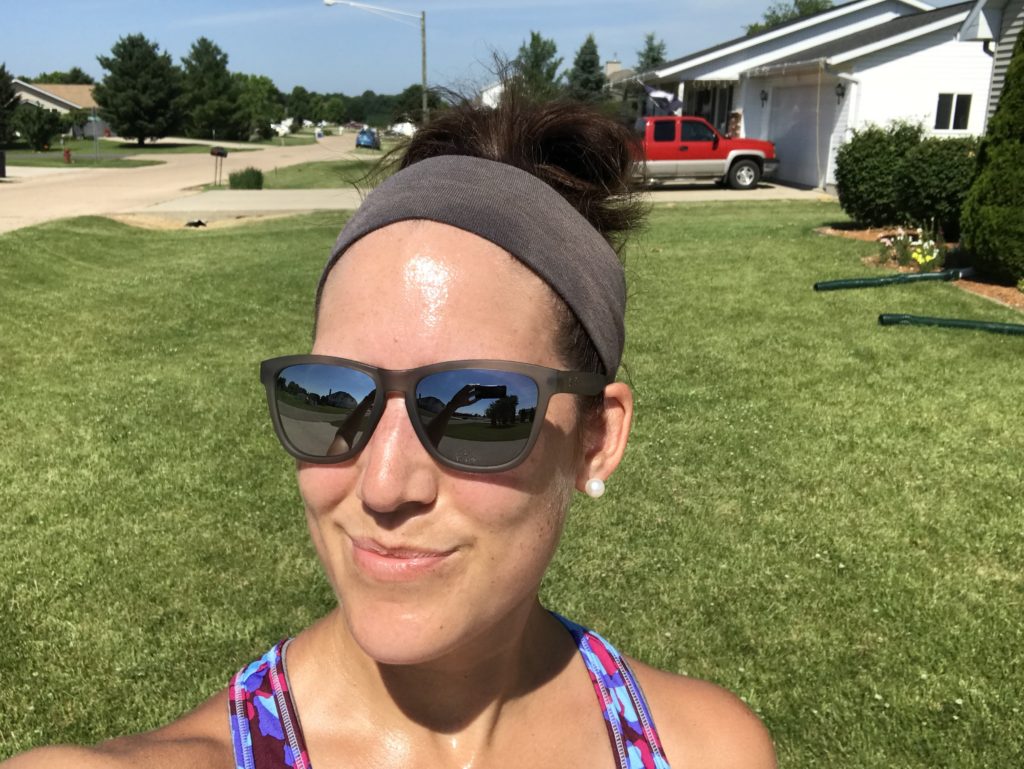 Even when I bent over to stretch when I was done!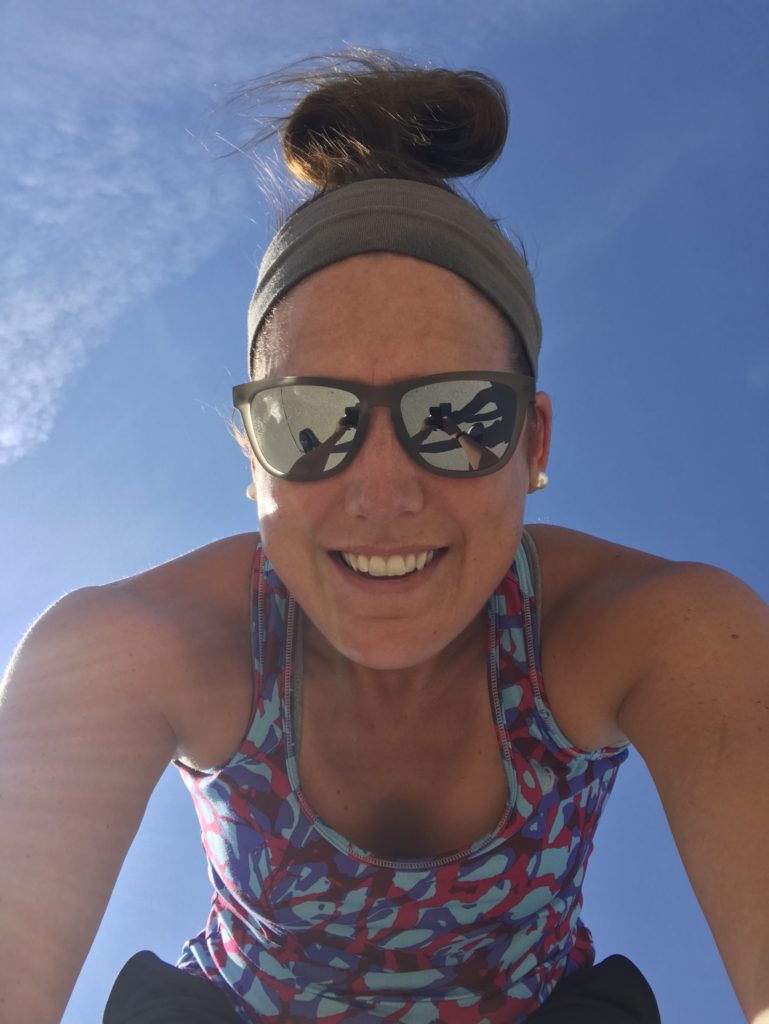 4. Skullcandy Wireless Earbuds
Life is so much easier when you don't have to deal with cords.  One of the drawbacks when upgrading to a new iPhone is there is no longer a headphone jack.  You have to use the adapter to be able to plug your earbuds in which is just another thing to have to remember.  What I love most about these earbuds, the bud actually fits in my ear and stays put.  I have found that most other brands are uncomfortable to wear if I can even get them to stay in my ear.  The battery life is great (listed as 9 hours) and I can get several runs in before they need to be charged.
5. Sunscreen
When you run outside, you have to protect yourself.  If you read my post on hiking, you know that Bare Republic brand has been my go-to brand for sunscreen this summer.  I love that this face formula is so lightweight and easy to apply and it doesn't leave my skin feeling greasy when it's on.  Another thing I love is that it doesn't smell like your traditional sunscreen so I don't even notice I'm wearing it.
Hopefully my recommendations can help you out when looking to buy your running gear.  What is your must-have gear?  Leave me a comment and let me know what I need to try!
Allison