A charcuterie board in a bowl is a fun alternative to serve smaller crowds or provide a more intimate feel for a shower or dinner party. All the ingredients of a charcuterie board, arranged beautifully in a bowl.
If you have followed S&S for any time at all, you know that we love our charcuterie boards. They are so simple to put together, and an easy way to make your food look a little more impressive. The key to a great board is a variety of ingredients to add texture and interest. If you are hosting a small gathering or a date night in, you do not always need a big board full of food. Enter the charcuterie in a bowl. I first saw this concept when Stephanie at Cheers & Chews shared hers, and I immediately began looking around my house to see what I had to assemble one.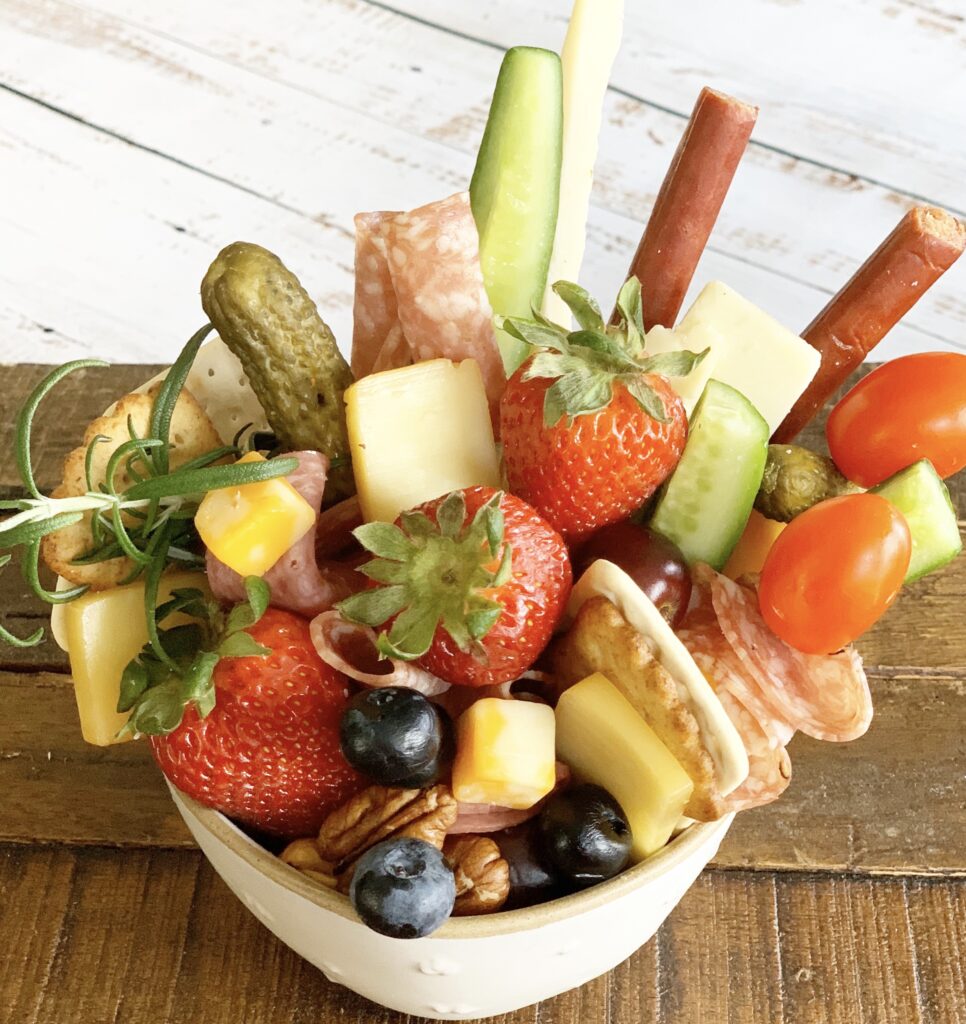 Grab a glass of wine, and let's talk charcuterie in a bowl!
You will need a small ramekin, mug, or bowl to build your board in. This bowl is similar to the one that I used. Remember, this concept is to serve one or two people, so you do not need it to be very big.
Now is the time to rummage through your pantry and fridge to see what you have on hand.
Here are some suggestions:
2 to 3 varieties of cheeses (hard and soft)
1 to 2 varieties of bite-sized meats (salami, prosciutto, ect)
1 to 2 fresh veggies (cherry tomatoes, carrots, cucumbers)
2 to 3 fresh or dried fruits (grapes, strawberries, raspberries, blueberries, apricots)
Crackers or pretzels
Fillers, like olives, pickles, nuts, chocolates
toothpicks
Begin by using a filler to add to the bottom of your cup. This is mainly to secure the ingredients in place and to help create the "bouquet" of food. Grapes were my go-to. Just snip off a bunch and place in the bottom.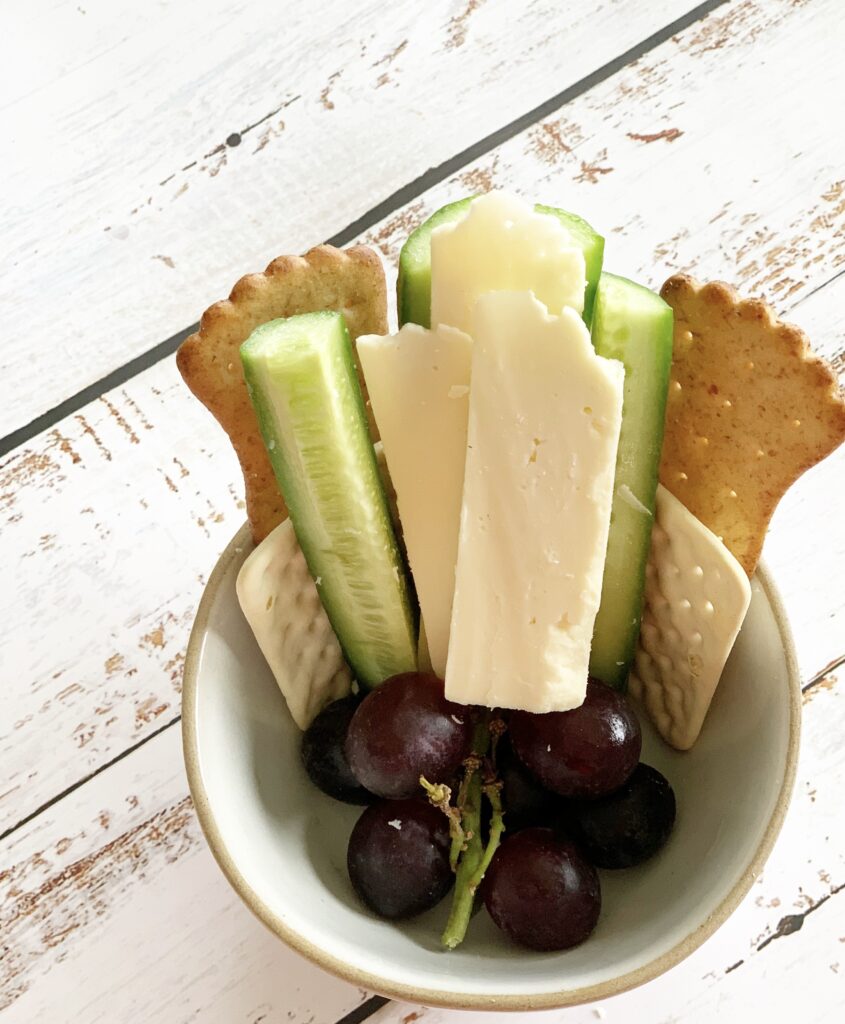 You will then want to start adding the taller ingredients, fanning them around what will be the back of the bowl. Think of this as building a flower bouquet, only with food. Add height to the back, and then start filling in with shorter foods. Crackers, pretzel sticks, cucumbers sliced length-wise, pickles, asparagus spears, sliced triangle-shaped cheese, meat and cheese skewers are all good examples of what can be used to add height to the back.
Now is the time where it becomes fun. Start adding ingredients to the bowl to make it more full. There is no wrong way to do this. The only thing that is mandatory is that you snack while making. 😉 Be creative and have fun! I found that using toothpicks to skewer the food, and then sticking into the bottom base of grapes helped to keep everything in place. Did you even know how hard it is to keep food in place? Major props to all the food bloggers out there!
Another tip: My bowl was smaller at the bottom and wider at the top, making it a bit more difficult to get the food to stay in place. I used blueberries and grapes to fill in and around to help the food to stand more upright.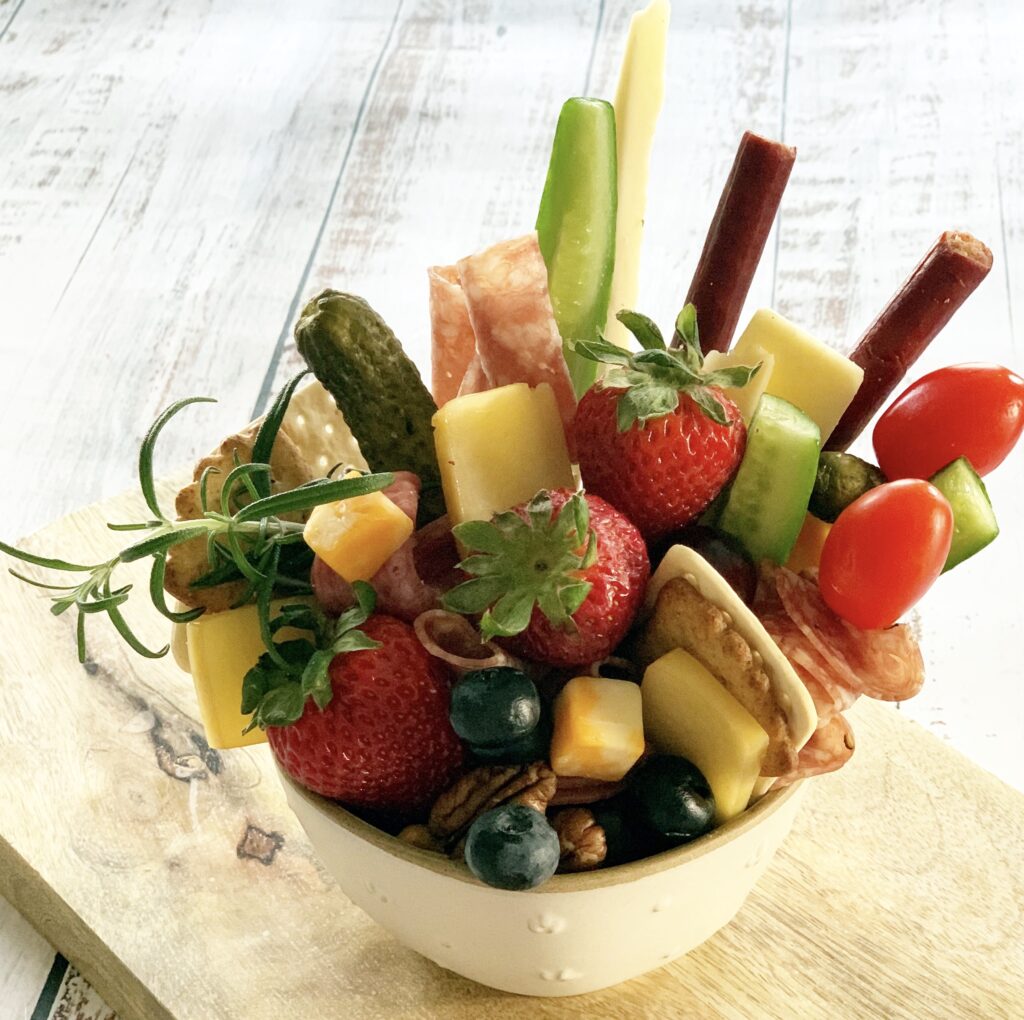 Since there will not be big Mother's Day brunches or cook-outs this year, a charcuterie bowl is a perfect Mother's Day gift. Add a bottle of wine, a candle, some chocolates, or bath soaps, and drop it off with an air hug to let your mom (or BFF) know how special she is.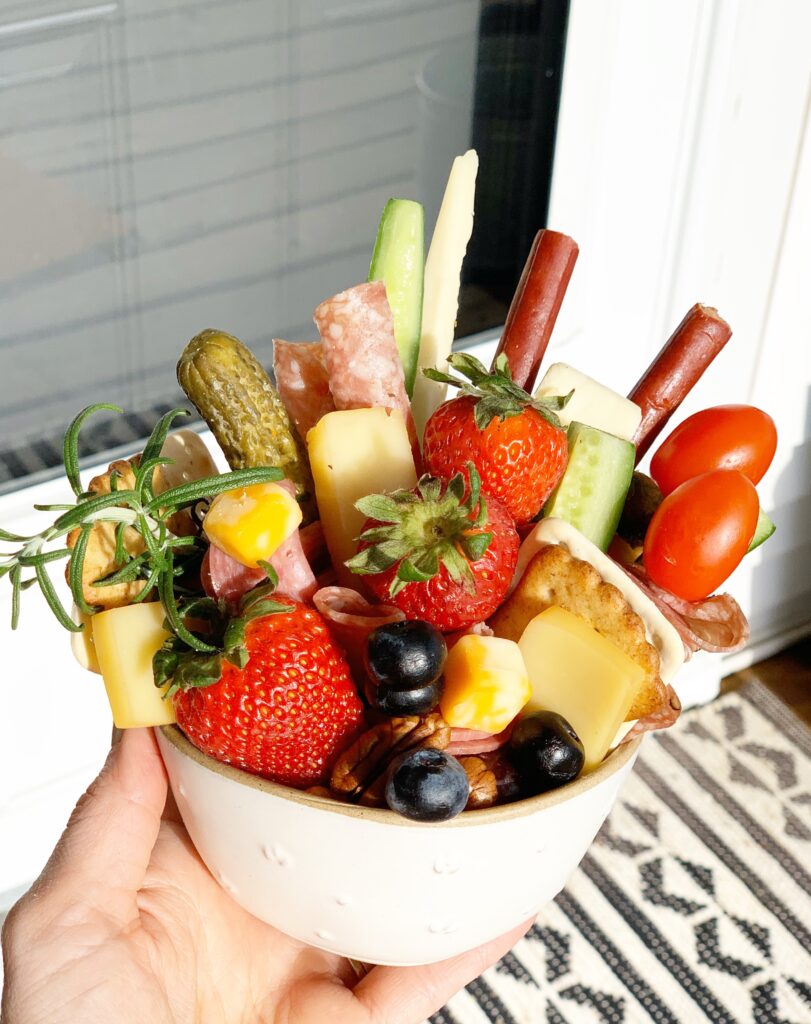 Have fun building yourself a bowl, then make yourself a spicy margarita and have an al fresco dinner party for one tonight.
-Callie
Disclosure: This site may contain affiliate links for products and services that we recommend. If you make a purchase through these links, we may earn a small commission at no additional cost to you.