Whether your kids are attending school this year in person with all the safety precautions, doing a hybrid model of in-person and remote, setting up a spot in your home and doing distance learning, or perhaps even trying your own hand at teaching a home school curriculum, this school year will be different. There is no doubt about it.
For our family, we decided to do in-person to start off the school year. After attending for one week, we have come up with a back-to-school routine that works during this pandemic. Keep reading to find out what our routine consists of.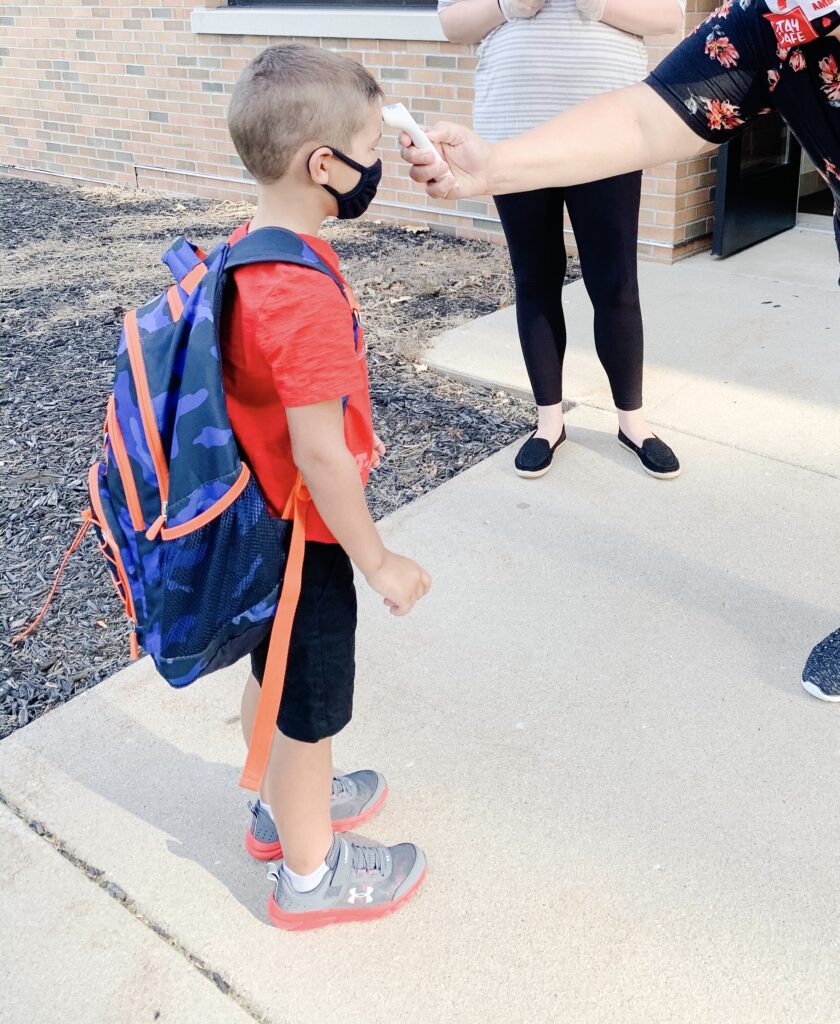 Our school year started last week. So we are officially one week in. Whew! If you are anything like me, you probably have had a lot of anxiety starting this school year, not quite sure which route would be best for your family. Ultimately, we settled on our kids attending in-person classes. After this first week, I am confident in our decision. Our school has done an amazing job at doing their best to keep the staff and students safe. Every morning, my kids wake up, get their temps checked, grab their masks, and out the door we go. They do not even seem fazed with this new "norm" that has been thrust upon us.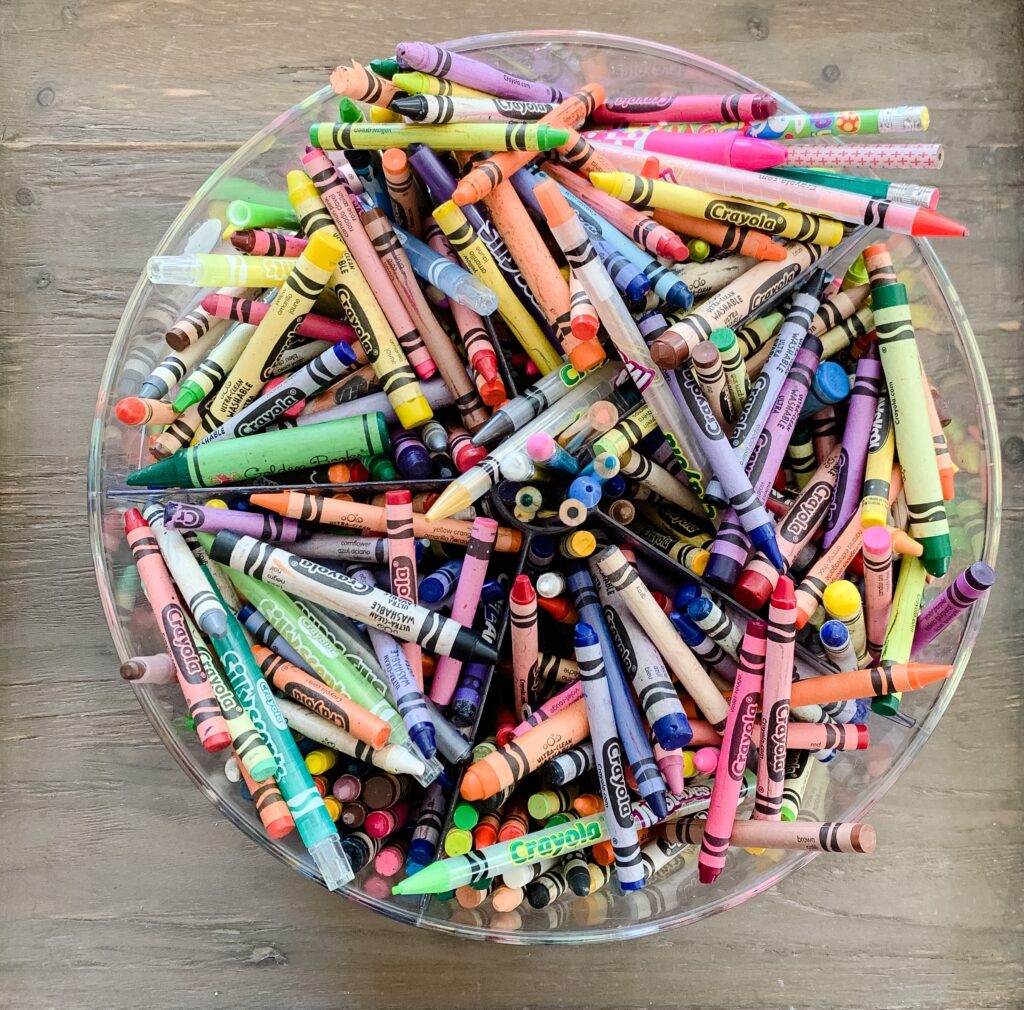 School this year will be a lot like these crayons. Kind of organized, kind of chaotic, kind of how we want it to be, but just not quite the way that it should be and that we really want it to be.
My youngest started kindergarten. Never did I think he would do so with a mask on. It's also my oldest daughter's last year in elementary school before she heads off to junior high, and it saddens me a bit that she is experiencing her fourth grade year with only a fraction of her classmates, as about one-third are attending via distance learning. The crazy thing is, none of my kids have complained. Not one bit. They are happy to be back in school. Never would I have imagined I would be saying that! 🙂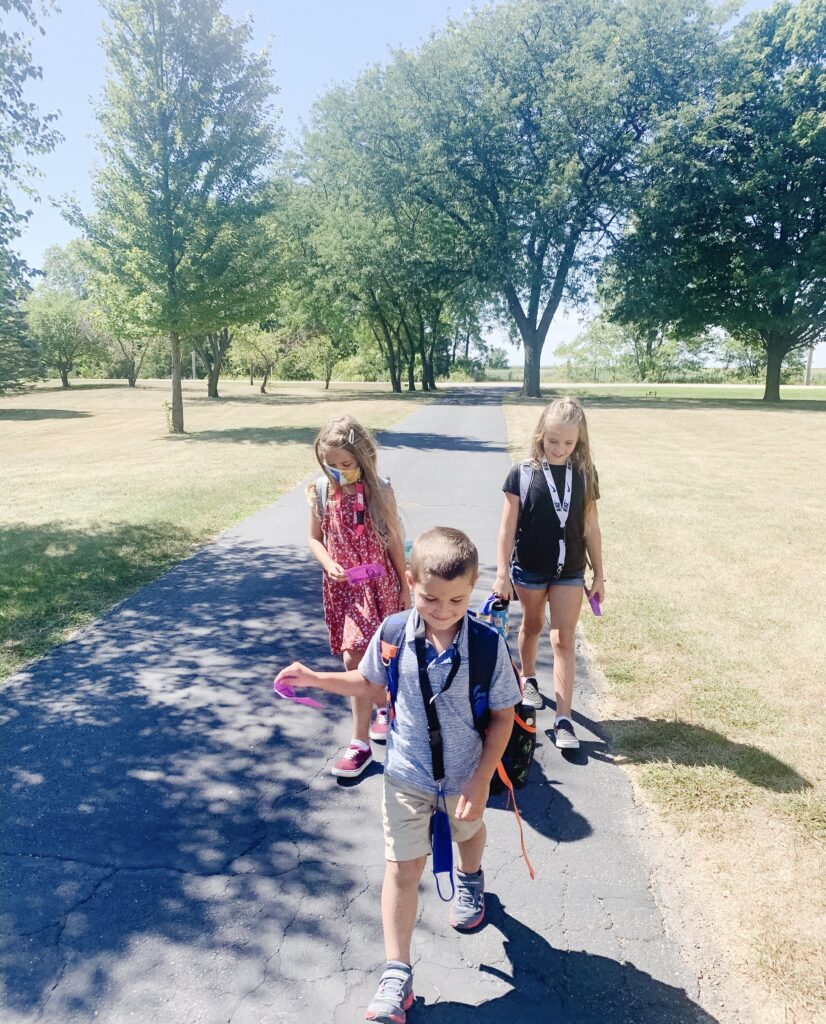 After one week of attending school, we have come up with a new school routine, COVID style. Here are some things that we are implementing to help the year go as easily and safely as it possibly can.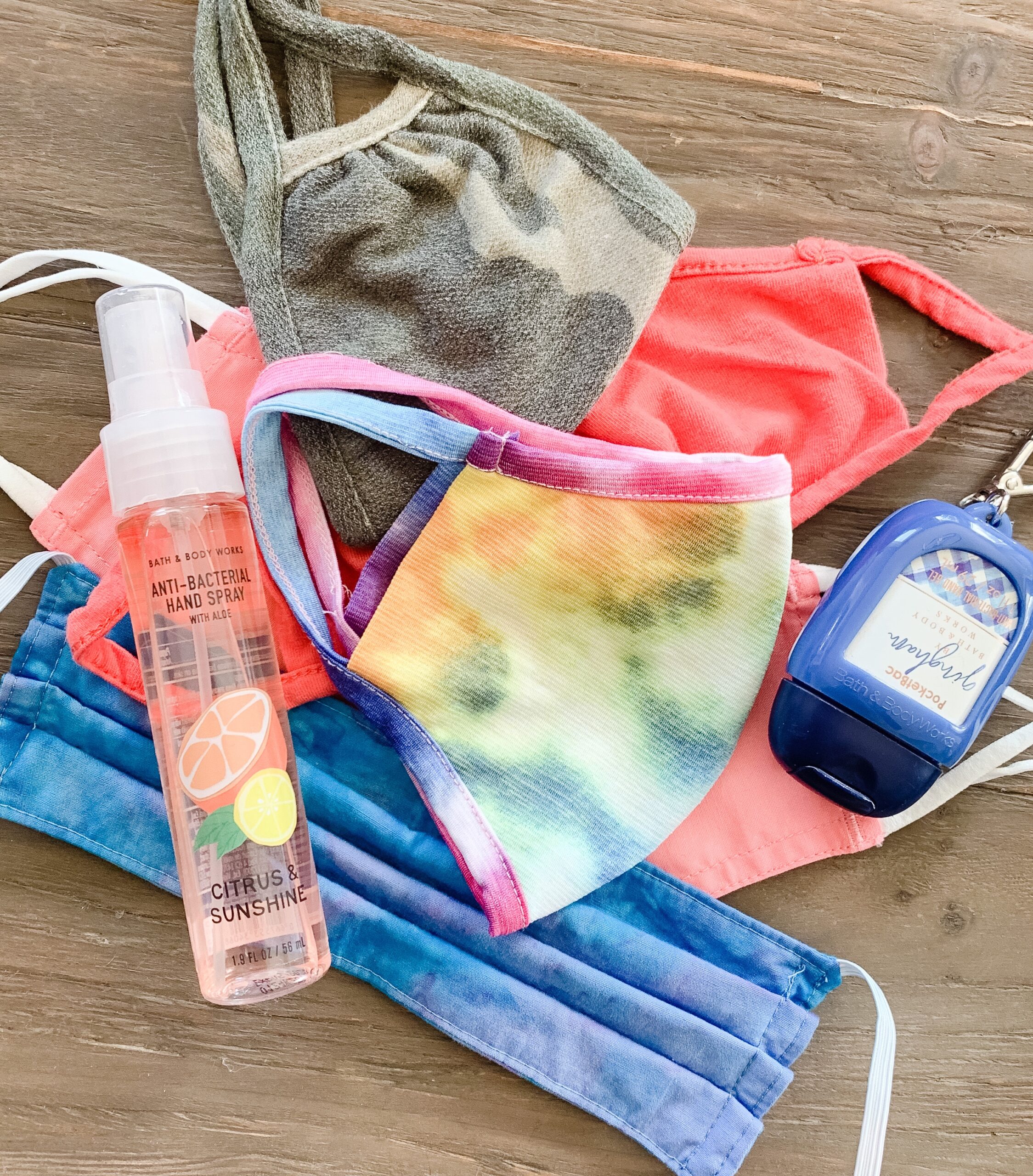 Morning Temperature Taking Routine
Our school requires bus students to submit a daily health screening, including entering in their temperatures, on a Parent Square app. Town students must have their temps taken as they enter the building. We are bus students; however, I have opted to drive them to school this year each morning. Part of our morning routine is for me to take my kids' temperatures so that I can ensure I am not sending them to school if they have a temp. This also helps so that I am not getting a call once they arrive and enter the school that I need to pick them up due to a temp.
Morning Mask Routine
Our schools are requiring all students attending in person to wear masks daily. All 3 of my kids wear a lanyard that they then attach their masks to on the ride to/from school, as well as during mask breaks, lunchtime and recess. The lanyard helps to ensure that they are not setting their masks on tables, which could easily lead to them losing them throughout the day.
In the front of their bookbags, I have a Ziploc baggie with their name on them which contains extra disposable and fabric masks, just in case they lose one or need to switch out masks. I keep thinking of the upcoming cold season and how snotty those masks may end up with my kindergartener. Yuck!
After-School Mask Routine
Fabric masks need to be washed after each wear. As soon as my kids get home from school, they give me their masks and they go right in the washing machine. Another option, if you do not wish to wash masks daily, would be to have a covered tote or box that all dirty masks could go in to be washed once a week, or whatever works for your schedule.
With the lanyards, I do a quick spray of a disinfectant that I made consisting of:
1 cup of Vodka (can also use white vinegar, rubbing alcohol, or witch hazel)
10 -15 drops Lemon or Lavender essential oil
Distilled water to fill the spray bottle
After I spray their lanyard, I then attach a new mask and put it in their backpack. This way, they are ready to go for the next morning and it is one less thing for me to worry about, because we all know how mornings go! 😅
Backpack, Shoe, and Coat Routine
Have your kids get in the habit of taking shoes, backpacks, and coats off at the door. This is to make sure that germs from school do not make their way into your home. Once shoes and backpacks are removed and put away, have them thoroughly wash their hands.
I also spray backpacks with the same homemade disinfectant spray that I spray the lanyards with. Don't worry, the vodka does not have a smell to it. 😉Both lavender and lemon essential oils will make the spray smell good, and they have antibacterial, antiseptic, antimicrobial, antiviral, and deodorizing qualities.
At-School Routine
Stress the importance of handwashing throughout the school day to your kids.
Our school has prohibited the use of lockers this year. Instead, they have a crate under each desk that their books and supplies are kept in. Bookbags are hung on the back of their chairs. To have hand sanitizer readily available, hang a small sanitizer on the zipper of their bookbag. I also sent a small sanitizer spray to school with each of my kids, which they put in their crate and can use to spray down their desk after recess or a quick squirt on their hands when they feel they need to.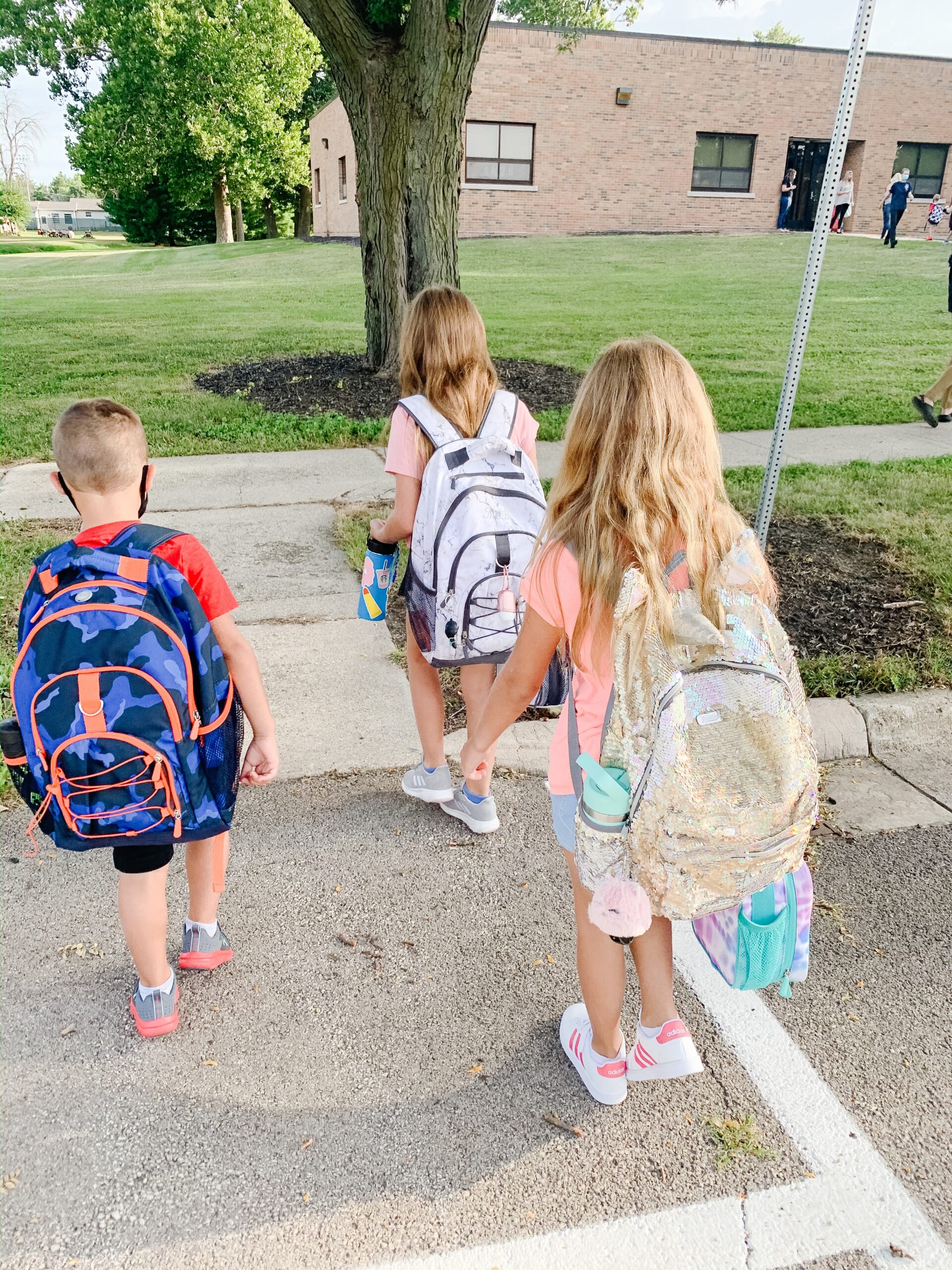 Probably the only thing that is for certain this school year is that there is nothing that is certain. Just when we think we have got a routine down, things will shift, and our routine will change. We will need to allow each other grace, and be ready to support each other and realize that there is no right or wrong. Hang in there, mamas (and teachers)! We got this!
❤️ Callie
Disclosure: This site may contain affiliate links for products and services that we recommend. If you make a purchase through these links, we may earn a small commission at no additional cost to you.