Ready or not, the 2018-19 school year is just around the corner! As a teacher, part of me is never ready for the summer to end because I love the flexibility of spending the days with my kids, doing fun activities. Then, there is the other part of me that is so over the constant bickering I hear when they are home all day…or is that just my kids?!
Anyway, with school about to start, I try to get myself prepared so that packing the kids a healthy (for the most part!) lunch is as easy as possible. Although my kids actually love a good deli meat sandwich or PB & J, I know they would get bored if those were the only things I ever sent them with.
Before I sat down to write this post I asked my kids what their favorite lunches were that I have packed for them and although I wasn't super surprised, I did get a couple I hadn't thought of. So here are my kid-approved lunch ideas.
1.) Abbi's favorite: Homemade Lunchable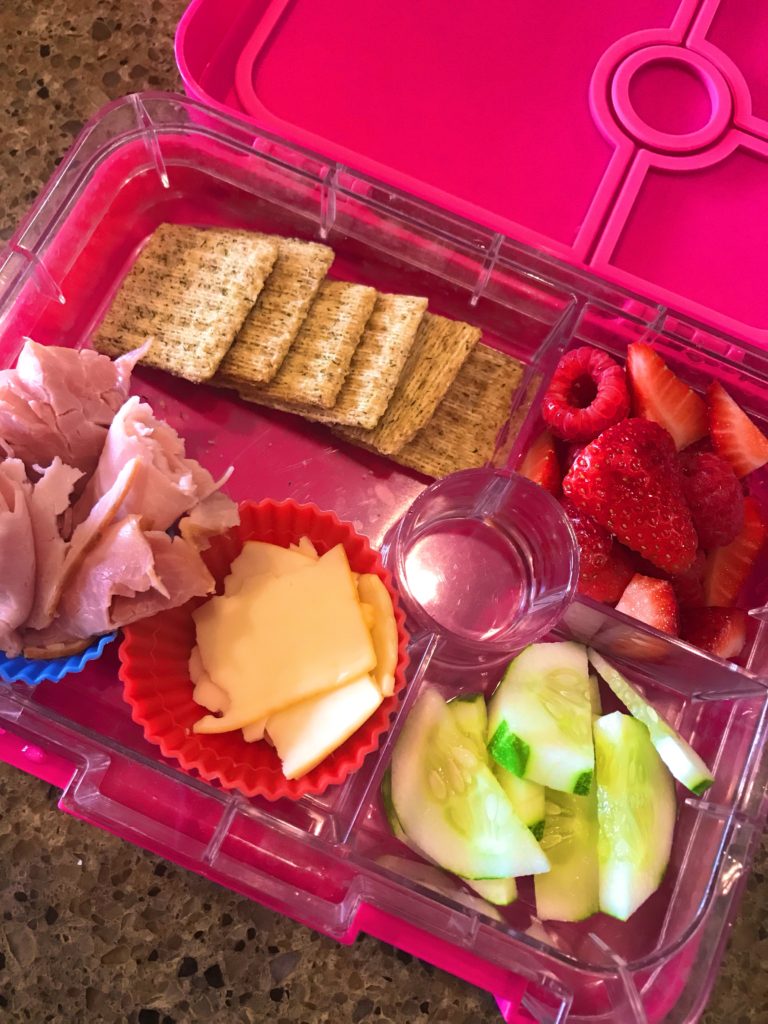 Most kids love those pre-packaged, well-marketed cheese and crackers. My kids have asked me to buy them from time to time but I remind them I can make the same thing, with higher quality ingredients at home, and it's cheaper!
To make one of these you just need your favorite crackers (my kids love Triscuits), deli meat and cheese. Here I used some deli ham and Muenster cheese. I roll a slice of ham up and then break the roll into 2 or three pieces and stick the little rolls into a reusable silicone muffin liner. I then take a slice of cheese and break that into 6 pieces and put it into another liner. When I pack this lunch for her to actually take to school I usually put the crackers in a little ziploc snack size bag just to keep the crackers a little more fresh. Then I always pair their lunches with a fruit and a veggie. In this case I did a strawberry/raspberry mix and garden fresh cucumbers.
2.) Cooper's Favorite: Breakfast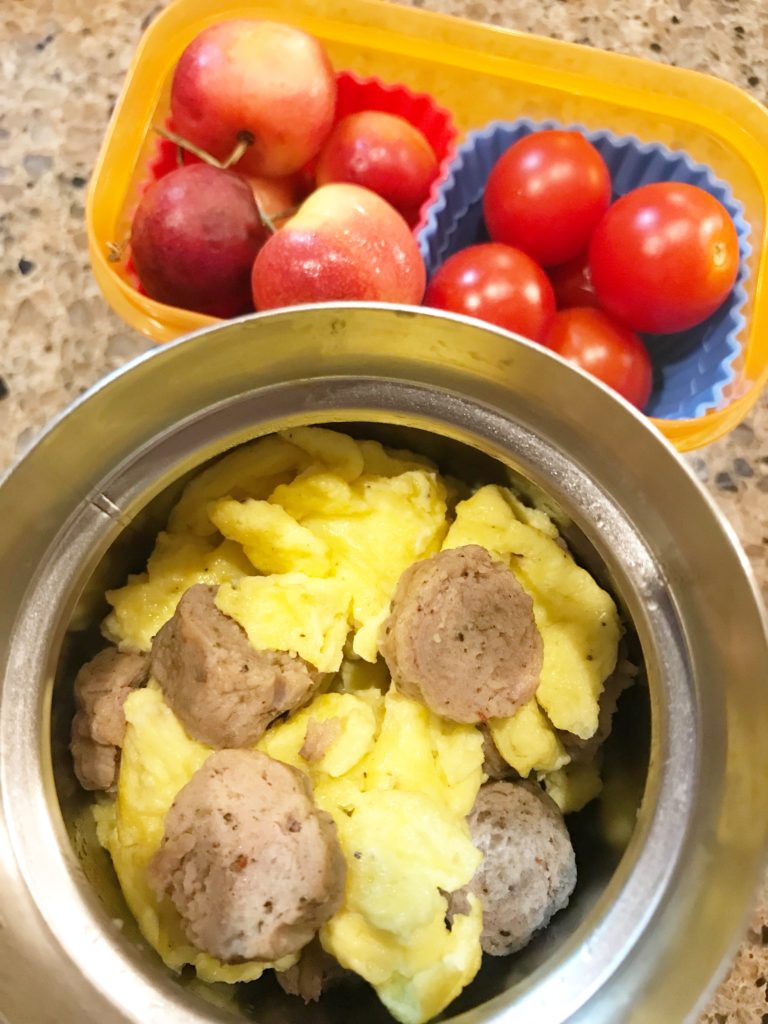 If your kids take their lunch to school and you don't have a thermos for them you are missing out on so many good lunch options! I know my husband was skeptical whether the food would actually still be warm by the time they got to eat lunch but the kids have never complained that their food was cold. I have asked and they said it was still plenty warm at lunch. I use Thermos brand thermoses.
Cooper loves his scrambled eggs and this was one of those options that didn't even cross my mind when I sat down to make the list! If I know he is cold lunch on a Monday, I typically make a couple extra eggs on Sunday morning so there is some leftover for his lunch. I usually put a serving of eggs along with some sausage or bacon in a microwaveable container in the fridge so that the morning of, I can just throw it in the microwave and put it into his preheated thermos. (Preheating a thermos helps it keep food warm, longer. To preheat, you put boiling water in the thermos and screw the lid on and let it sit for 5 minutes. Dump the water out and you are ready to go.) Cooper is not a fan of most 'cooked veggies' but if you wanted to sneak some omelet style veggies in your eggs that could totally work here. I usually just send some raw vegetable and fruit in a separate container for him though. In this case I chose cherry tomatoes and cherries.
3.) Homemade Uncrustable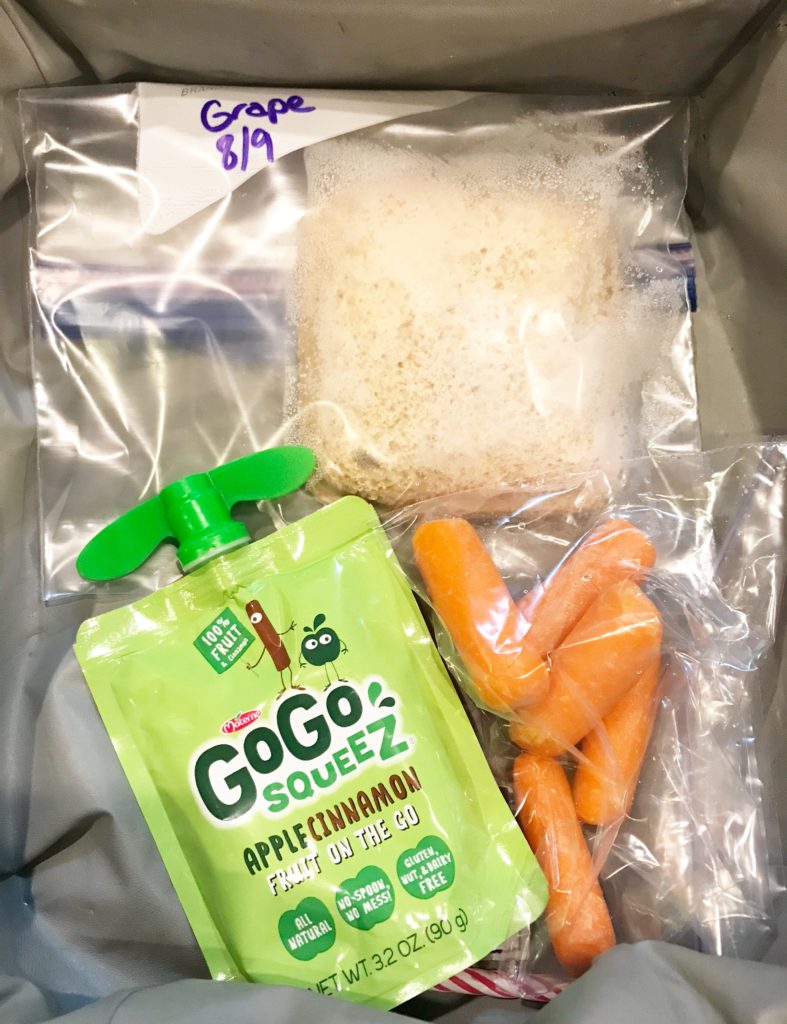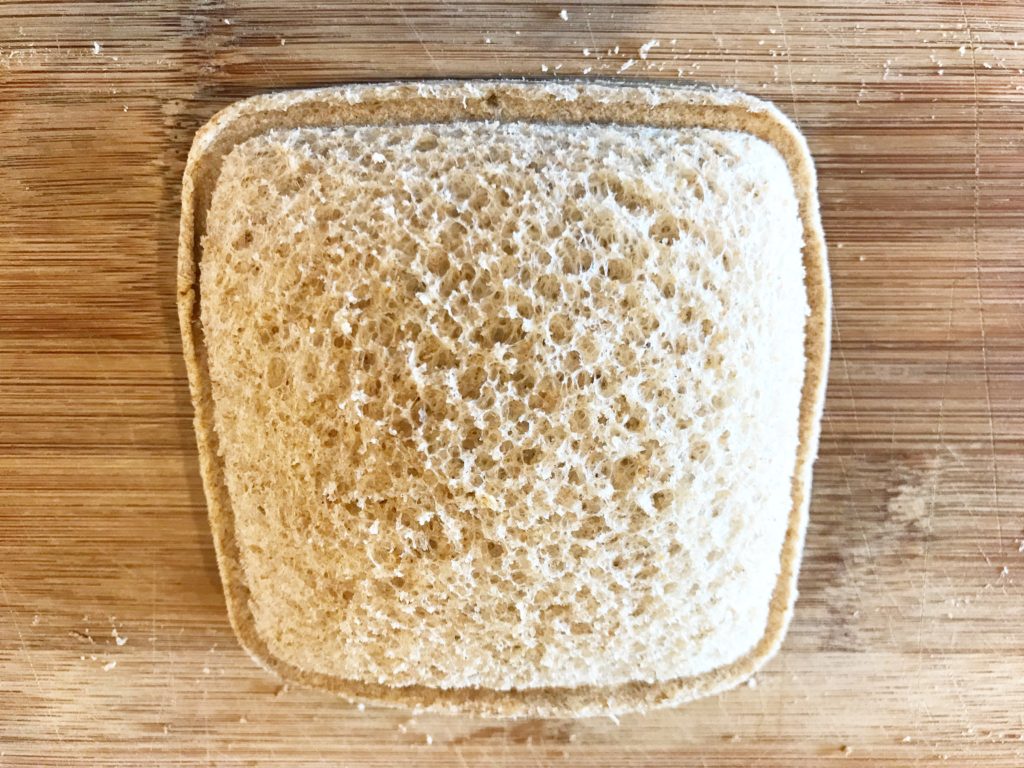 Here is another option that kids love but can be made at home easily. You can even make a whole batch ahead of time and pop them into the freezer, just like an actual Uncrustable.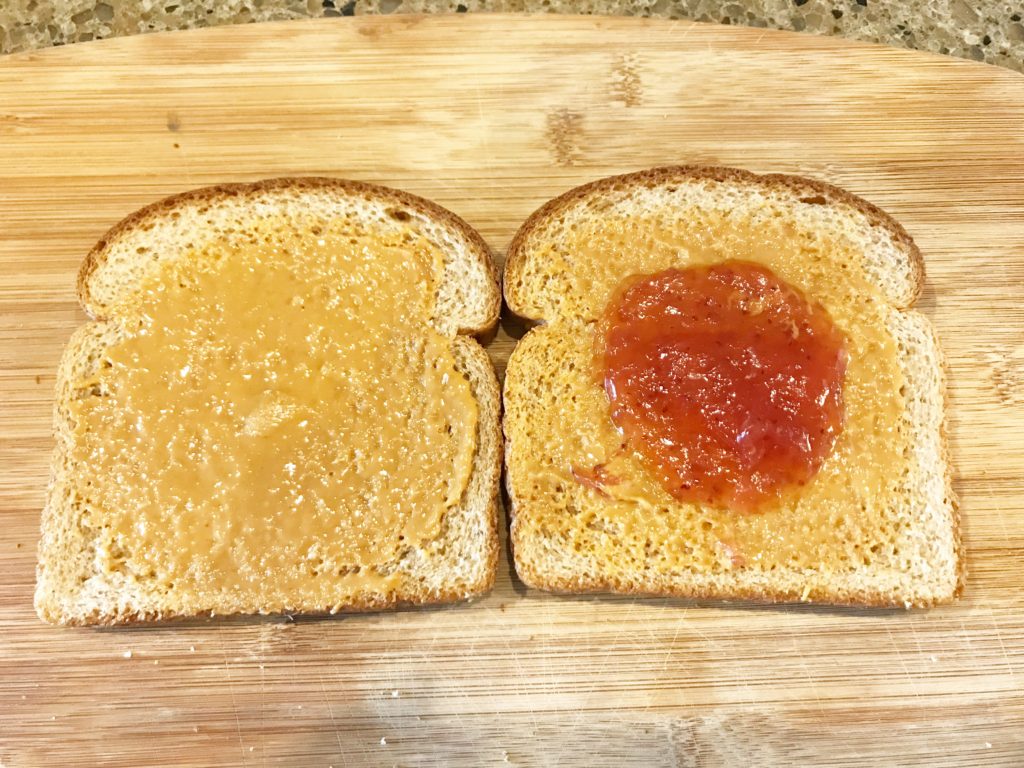 The trick to making these freezer friendly is that you need to put a thin layer of peanut butter on both slices of bread and then place about a tablespoon of jelly right in the middle. The PB acts as a barrier to keep the jelly from soaking into the bread and making it soggy when it thaws out.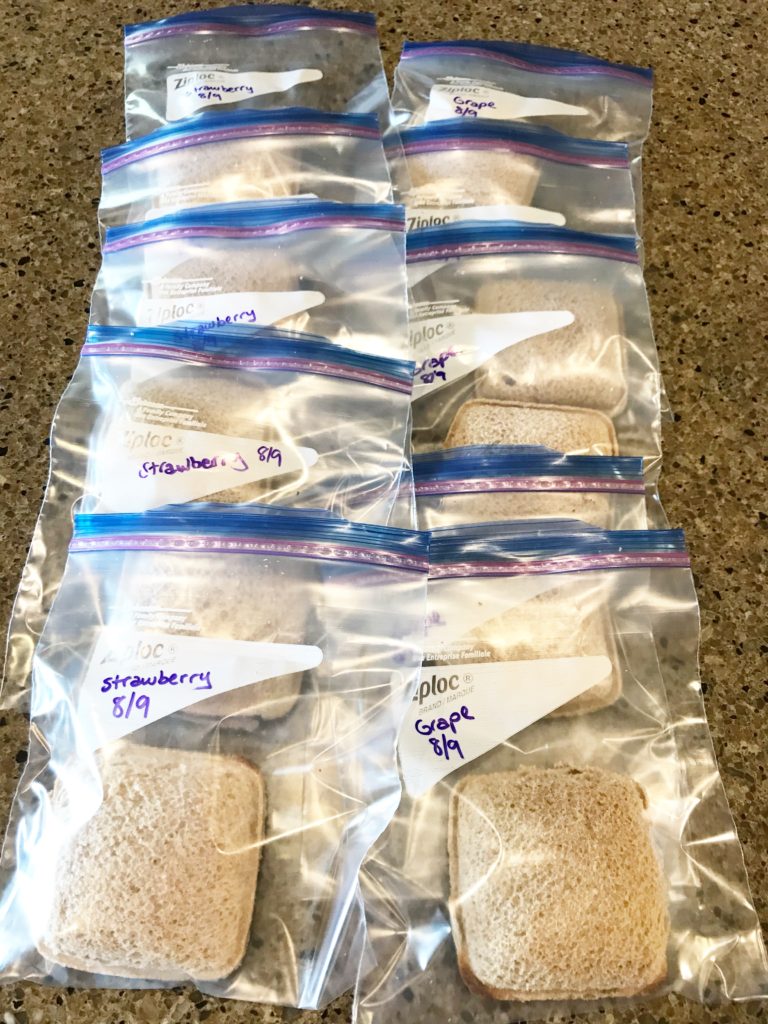 If you don't have a contraption to seal sandwiches, try this one from Wonder brand that I found on Amazon a couple years ago.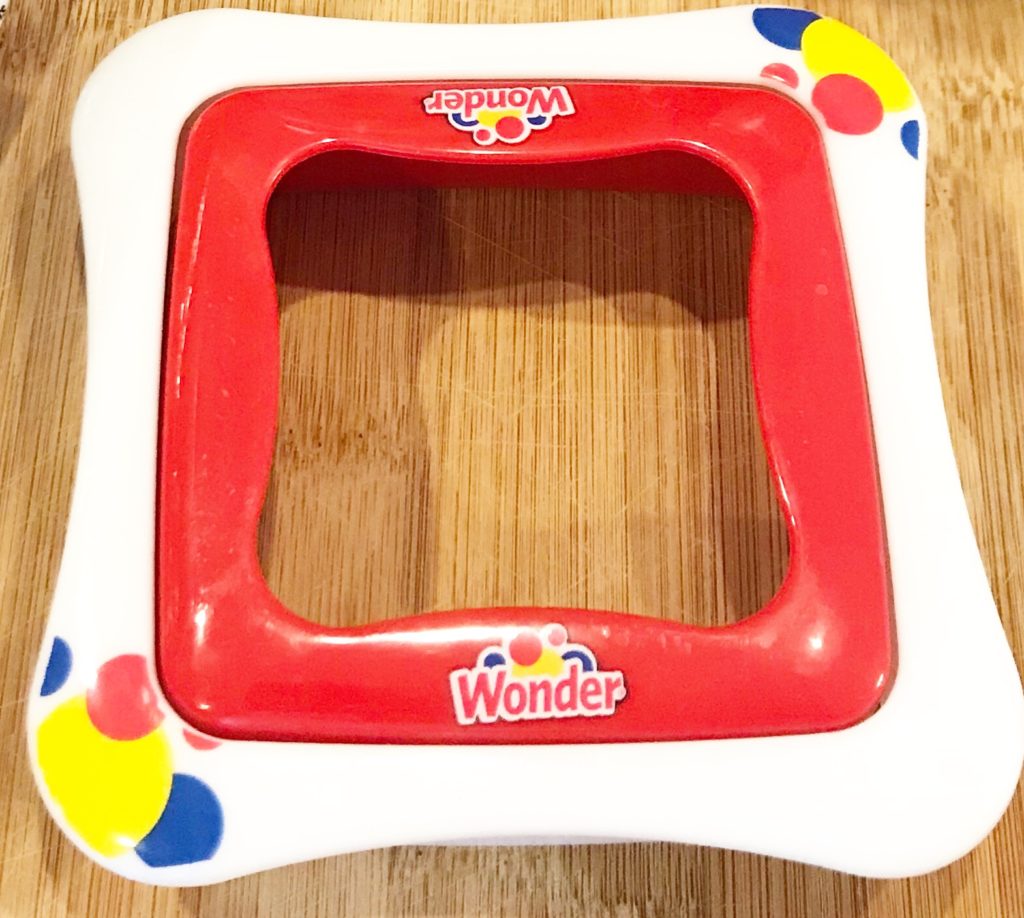 If you do make that big freezer batch ahead of time, they come in so handy and are the ultimate "OMG, I totally forgot that you were supposed to be cold lunch today and I have like no food here" lunch. Grab one of these sandwiches from the freezer, an applesauce pouch from the pantry and whatever veggie you can find. The sandwich will thaw out by the time lunch rolls around and they won't even know you didn't have that assortment pre-planned!
4.) Pesto Pasta with Chicken, Mozzarella, and Tomato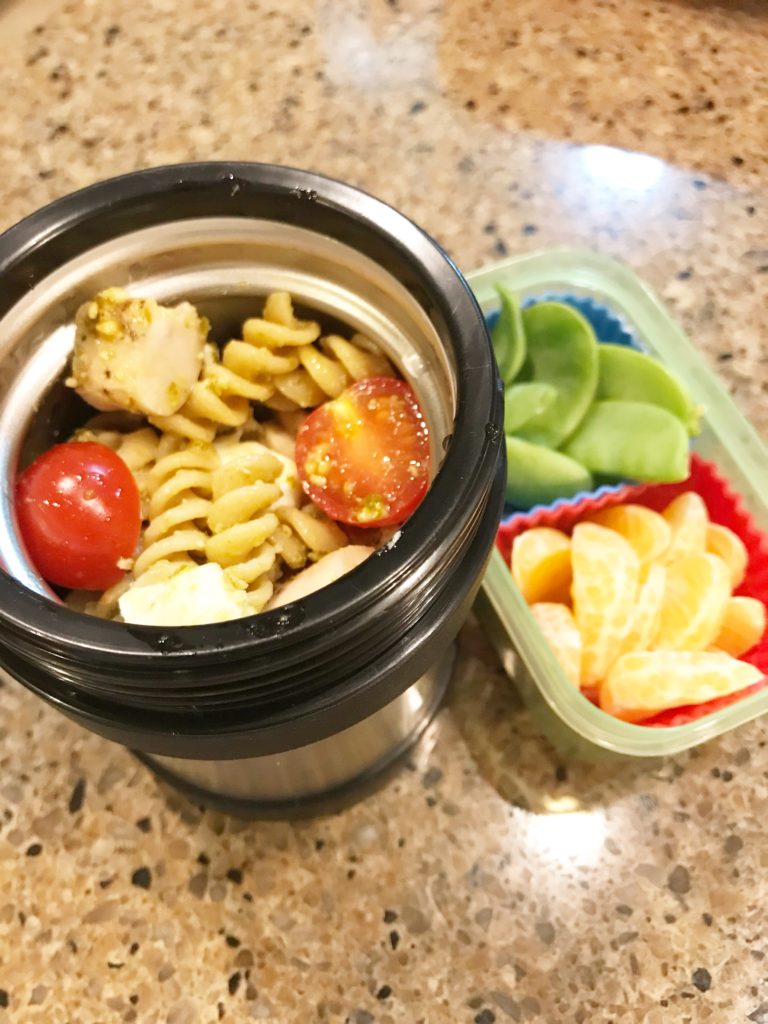 Whenever I make any type of pasta dish, I tend to make extra noodles so I can reserve some for this lunch. My kids like rotini the best for this dish. To make it you just take a serving of pasta, mix it with some pesto, a cut up, baked chicken tender, some mozzarella cheese pearls and a handful of cherry tomatoes if your kids like them.
Over the summer I usually have an abundance of basil and I like to make a batch of pesto and store it for later. To store it long term, I use the freezer. I pour the pesto into ice cube trays, add a little extra virgin olive oil to the top of each section to prevent the basil from browning and then pop it into the freezer.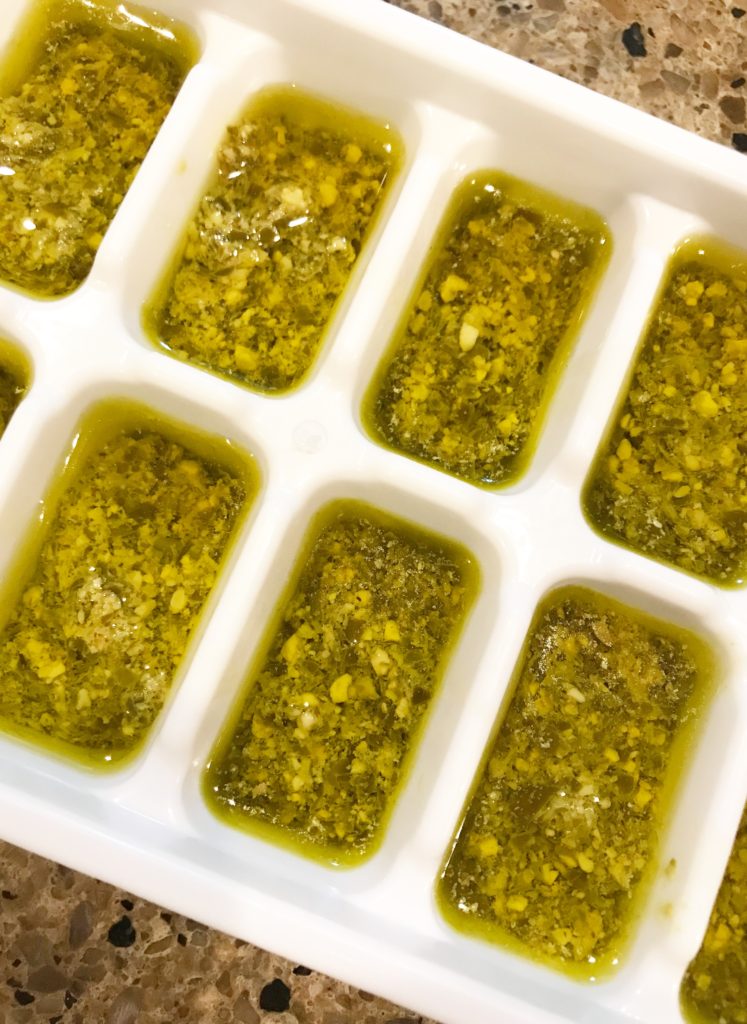 Once frozen, I transfer the cubes to a freezer bag. Now I have individual portions of pesto that can be used when needed.
For the chicken tenders, this is another thing I will make a big batch of and freeze for later use. I buy raw chicken tenders when they are on sale, season them (I like to use either a bbq dry rub or a Greek seasoning blend but you can use whatever seasoning you prefer for your chicken), and bake them at 375 degrees for 20 minutes and they come out perfectly tender and moist every single time! No need to flip either. I then freeze the strips in 1lb. packages. These packs of chicken tenders come in handy not only for school lunches but also a quick family dinner as well.
To assemble, boil or reheat your pasta. Mix the frozen pesto cube into the piping hot pasta and it will melt really quickly. Reheat and cut up a chicken tender or two, add some mozzarella pearls or some grated Parmesan cheese and some cherry tomatoes and you will have a tasty pasta dish to throw in a thermos. The kids are going to love this!
5.) Hard Boiled Egg with Popcorn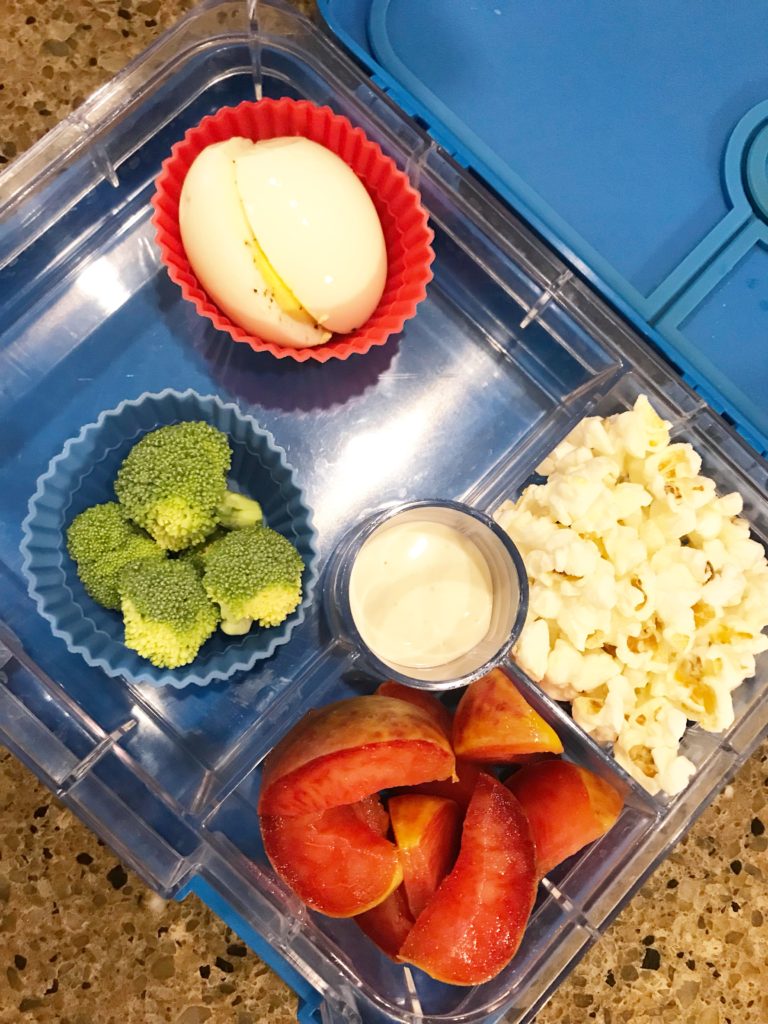 My kiddos really like hard boiled eggs. When I pack this option I typically cut the egg in half lengthwise, put any salt and/or pepper on and then put the two halves somewhat back together and place it in one of those reusable cupcake liners inside one of the compartments of their bento box. They love when I pair their egg with some SkinnyPop popcorn. As you can see, I used another cupcake liner for the broccoli since the popcorn was in one of the smaller compartments. I added a little ranch for dipping and this lunch was good to go.
Side note: If you are wondering what that crazy fruit is that I have included in the lunch, it is called a pluot (combo of plum and apricot). Not going to lie this was clever marketing by the 'Dinosaur Brand' company but they totally caught Cooper's attention at the store.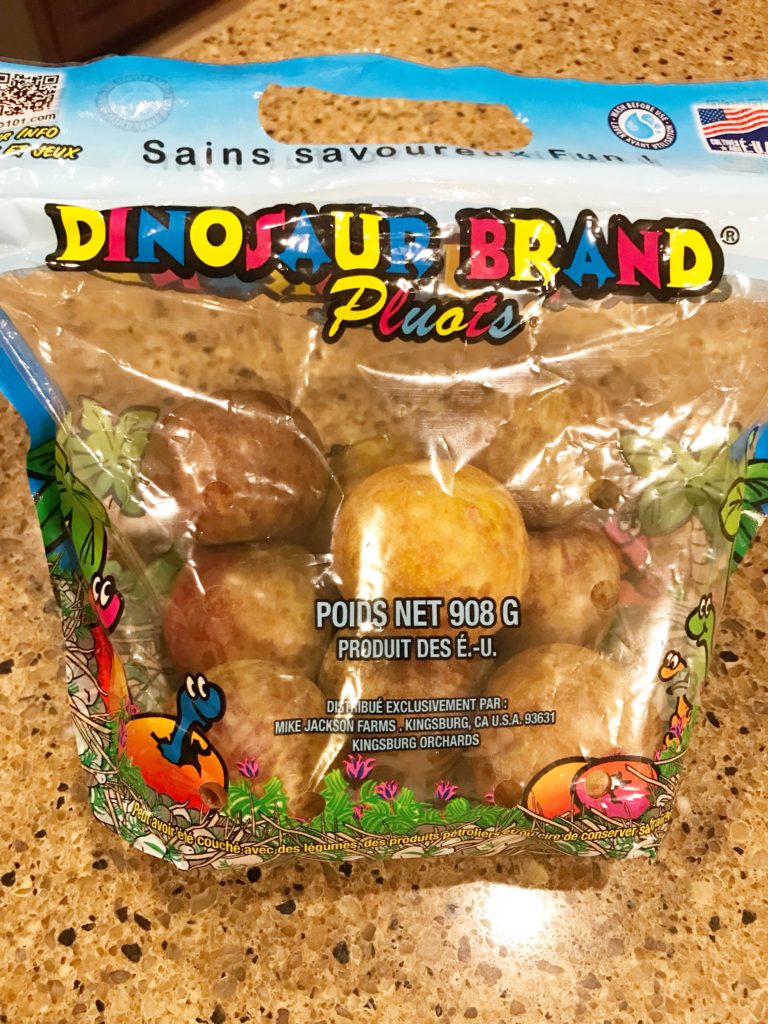 He asked if we could try them and because they're fruit, of course I said yes! We had to try one out when we got home and they were very tasty and sweet.
6.) Mini Zucchini Muffins with a Cheese Stick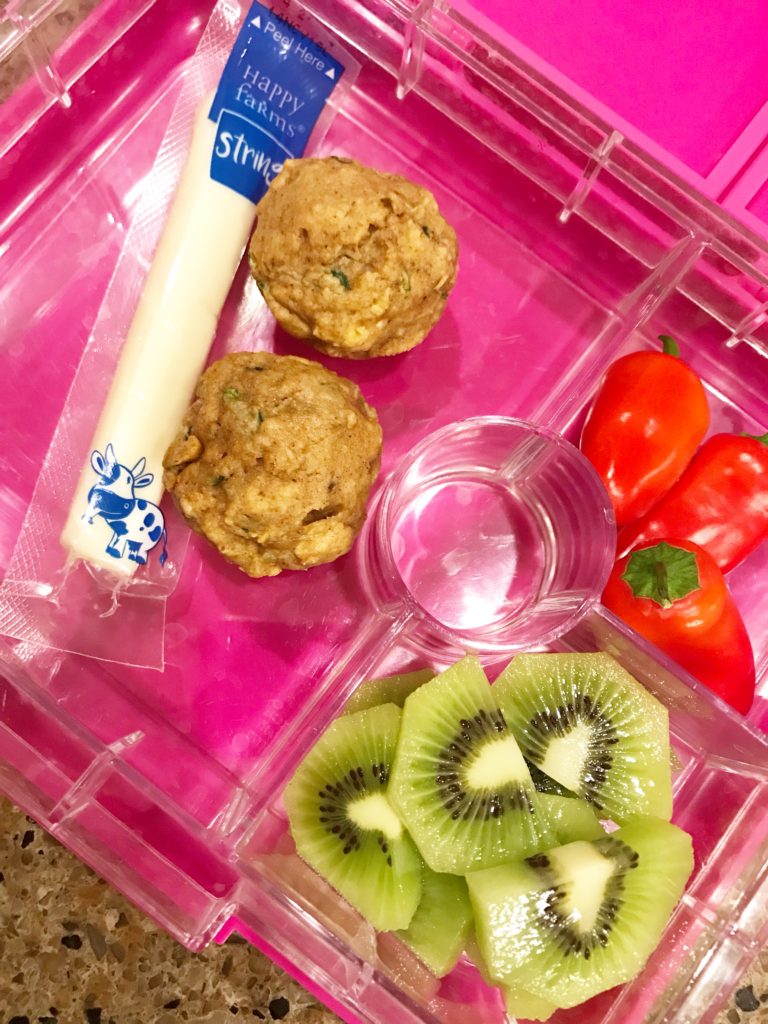 Our family loves this zucchini muffin recipe that swaps more traditional ingredients for a few more wholesome ingredients to make them a little healthier. I love to make these in mini muffin version so they are a little easier for the kids to handle. I make a batch of these before school starts back up and freeze them. Before I put them in the freezer bag, I wrap two together in some Saran Wrap to try to cut down on any freezer burn and then pop them all in to the bag.
The kids love to have these paired with a cheese stick for a protein serving.
7.) Deli Meat 'Sushi'
Take a whole wheat tortilla, spread a little mayo or mustard on and then top with a couple slices of deli meat and a slice of cheese.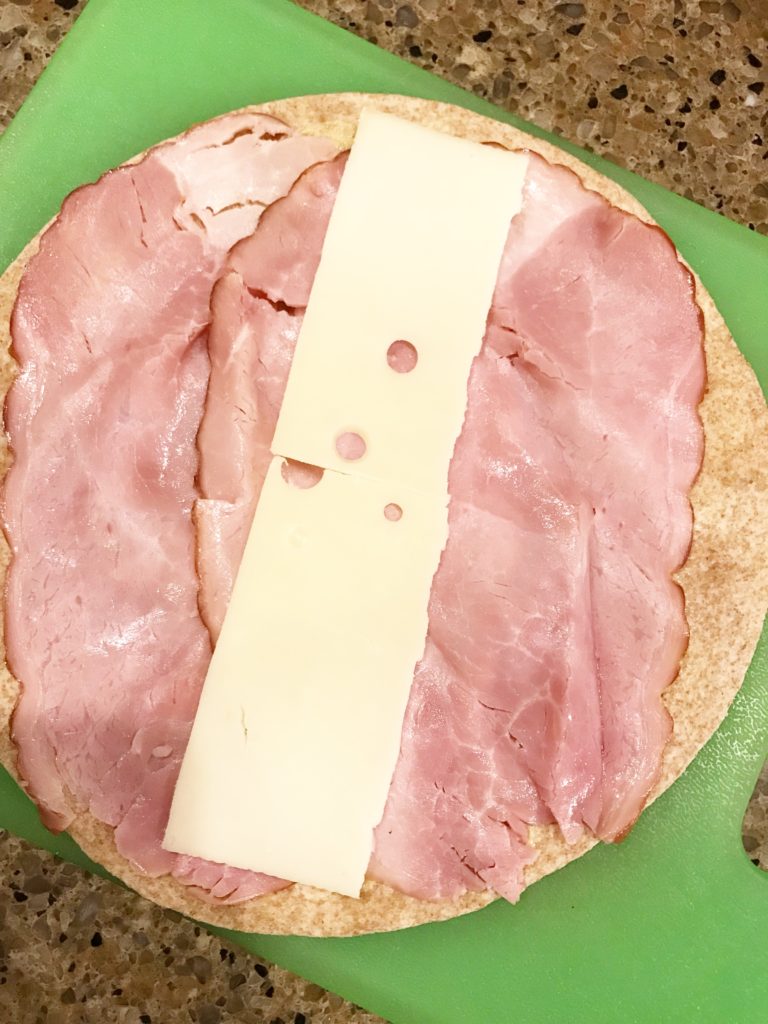 You can also add a lettuce leaf, some thinly sliced tomato or cucumber.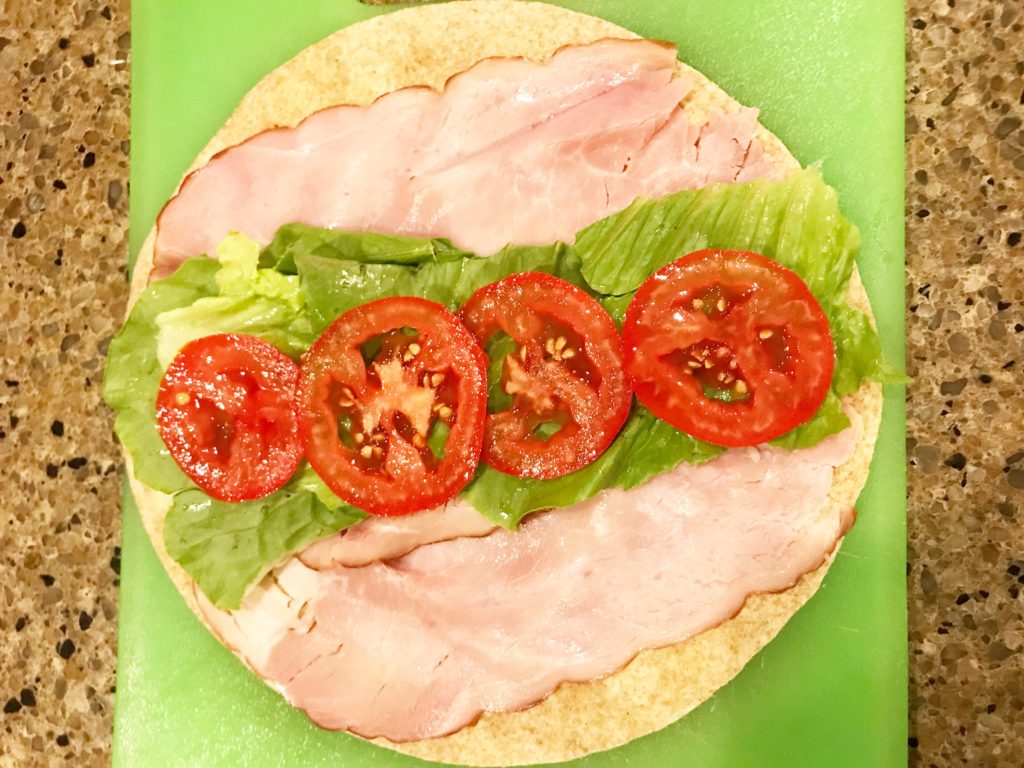 Then, roll the tortilla up as tightly as you can. Then use a sharp knife to slice your roll up into bite-size pieces. I use this option when, "Whoops, I'm out of bread but I have lunch meat and some tortillas!"
8.) Homemade Chicken Noodle Soup
My kids really like chicken noodle soup but instead of a canned variety, I prefer they eat one I made myself where I know exactly what went into it and have control over the sodium content. Here is a recipe I found on Pinterest that we love. I make up a batch of this and freeze it in half-pint jars. When they request soup for lunch, I just grab a jar the night before and put it in the refrigerator over night. The next morning I put it in the microwave to fully heat it up and then put it in to their pre-heated thermos.
9.) Any Leftovers you can put in the Thermos
Seriously, my son loves leftovers and will eat just about anything the next day if I can fit it into his thermos to keep it warm. We have done spaghetti (I just cut up the noodles to bite-size pieces so it is easier for him to eat and not make a huge mess), rice and beans, macaroni and cheese with a cut up hot dog (I know, that ones pushing the 'healthy' card), cut up pizza, or any other pasta dish, etc.
Also, here is the link to the Land's End lunch boxes I bought for my kids last year specifically so they would fit the bento box I ordered.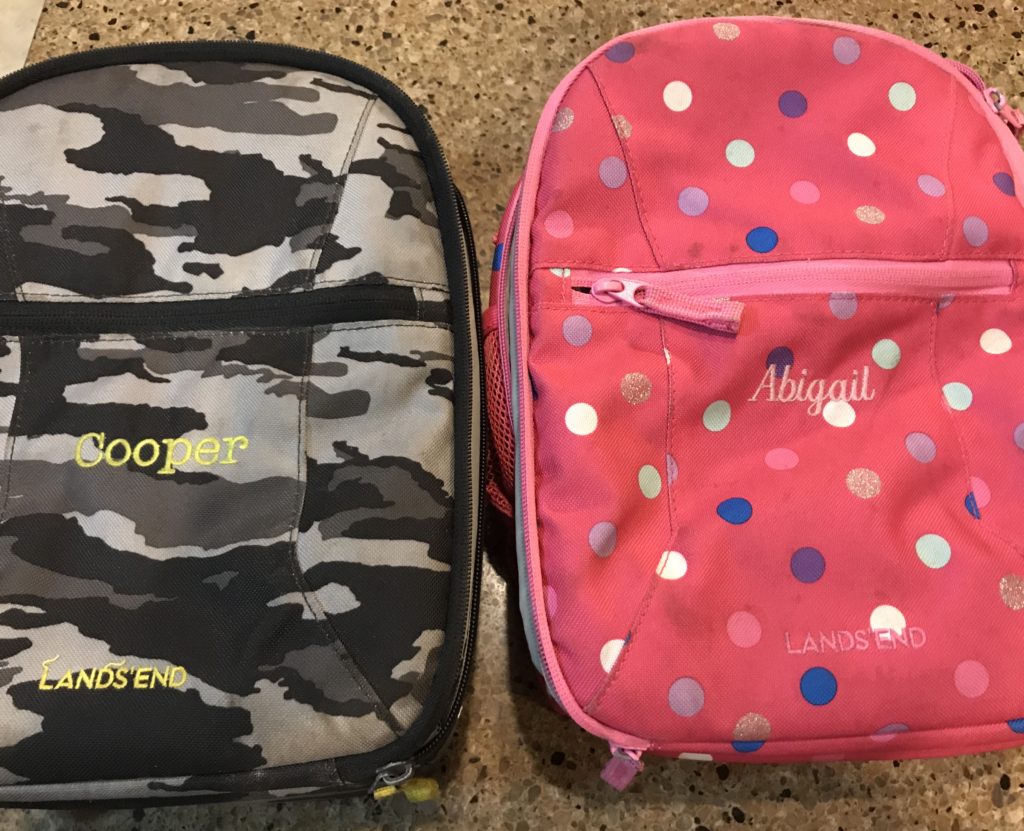 They have held up really well and the kids are using them again this year! If you need one, they are currently having a sale, 40% off a regularly priced item!
Well that is all I have for now. Hopefully you find some inspiration to make your kiddos healthy lunches they will love! Do your kids have any favorite lunches that didn't make my list? Share them below in the comments!
Yours,
Allison