Looking for some ways to spend your Valentine's Day night at home with your special someone?  I have rounded up 16 easy at-home date night ideas for Valentine's Day.
I originally wrote this post a year ago, pre-COVID.  Who would have known that at-home date nights for Valentine's Day would be the norm this year?
Sometimes it can be hard to find an open night to sneak away for a date night with your husband. Then finding a babysitter that doesn't already have plans, adding in the cost of paying the babysitter, and the cost of a nice romantic dinner, plus this year adding in the COVID factor ….. well, sometimes staying at home is just easier. But, Valentine's Day is a special day that should be celebrated. I mean, it is supposed to be the most romantic day of the year, where you show those that mean the most to you just how much they really mean. ❤️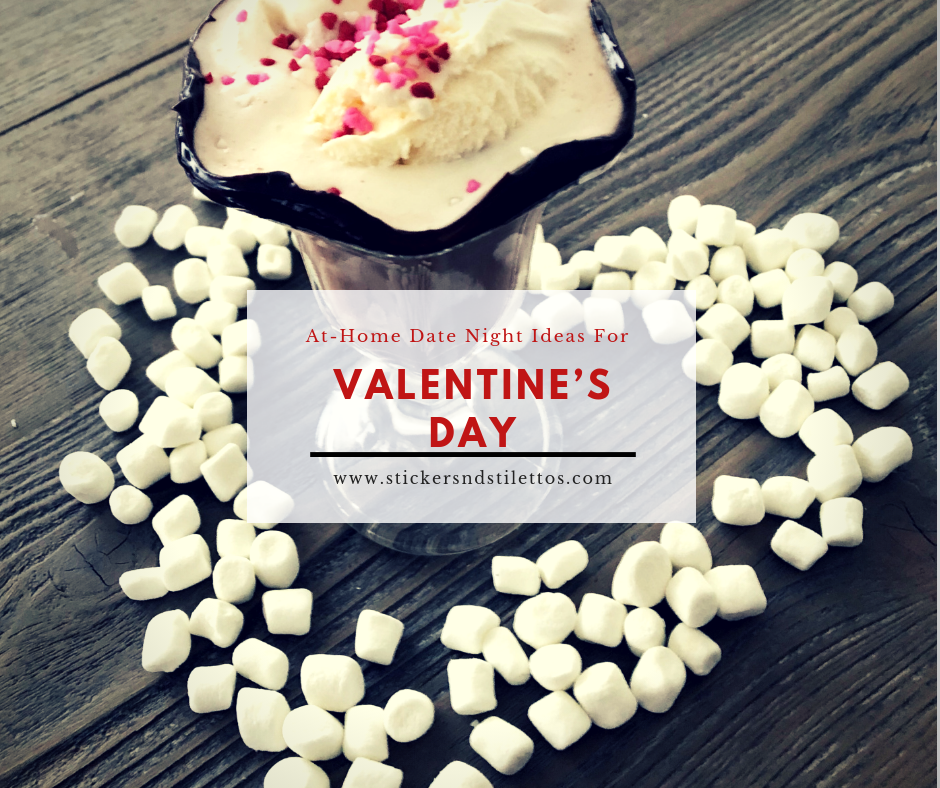 I have come up with some fun ideas to add some romance to your Valentine's Day, all in the comfort of your home. So plan on putting the kids to bed a little early and celebrating some alone time. ❤️
Let's check out some perfect at-home date night ideas for Valentine's Day!
Wine and Beer Tasting
Grab a couple of different kinds of wine and beer and do a private tasting for yourselves in the comfort of your own home.  A lot of local bars are doing beer, wine, and martini flights.  It's a fun way to try different drinks! Light some candles and dim the lights to make it a little more romantic.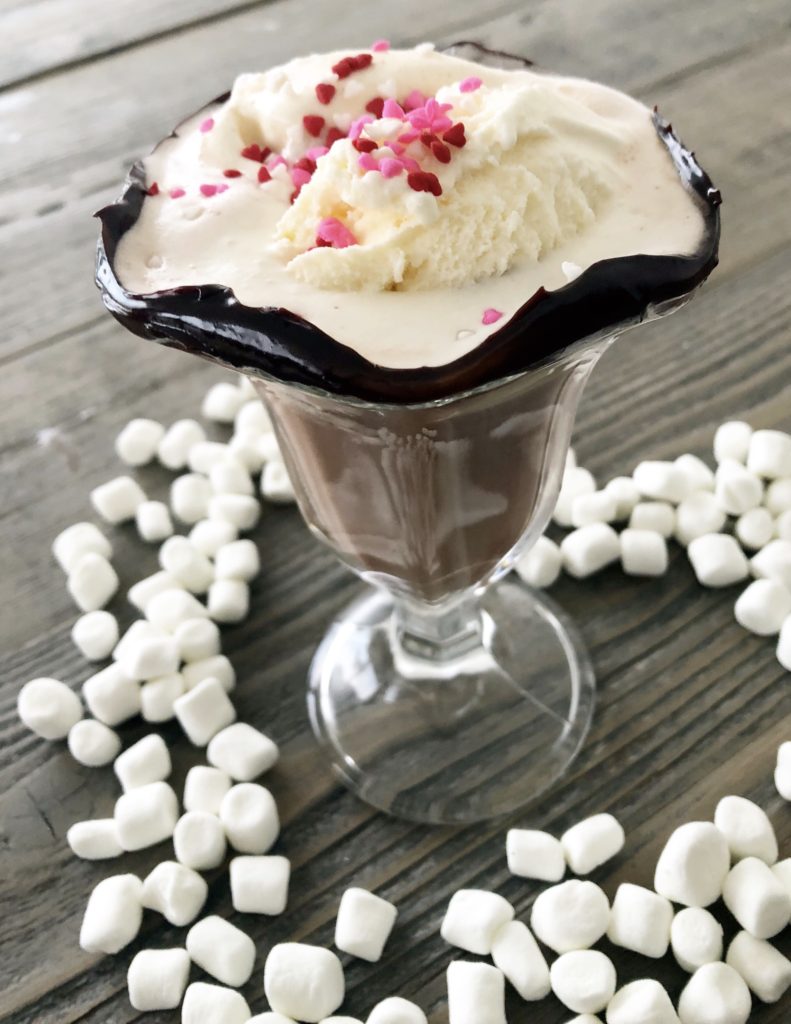 Hot Chocolate Floats
Making hot chocolate floats or frozen hot chocolate is an easy way to add a little fun into your evening. After the kids go to bed, make hot chocolate floats. They are delicious! Dip the rim of the glass in hot fudge, add your favorite hot chocolate and a scoop of ice cream. You can add whipped cream, chocolate sauce, sprinkles, mini chocolate chips, a cherry, or whatever your favorite toppings are. A perfectly romantic flair is to make one and share ❤️
Movie Night
Cuddle up on the couch and binge watch your favorite Netflix series or grab that movie that you have been wanting to watch. If you have not yet watched Bridgerton on Netflix, it may be just the perfect night to start!  Add in some fountain pops and a big bowl of popcorn and you may never go to the theatre again.
Games
Whether you have a favorite game that you play together or grab a new one to try out, a game night is a perfect way to laugh and enjoy the evening.
Heart Shaped Pizza
Grab a heart shaped pizza and celebrate with a pizza night. If you do not have time to make your own dough, Papa Murphy's has Mini Murph pizzas that you could grab and shape into hearts. Pick up some ingredients at the store and you can customize your pizza to your liking. Open a bottle of wine and you have an easy Valentine's Day evening set.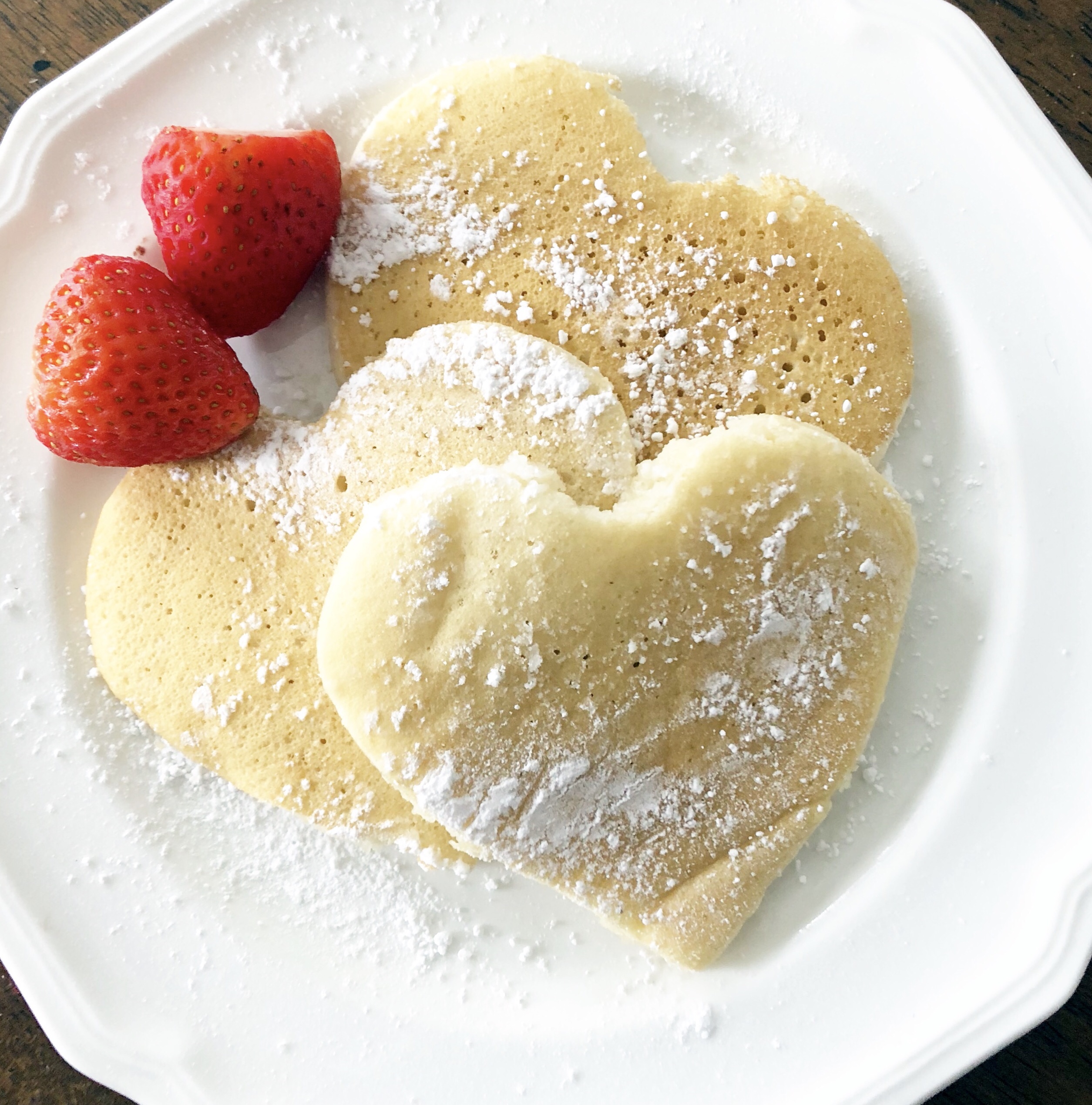 Breakfast in Bed
My husband's favorite meal of the day is breakfast.  Why not make it romantic for Valentine's Day and have brinner in bed?!?  Make heart-shaped pancakes or eggs, serve a little bubbly, even dim the lights and add some romantic music.  Or go all out Kelly-style and make a breakfast board.  It's a simple and cheap way to spend a romantic evening together.
Make a New Recipe
Maybe you have been wanting to try out a new recipe and just haven't had time to make it, or maybe the recipe isn't quite kid-friendly. Whatever the case may be, Valentine's Day is the perfect evening to give it a whirl! Plan on helping each other out in the kitchen so you can spend the night together. If waiting until the kids are in bed is not really an option, have them watch a movie or give them a little craft or project to do while the two of you make dinner. Have Alexa play some romantic music and enjoy adult conversation while making a romantic dinner for two. ❤️
Dessert Night
Who doesn't love desserts?!? Valentine's Day is all about chocolate and yummy treats. Pick out a new dessert recipe to try or grab a couple treats at the local bakery and have a spread of yummy goodness to try as a special Valentine's Day dessert night. Add in a dessert drink and the whole evening is set!
Ice Cream Bar
Put the kids to bed, then pull out a few different ice cream flavors, some gourmet toppings, and make your own ice cream sundaes. This might be the one time you don't have to share yours with your kids, so enjoy!
Chocolate Tasting
Around Valentine's Day, in every store you will see boxes of chocolates wrapped up in pretty papers, ready to be given as a gift. Why not grab a couple boxes and have your own chocolate tasting with just the two of you? Wine and romantic music are a must to make this a little more special!
Fondue
Start off the evening with cheese fondue and end it with chocolate fondue. The ideas are endless of what you can use to dip. Grab breads, mini meatballs, pretzels, vegetables, steak bites and dip in cheese. For chocolate, any fruit is great (strawberries are my favorite), cake cubes, pretzels, marshmallows and brownies are all tasty ideas.
S'mores
Light a fire in the fireplace and make s'mores. If you don't have a fireplace, they make indoor s'mores kits! Try something a little different than the traditional s'mores of graham cracker, marshmallow and chocolate. A graham cracker, marshmallow and peanut butter cup is a delicious alternative to plain chocolate. Using chocolate chip cookies in place of graham crackers is another idea. Add a square of caramel sea salt chocolate to add a little pizzazz. The combinations are endless, so grab a variety and try them out!
Cuddle in Front of a Fire in the Fireplace
There is nothing more romantic and cozy than a fire in the fireplace. Grab a big chunky knit blanket and cuddle in front of the fireplace. Enjoy your time together, talking without the kids jumping all over you.
Massages
Give each other a massage. Get some massage oil, dim the lights, and pamper each other with a back or foot massage.
Order Your Favorite Takeout
Set the table and add some candlelight and order your favorite food from your favorite restaurant and have a romantic dinner at home. Being in your own home, without waiters checking in on you and the noise of the restaurant can be romantic. And you can even wear your jammies!

This is the best recipe. Hands down. Rachel served this treat at our book club one month, and I had the Cuisinart ice cream maker ordered before I left her house. Yes, it is that good! Red velvet ice cream is a perfect Valentine's Day treat. I added brownies to ours and it is so good!
I hope some of these at-home date night ideas for Valentine's Day have inspired you for a romantic evening in the comfort of your own home.
Happy ❤️ Day!
-Callie
Disclosure: This site may contain affiliate links for products and services that we recommend. If you make a purchase through these links, we may earn a small commission at no additional cost to you.