The 4th of July always means family get-togethers, barbeques and backyard parties to watch the fireworks!  Check out some of the red, white and blue outfits I put together to help celebrate the 4th in style.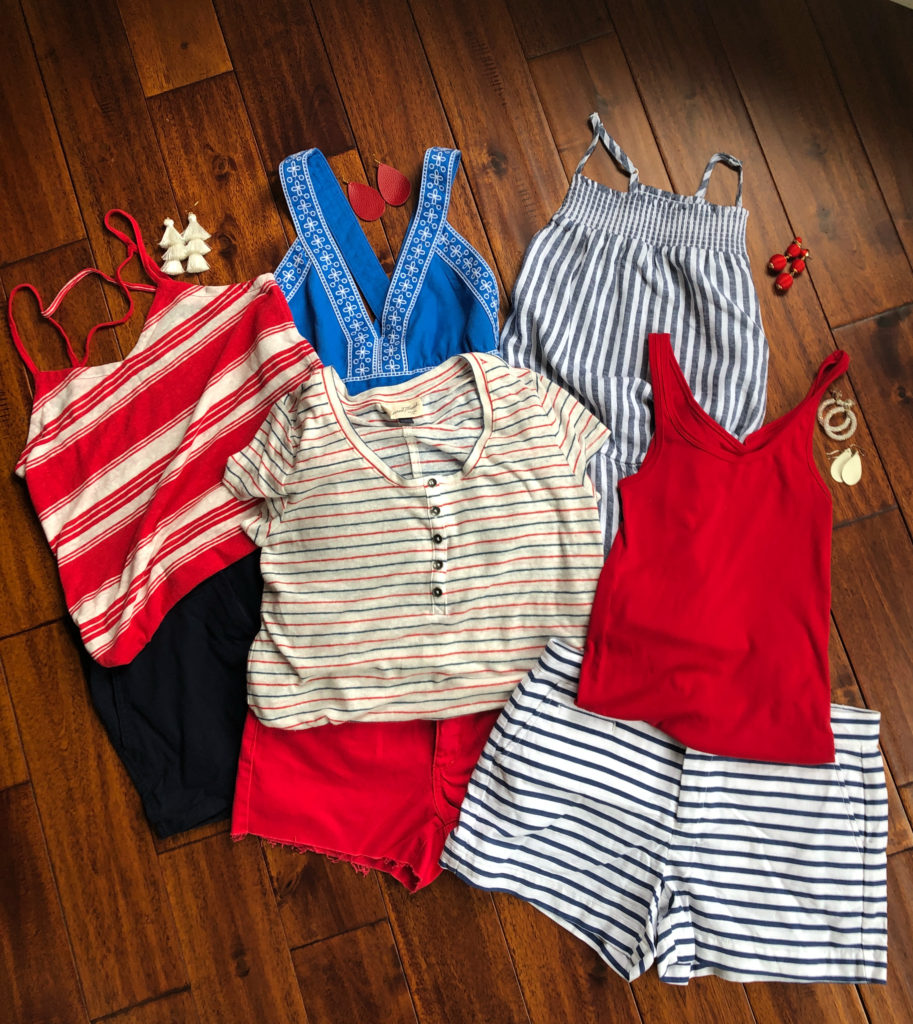 I tend to style most of my outfits with pieces that are not just limited to the 4th, but can be worn all summer long.  While digging through my closet, trying to come up with some red, white, and blue inspired outfits, I realized that, 1, I do not own a pair of white shorts, and, 2, I quit wearing necklaces when I started having babies.  You know how it is when you are holding a baby and they always grab onto the necklace, trying to rip it off of you and you end up with beads flying in a thousand different directions?  Yep, well, after about the third time this happened I quit wearing them.  Sometimes you have to sacrifice fashion for practicality!  So now I am on the hunt for a pair of white shorts that are cute and comfortable, yet aren't see-through enough to show everything you don't want others to see!  And now that my kids are older, I need to find some fun necklaces to add a little spark to my wardrobe!
Keep reading to see these outfits, along with many more!
You will find links to all the clothes in the descriptions under the pictures so that is easier for you to click to shop!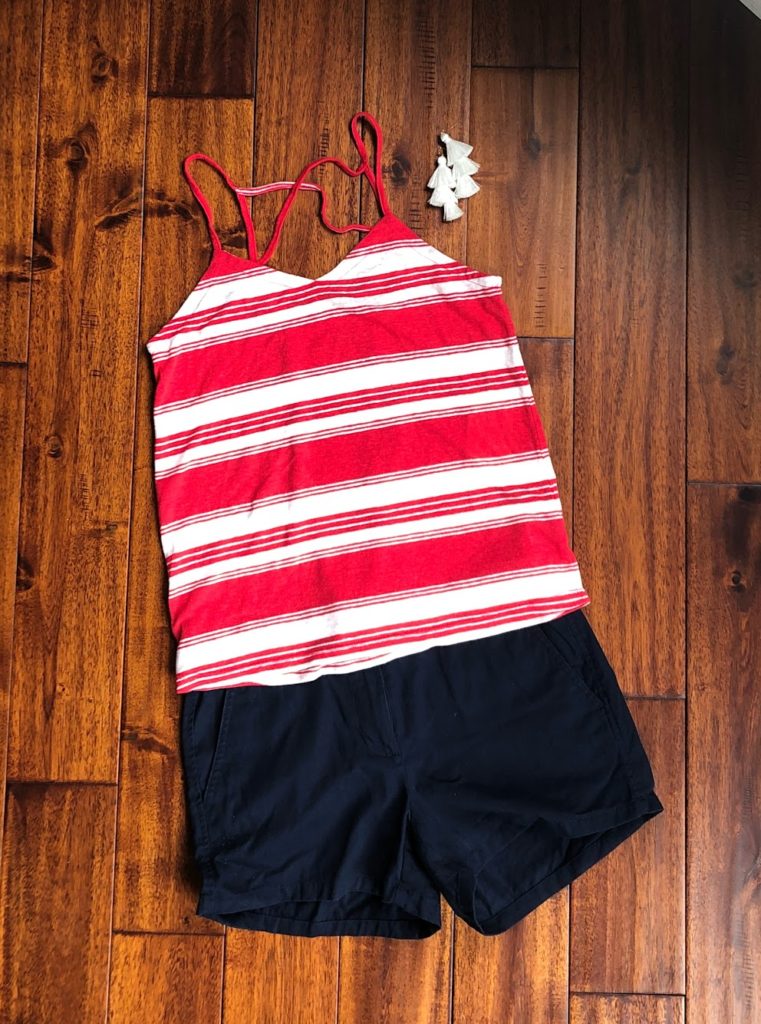 The red and white stripes in this tank paired with some navy shorts are a perfect outfit!  The tank is lightweight and has cute straps in the back that cross.  Add some fun earrings and you are ready!
**These shorts run TTS, and the tank I sized down one to an XS because the arm openings were a little big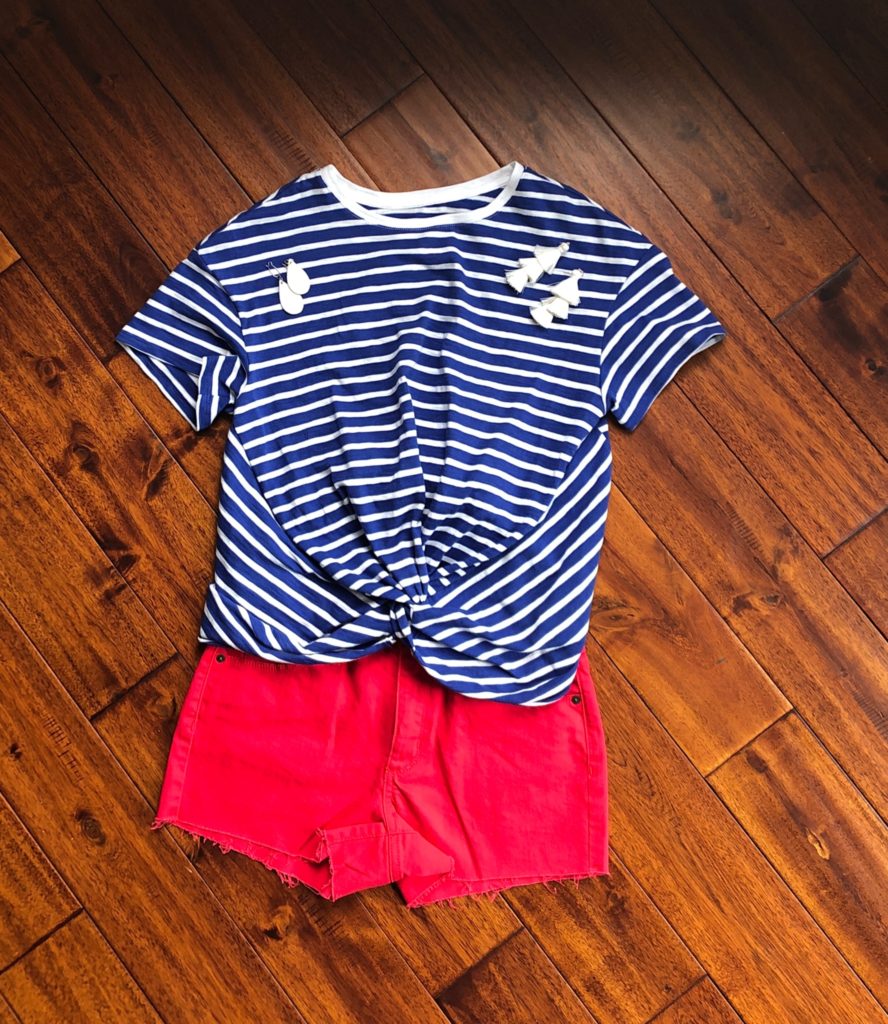 The bright blue in this shirt is perfect paired with red shorts!  Even though the shirt is super comfy, the twisted hem makes it a little more dressy.  This shirt would be cute with white shorts, as well!
**Even thought these shorts are called shorty shorts, they are not too short on me (I am 5'4″).  The shirt runs TTS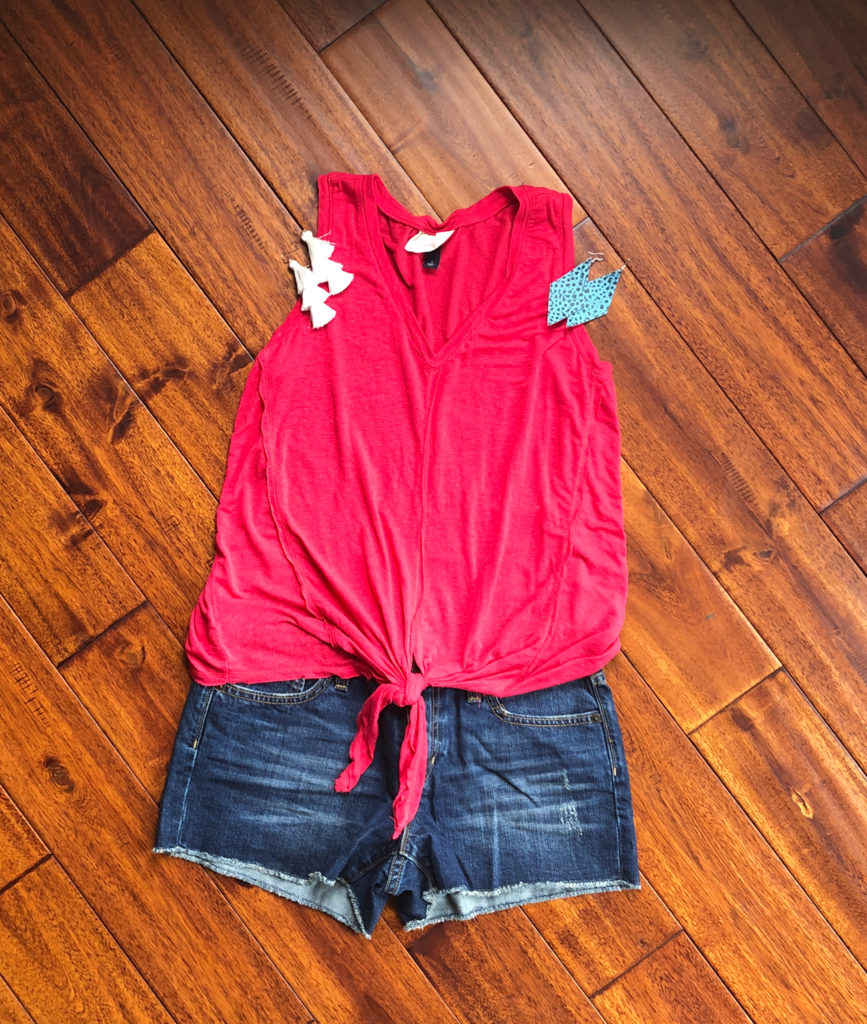 To say that I love this tank is an understatement!  It is super comfy!  And at $12.99, who can beat it?!?  It comes in navy, along with other colors.  The shorts are my favorite jean shorts this summer!
**I went with a small in the tank so that it was a little looser.  The shorts are TTS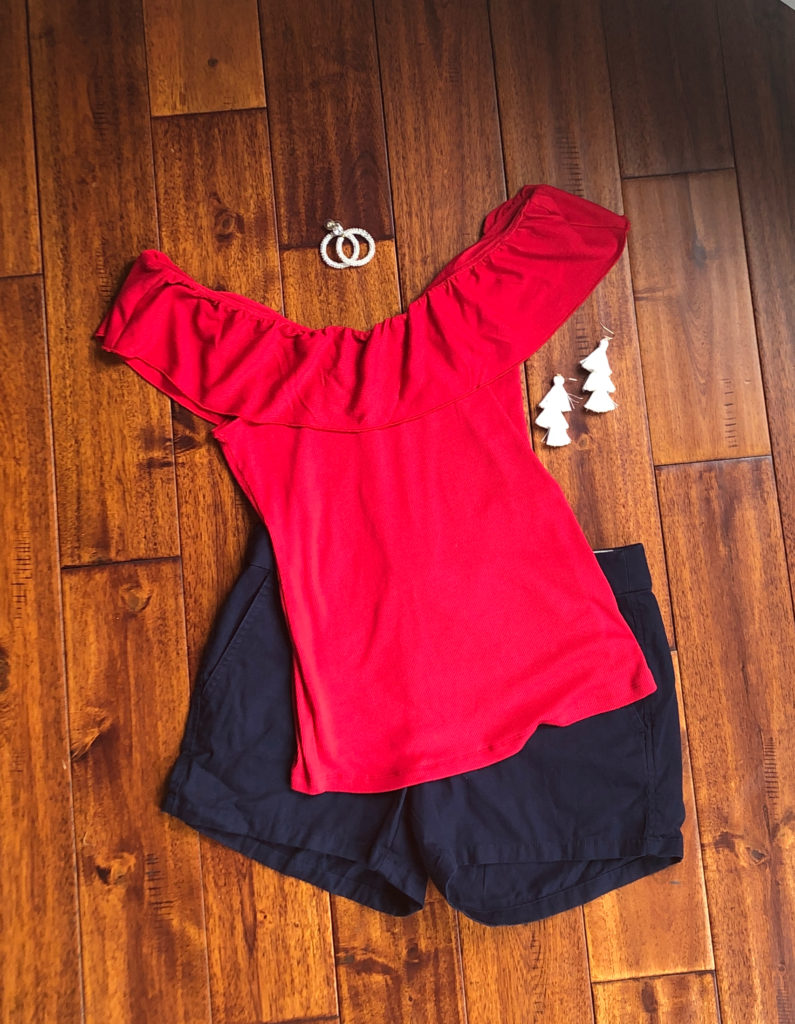 Wear this off-the-shoulder shirt and navy shorts with espadrille wedges to watch the fireworks!  Or leave the sleeves on your shoulders and add some cute sandals for a comfy outfit to hang out poolside.
**The shorts run TTS.  I sized down to an XS in the shirt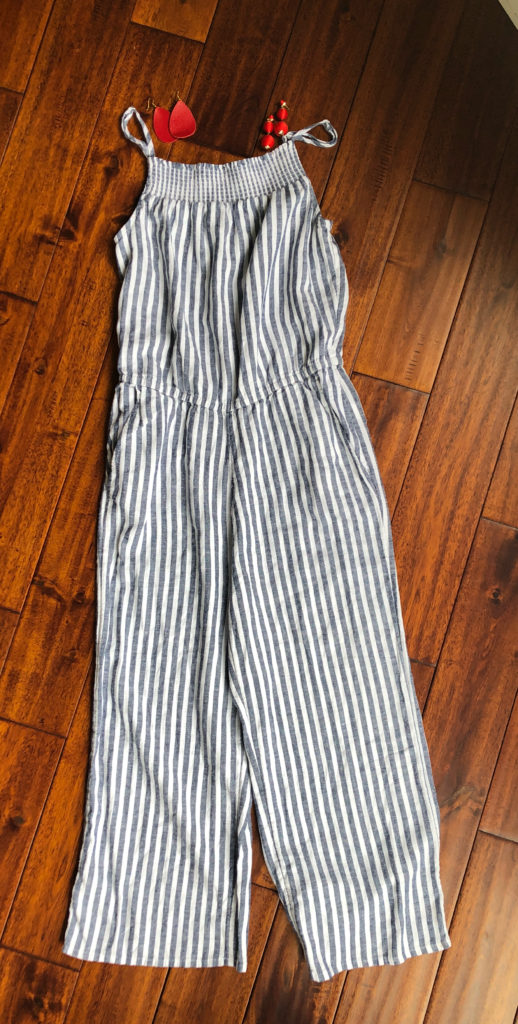 Jumpsuits seem to everywhere this summer!!  Who doesn't love an outfit that is almost as comfy as PJs?!?  They are perfect to dress up with espadrille wedges, or to just lounge poolside.  This cropped jumpsuit is navy striped, and adding a pair of red earrings makes it the perfect outfit for the 4th!
**I downsized to an XS so that this jumpsuit would be cropped on me and not be too long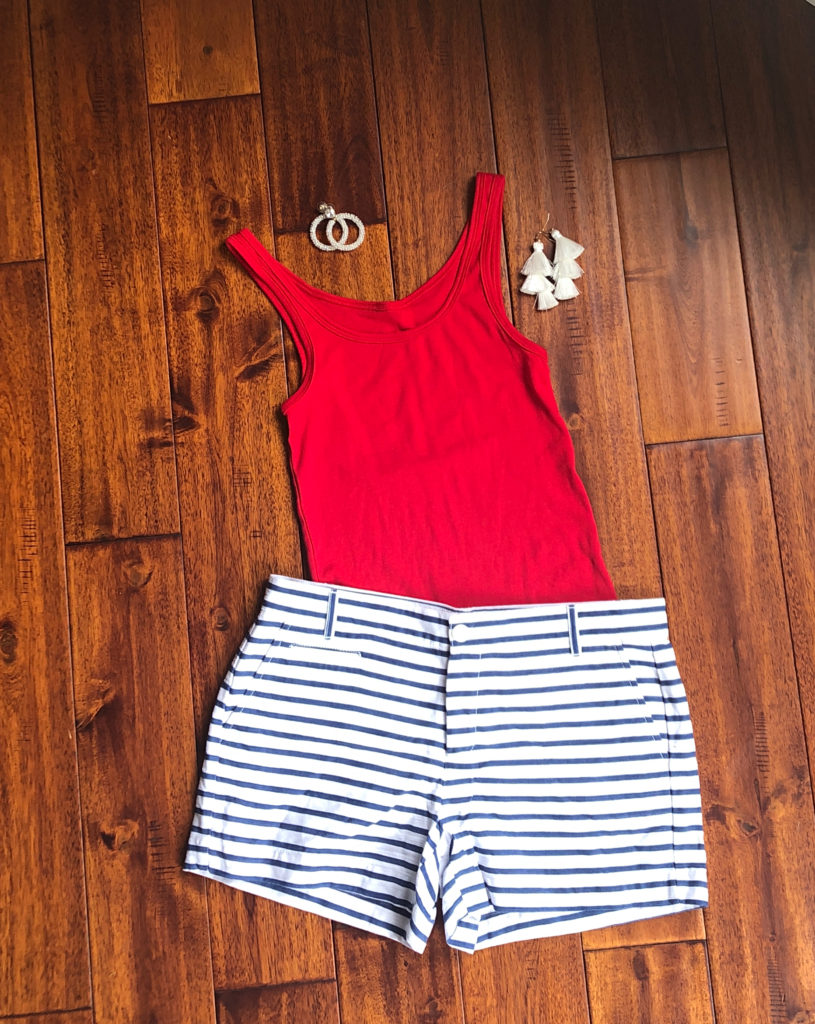 A simple red tank and fun striped blue shorts are the perfect outfit for any 4th of July gathering!  The blue shorts in the picture are a few years old, but J.Crew has a pair of shorts that are similar.
**The tank runs TTS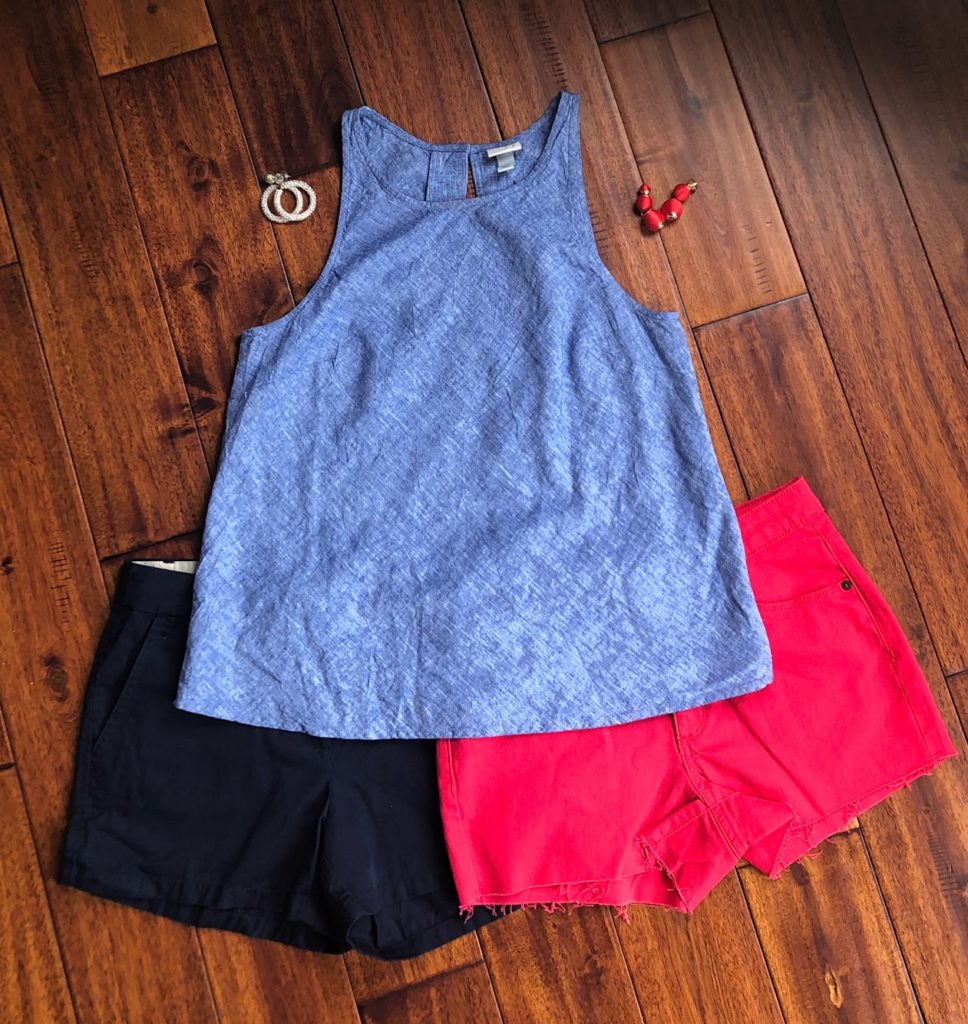 Chambray screams summer!  This top has the perfect cutout in the back that dresses it up a bit.  Pairing it with navy shorts or red shorts are both options, as well as white shorts would be cute, too!  White earrings or red earrings help to make the outfit even more festive!
**This is a swing top, so I suggest sizing down.  Both pairs of shorts run TTS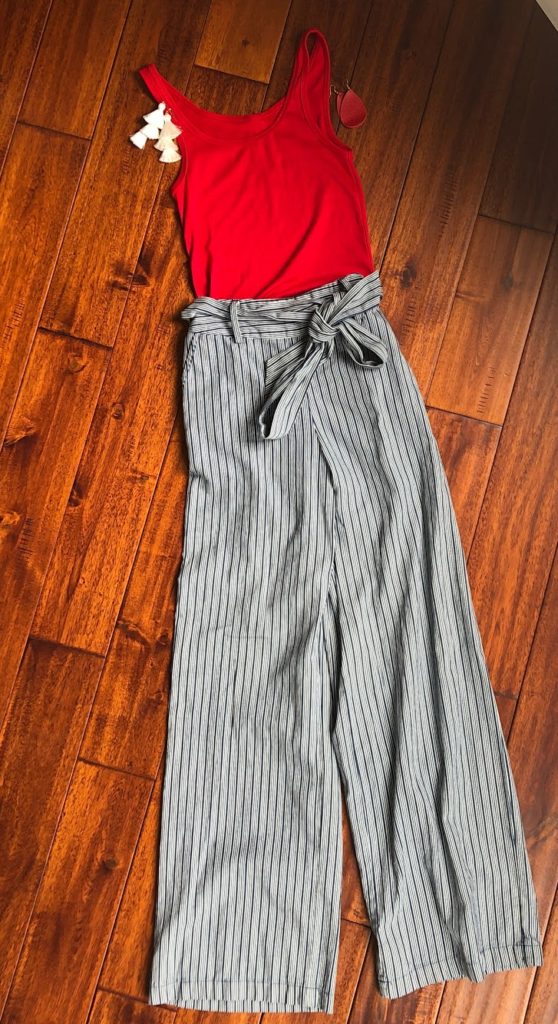 These high-waisted pants are my favorite in my closet right now!  They have an elastic waist with a tie belt that is super flattering!  The wide legs and vertical stripes make your legs look longer than they are.  Throw on a simple red tank and you are ready to watch the fireworks!
**The tank and pants both run TTS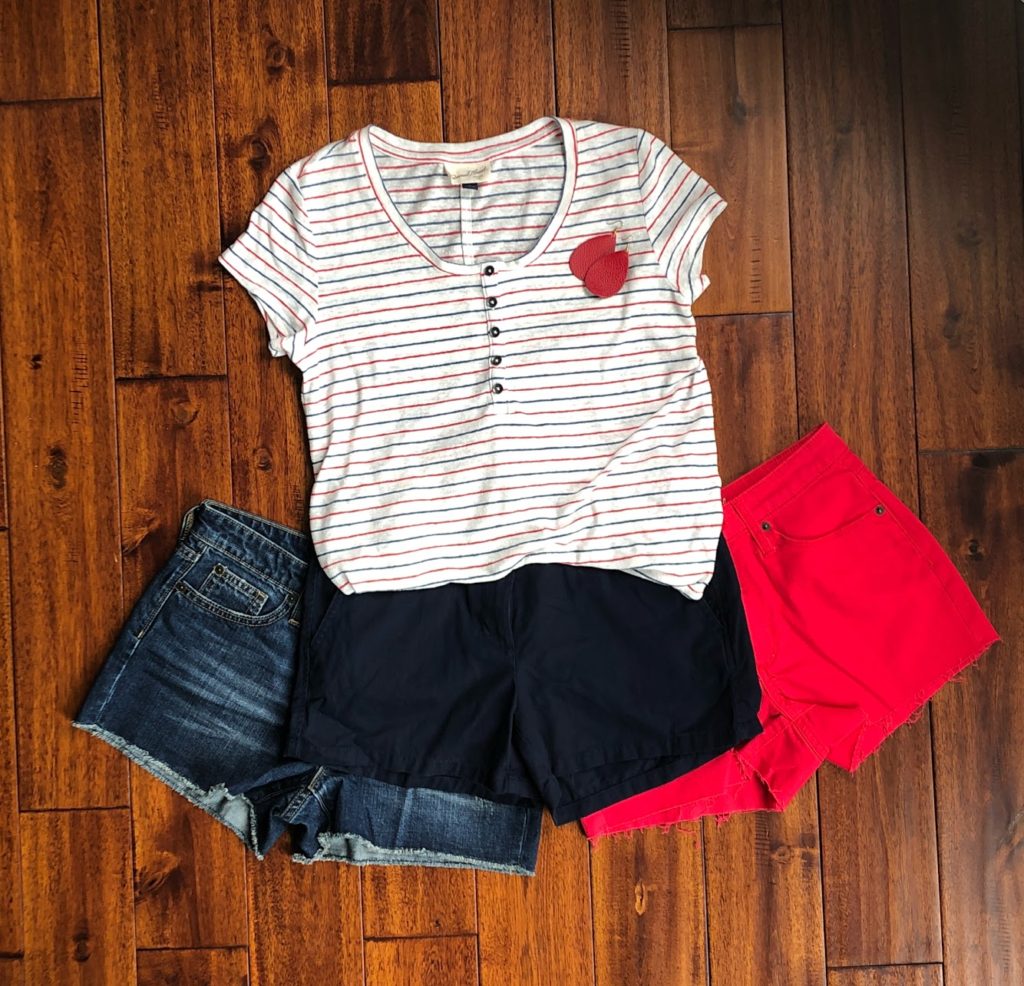 This shirt is a must for your summer closet!  It is lightweight and perfect to wear with red shorts, jean shorts, or dress it up with navy shorts.  Buy it one size bigger and tie the waist for a perfect summer look!
**The shirt and shorts are all TTS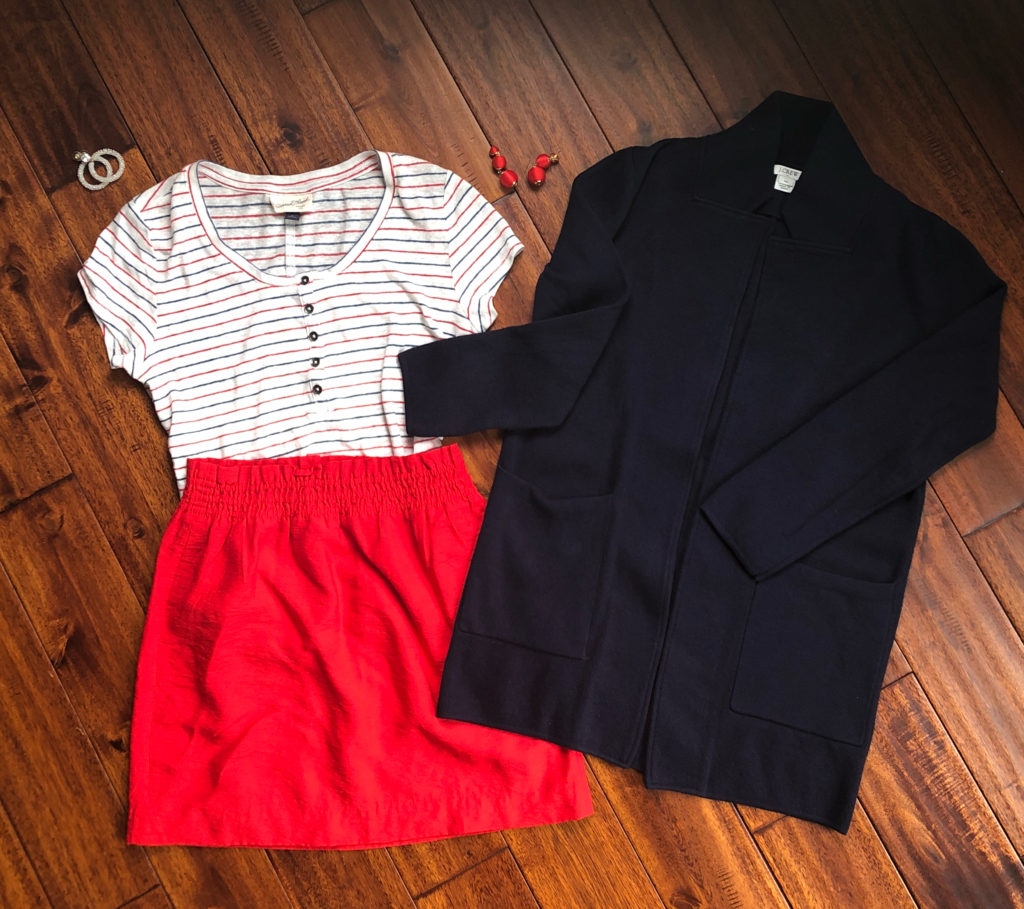 This outfit is really to show you my absolute favorite piece in my entire closet right now.  This sweater blazer is a must-have for you!  I have it in every color available and wear one almost daily.  It is perfect to throw on over this top when it gets chilly at night.  The red skirt has an elastic band and is perfect for when you plan on eating too much at a cookout!
**The shirt and skirt are TTS.  Go down a size in the Sweater Blazer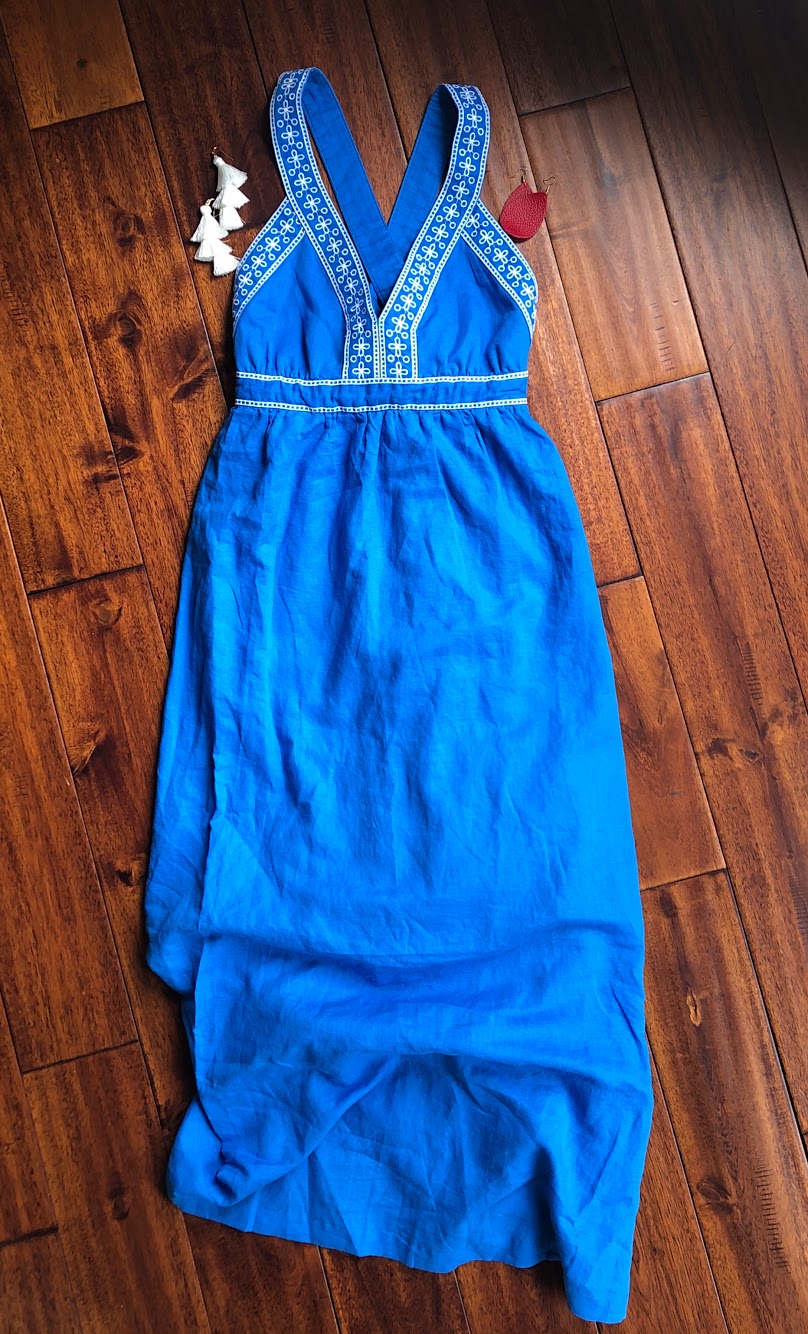 This is the perfect dress for a summer wedding or a backyard 4th of July event.  It is maxi dress length.  The back has criss-cross straps that have buttons so you can adjust the length.  Because the back is open, you cannot wear a bra unless it is a sticky bra, but the material is thick enough and there is some darting, so you could go braless.  The embroidered detail at the top of the dress is beautiful!
**I ordered an XS in this dress, so go down one size.
I hope these festive outfits have given you some red, white and blue style inspiration to add some spark to your 4th!
What are some of your favorite patriotic pieces in your closet?
-Callie