30 Firm is a realistic mental and physical challenge for 30 days! Check out all of the details below then grab a friend or two and take the challenge today!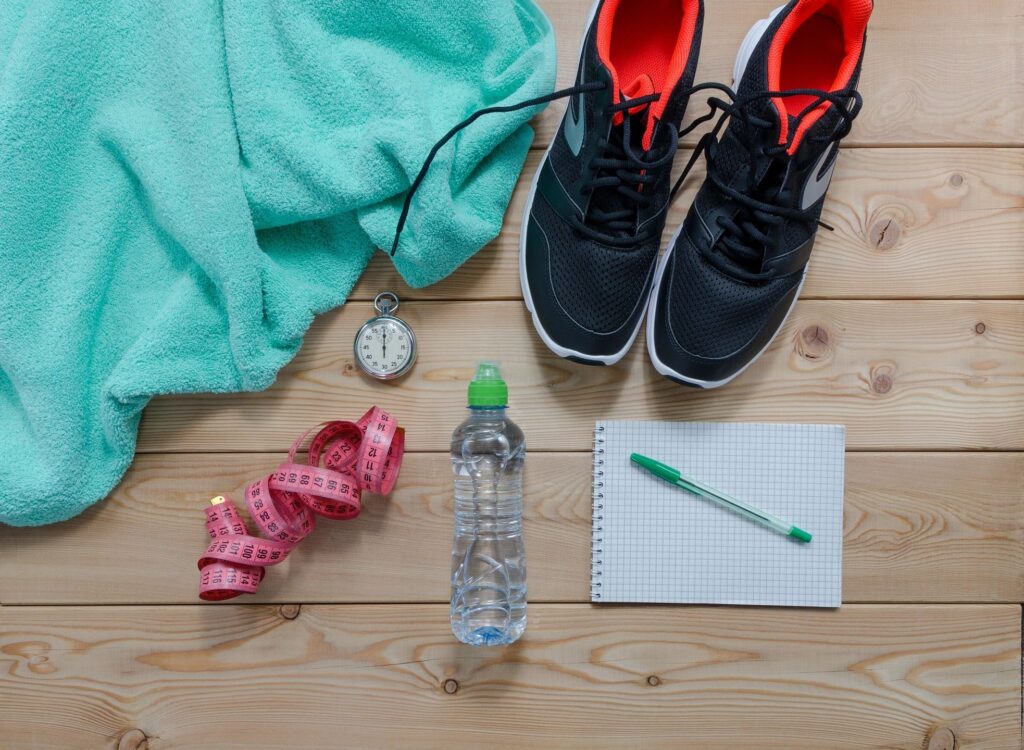 A few months ago my friend shared that she was starting the 75 Hard. Have you ever heard of this extreme challenge? Check out the details below.
75 HARD
Everyday for 75 days you must:

Complete 2 45 minute workouts (1 workout must be done outdoors)
Follow a diet (No cheat days)
Drink 1 gallon of water
No Alcohol
Take a 5 minute cold shower
Read 10 pages of a nonfiction book
Take a progress photo
(Note: I'm not an expert on all the details of the 75 Hard. You can find more out about it online.)
The 75 Hard isn't for me.
I was amazed that my friend was able to stick to the strict plan and am totally in awe that she ultimately completed the program. She's amazing and her mental toughness is enviable. Ever since she told our group of friends that she was doing the challenge, it has been on my mind. BUT, I know the 75 Hard isn't for me. Too strict, too long, too time consuming, too…hard.
However, I have felt super compelled to do something. Especially with the fresh start of a new year here. I talked to my husband and got him to agree to join me in a challenge. But what challenge?! We sat down one night and discussed how we might take some of the main concepts of the extreme program and develop a better suited challenge for us. We wanted something that would push us mentally and physically, but goals that we could actually accomplish! Check out the program we developed below!
And so, the 30 Firm was born!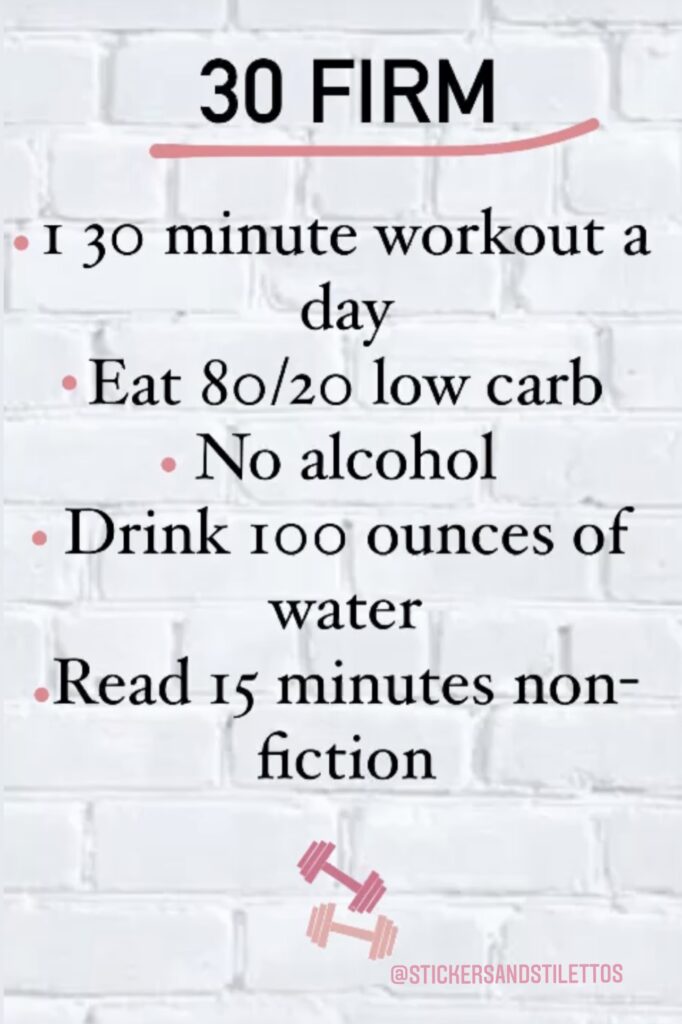 30 Firm
Complete 1 30 minute workout
Eat 80/20 low carb
No alcohol
Drink 100 ounces of water
Read 15 minutes of a nonfiction book
So how does it work? Just do the bullets listed above everyday for 30 days! That is it! I am so excited to get started and feel better along the way.
A breakdown of the 30 Firm:
Complete 1 30 minute workout

Exercise for at least 30 minutes everyday. The intensity of this workout should be done at the current level (or above) of which you normally work out.
Are you not currently working out? Start with walking. Anything is better than nothing!
It does not matter if this workout is done indoors or outside. Just do it!
Eat 80/20 low carb

We will follow a low carb diet for our 30 days, 80% of the time. The other 20% (4 of 21 meals in a week) we will have the option of eating meals that include healthy carbs (i.e. sweet potatoes, brown rice, whole grain buns, etc)
Our low carb diet will lean towards "clean" low carb which means we will try to focus on proteins and veggies but will also include dairy in moderation.
This is the part of the challenge that you can customize. Do you feel like low carb isn't your thing? That's totally fine! But you must set a diet plan at the start of the 30 days and follow it. You could instead try counting calories, following the Whole30, limiting sugars, etc. If you are looking for a great app for logging food, try My Fitness Pal.
No alcohol

Absolutely no exceptions here.
Drink 100 ounces of water

I have a water bottle that holds 25 ounces which I plan on refilling throughout the day to reach the 100 ounce goal. Perhaps having multiple water bottles already filled and in the fridge totaling the goal amount at the start of the day will be the way to go for you.
Tip: Drinking 20-25 ounces of water before your morning coffee will help you reach this goal!
Read 15 minutes of a nonfiction book

Try to choose a book from which you can learn something.
The goal here is to devote 15 minutes to being fully focused on and engaged with the material you are reading. Therefore, you must read a physical book. Using an audiobook for your nonfiction is NOT allowed.
You can absolutely read or listen to other books in addition to the physical, nonfiction book. I would never discourage extra reading!
That's the plan! 30 days start to finish! I strongly encourage you to take the challenge with your spouse, friend, coworker, etc. Accountability will take you far here. I have a group of 16 women signed up to take the challenge starting Monday, January 4th. Message me on Instagram @stickersandstilettos if you want to join in!
Here's to a happier and healthier 30 days!
-Brittany
Disclaimer: This program is just for fun. Consult a physician before starting any new workout or dietary program.
Looking for more challenges? Try taking our Book-A-Month Reading Challenge.