You cannot go wrong with gifting a nice bottle of wine for the holidays. Step up your gift-giving game by decorating your bottles in one of these 12 easy, festive ways!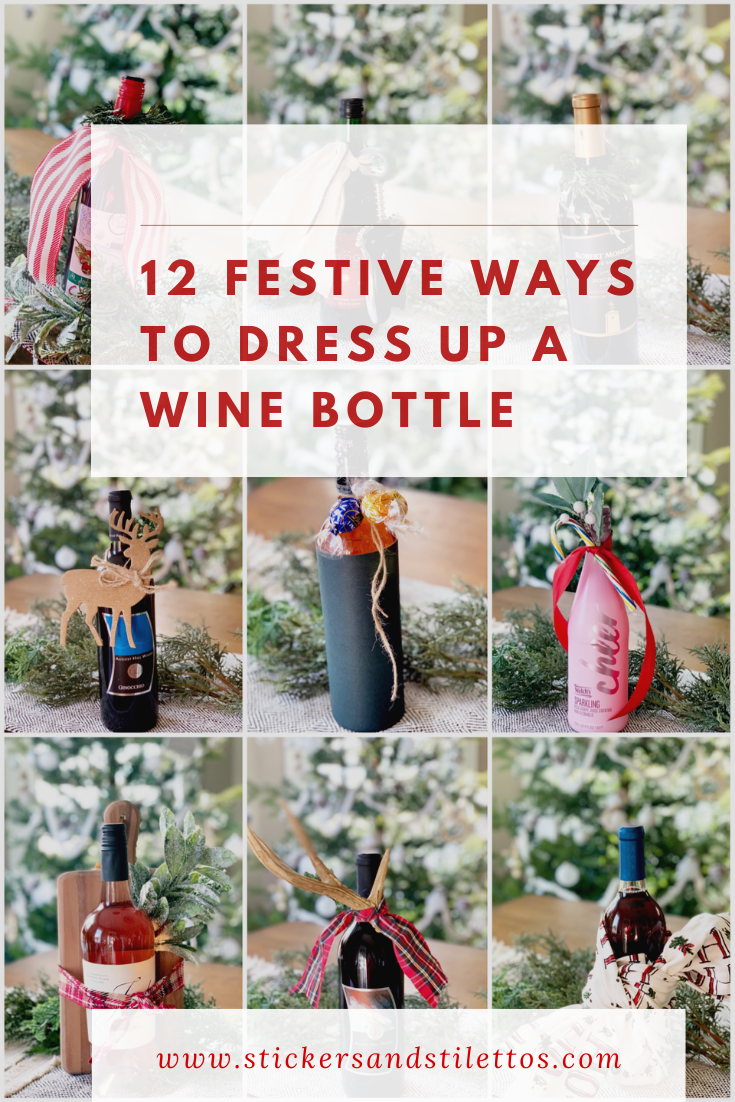 ? On the first day of Christmas, my true love gave to me ….. ? a bottle of wine all decorated beautifully. ? Please tell me that you just sang that. And if you did, I hope you sang it like "beau-ti-ful-ly." It's the little things that make me smile. And no, I have not opened up any of this wine …. yet!?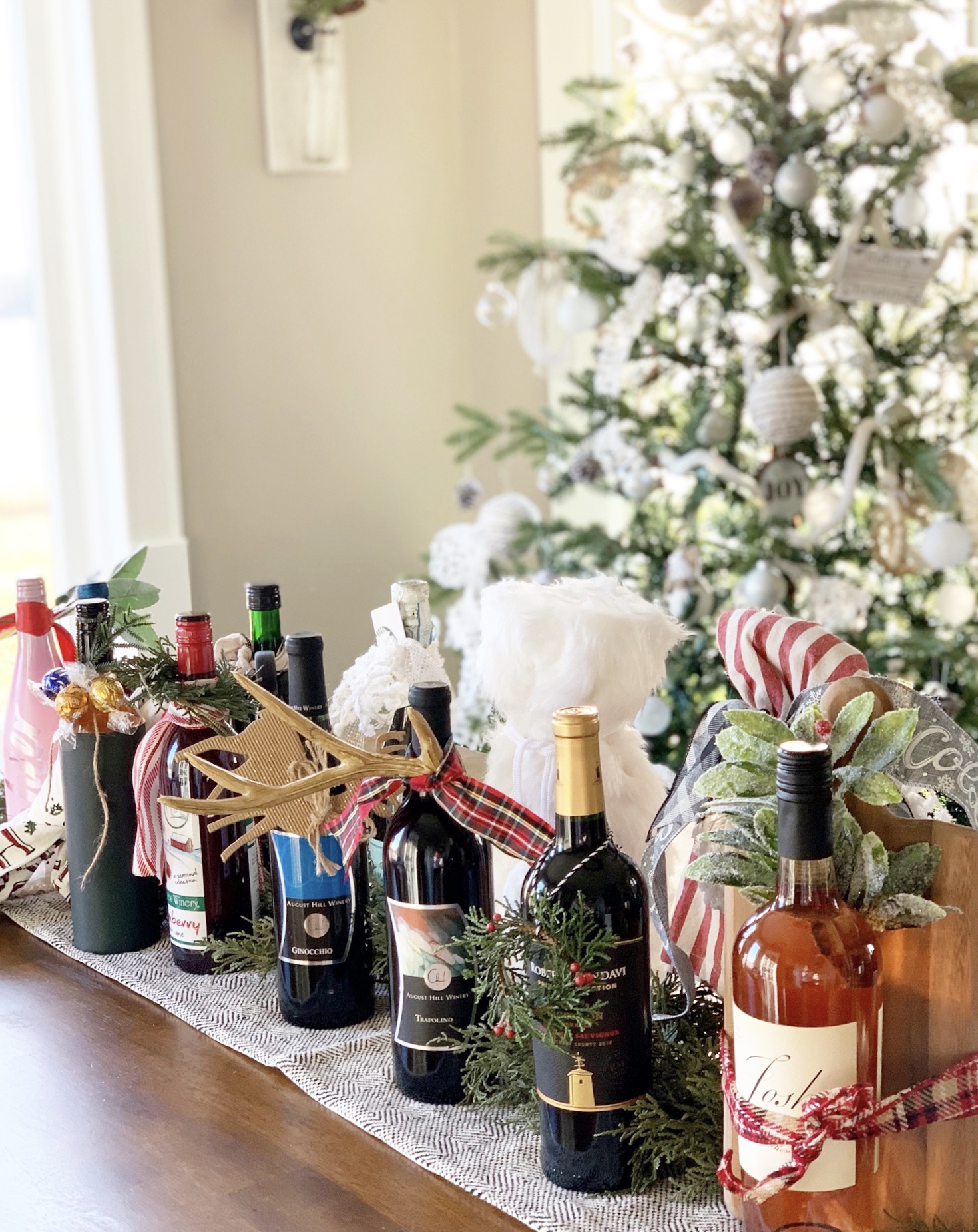 We all have that one person on our list that is hard to buy for. A bottle of wine wrapped beautifully makes the perfect gift for anyone. A simple added festive touch can take an ordinary bottle of wine and make it special.
I have come up with 12 quick and festive ways to decorate your wine bottle.
*** All of these ideas work for any bottle. If you know your friend is not a wine drinker, gift a bottle of Bailey's, Rumchata, Rum, Vodka, or even a tin of hot chocolate.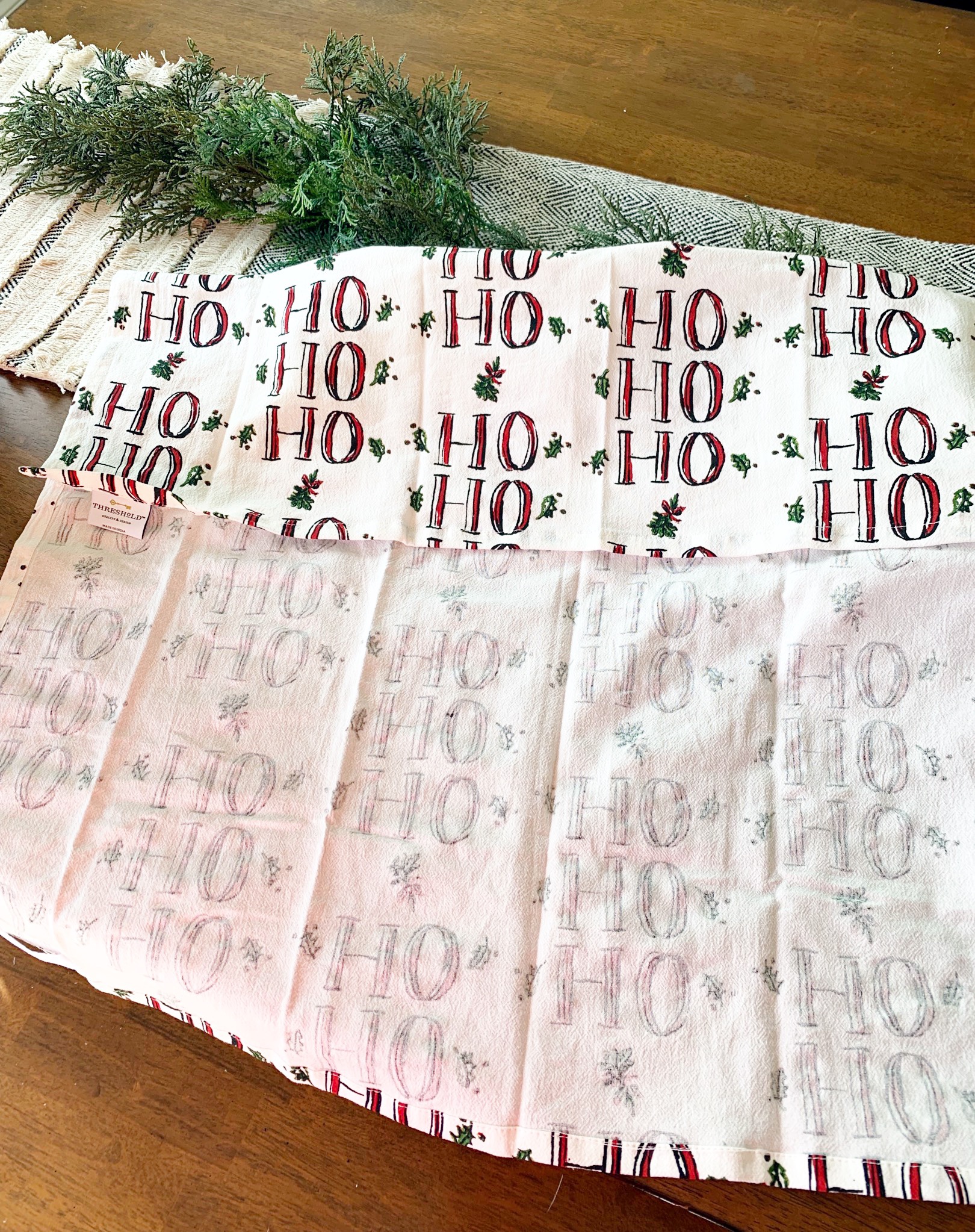 A simple way to dress up a wine bottle is to wrap it in a festive holiday tea towel. Begin by laying the towel out, then folding the top down about a third of the way.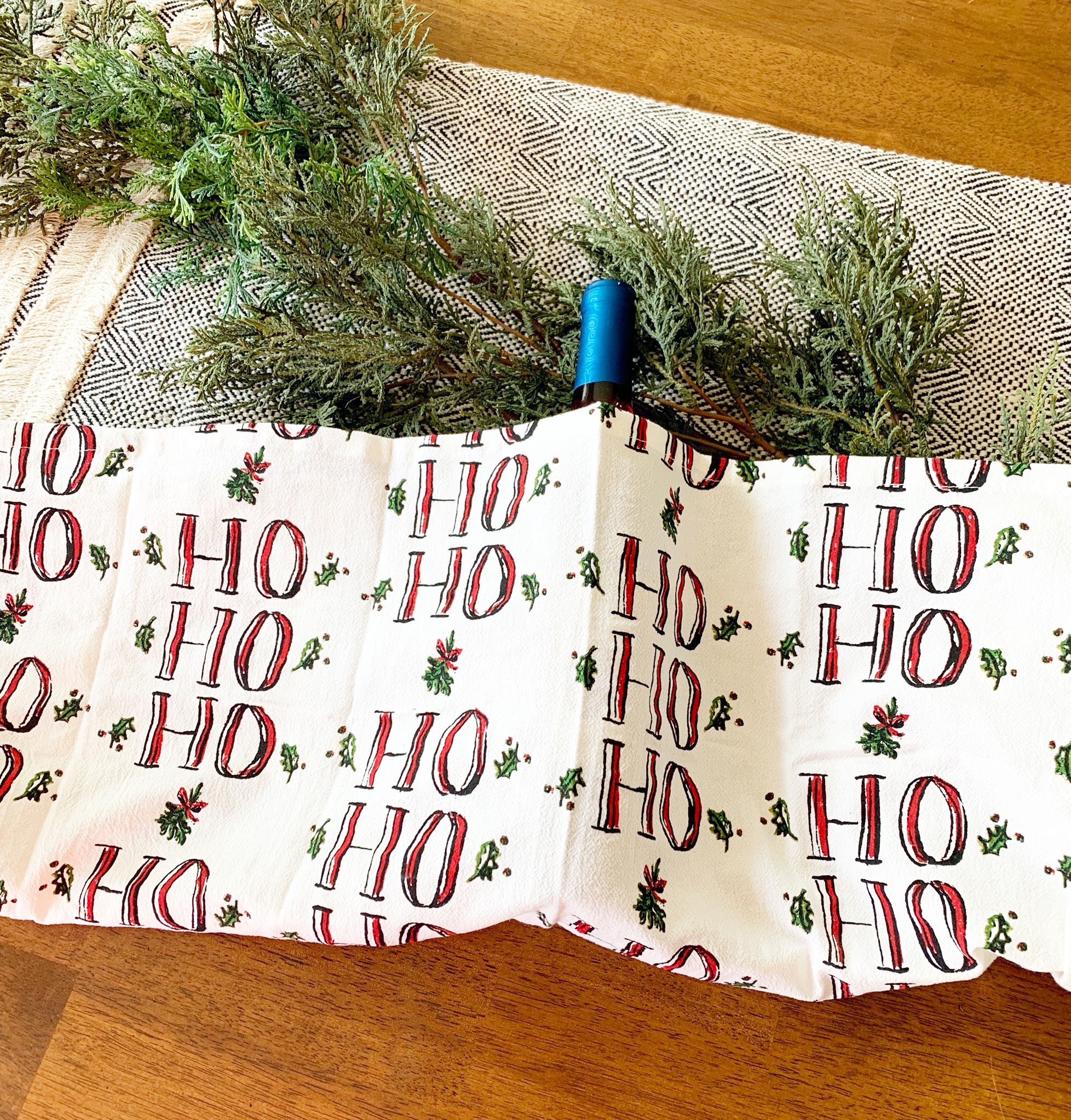 Set the wine bottle on the folded tea towel, then bring up the bottom of the towel to cover the bottle as shown in the picture.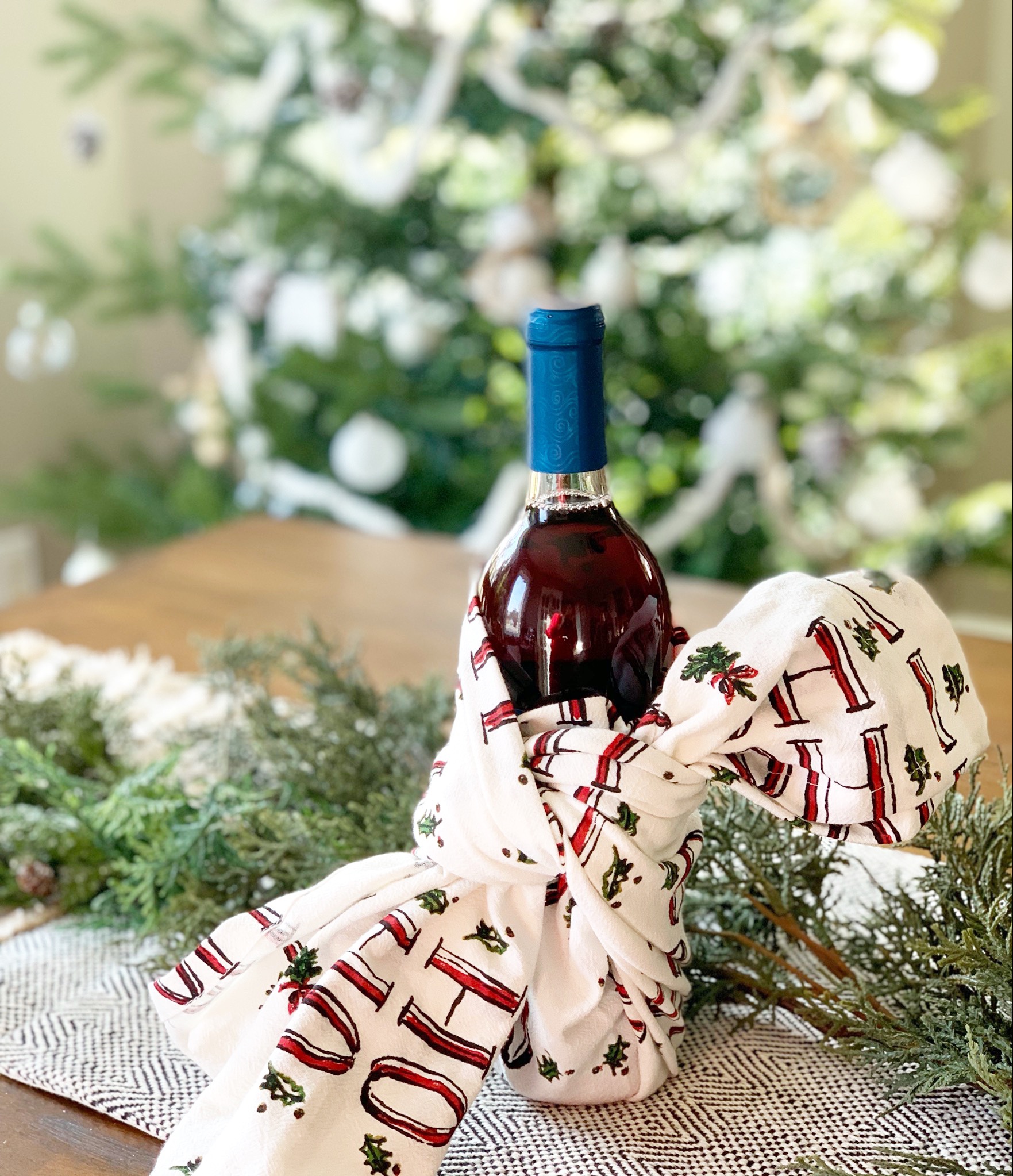 Then simply tie the towel around the bottle. You could add a small festive bottle opener in the towel or stick a piece of greenery in it to dress it up a bit more.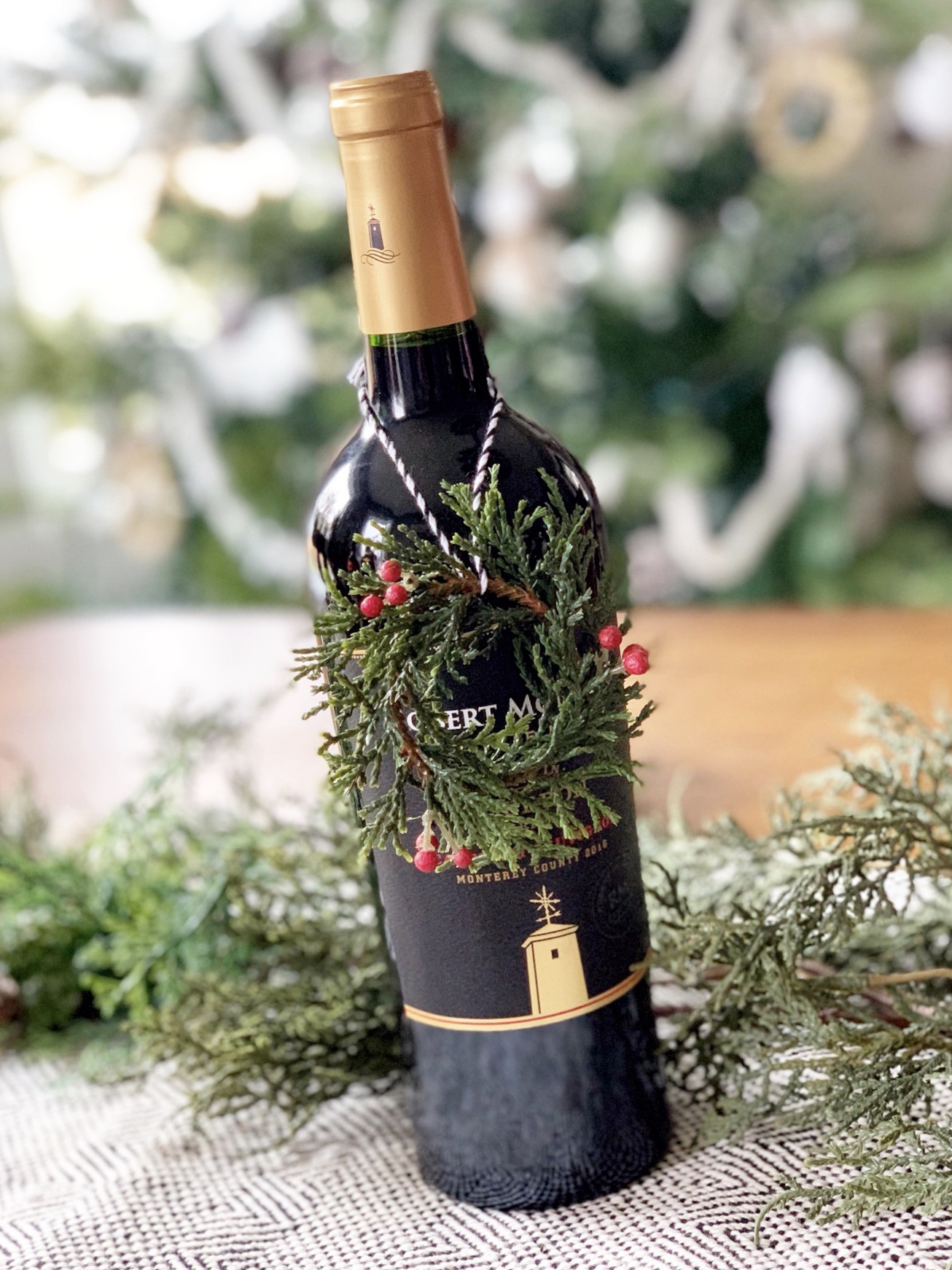 I bought a gift topper set from Target, and used one of the little wreaths with some of the string that also came in the kit. This literally took 30 seconds and is so cute! Check out this set of winterberry wreath toppers to add more festive color. So cute!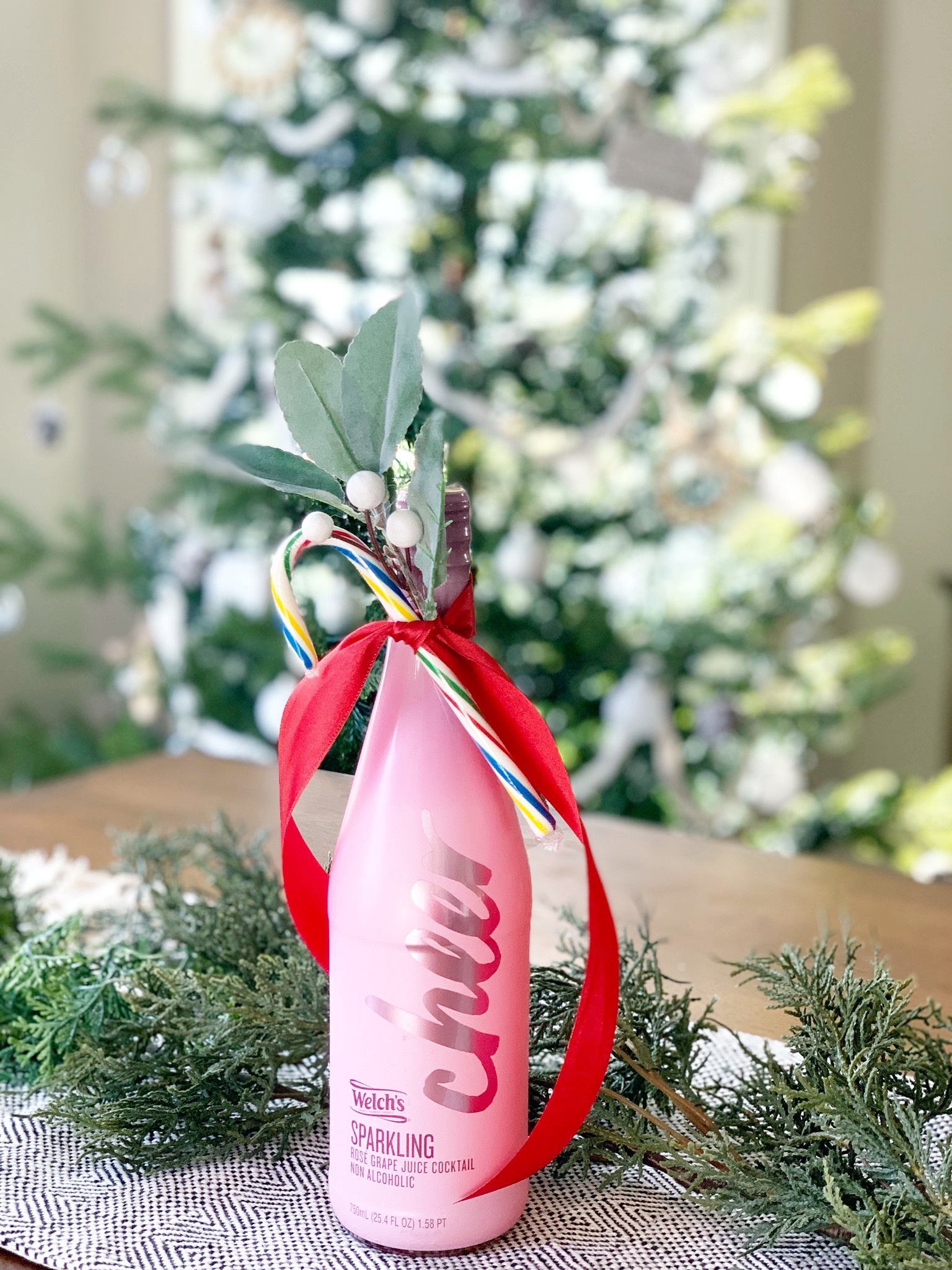 Don't forget about the kids!! Welch's has the prettiest bottles of sparkling juice for the holiday season. It does not require much dressing up because it is pretty all by itself. I added a simple sprig of greenery and a candy cane, wrapped with a piece of simple red ribbon.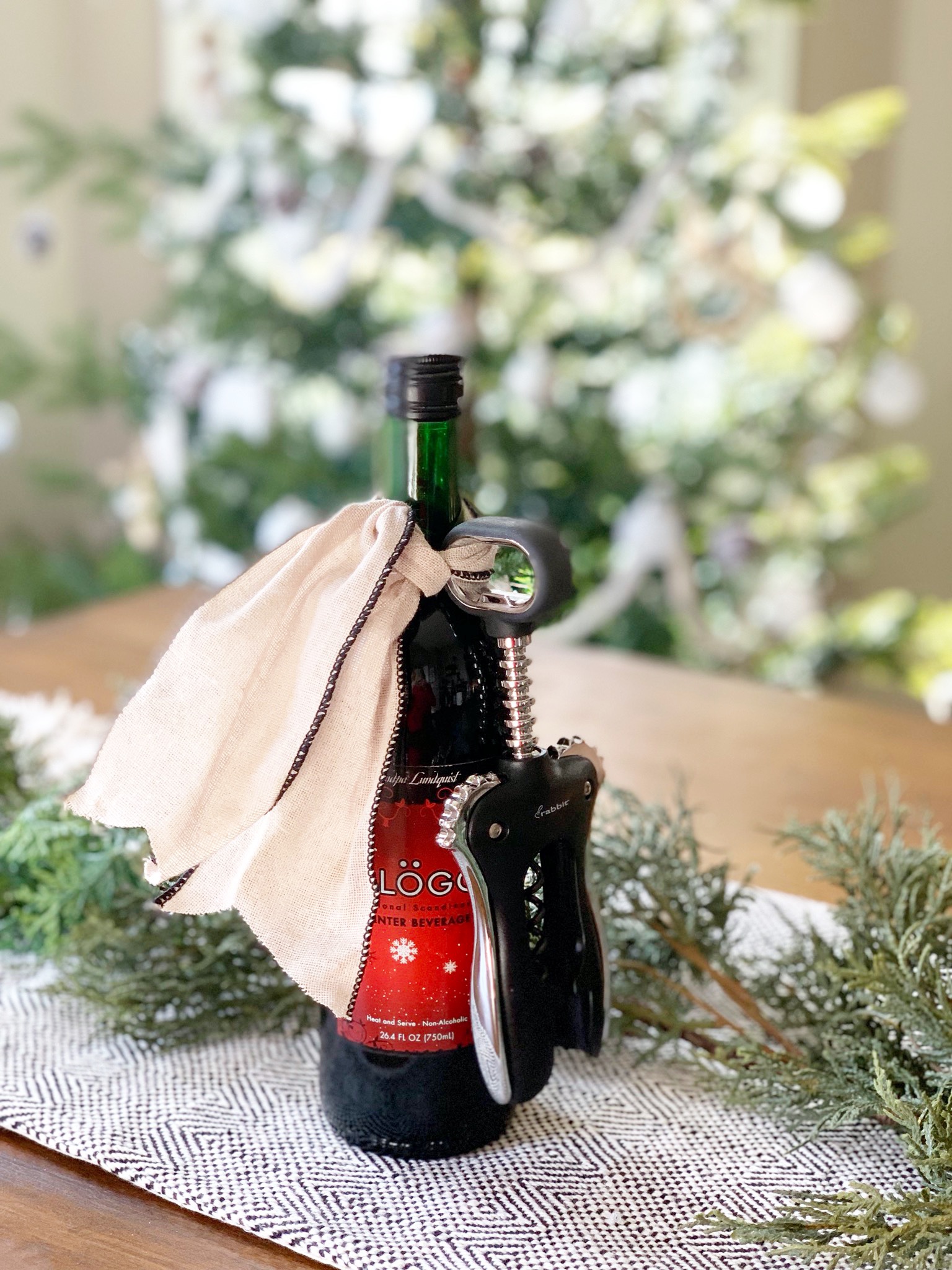 Tying a wine bottle opener around the bottle is the perfect way to gift a bottle of wine. Tie it around the bottle with any ribbon of your choice. I always cut the ribbon ends on a V angle to give it a little fancier look.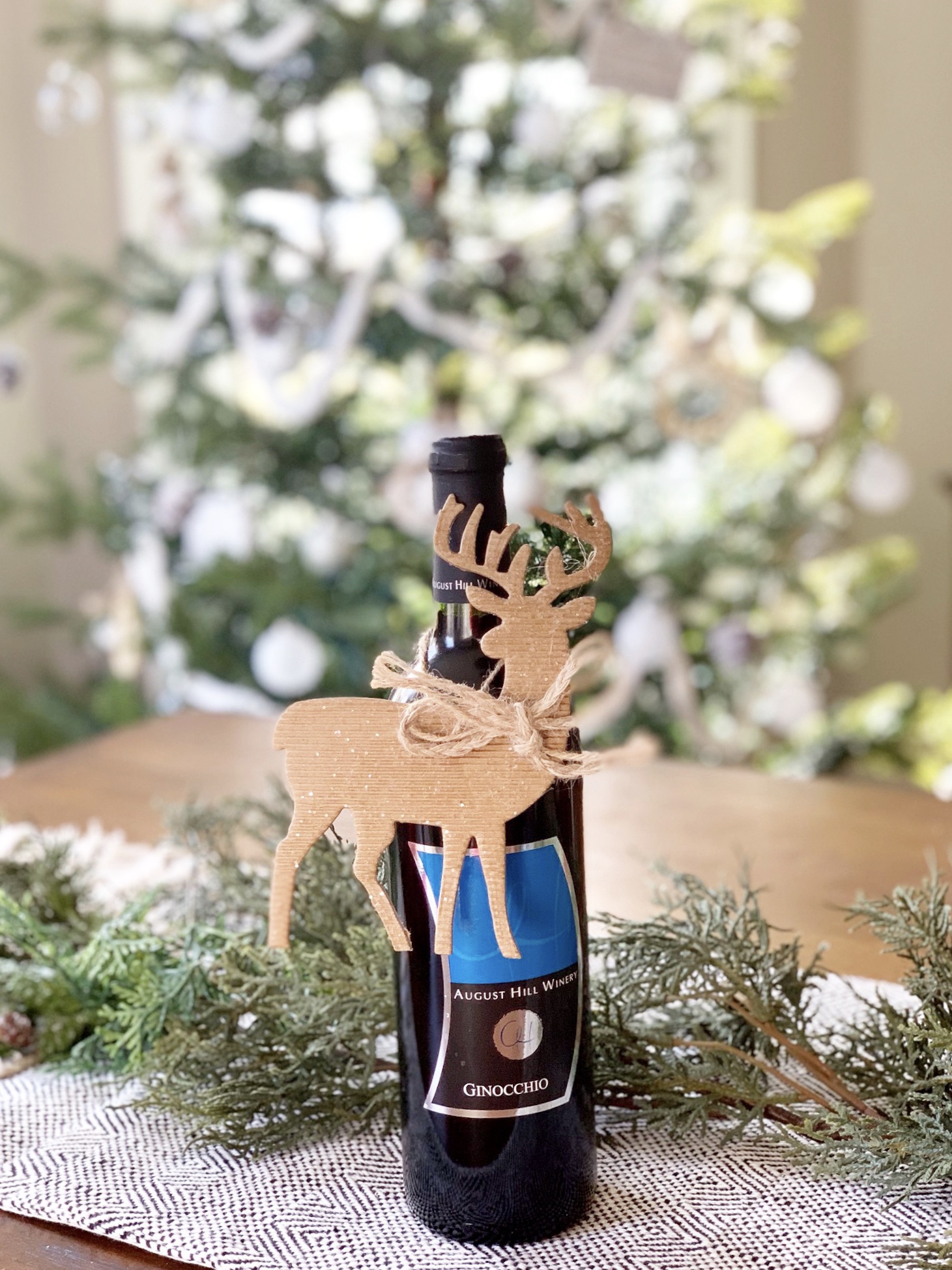 Simply put any ornament around the wine bottle. Understated and so pretty!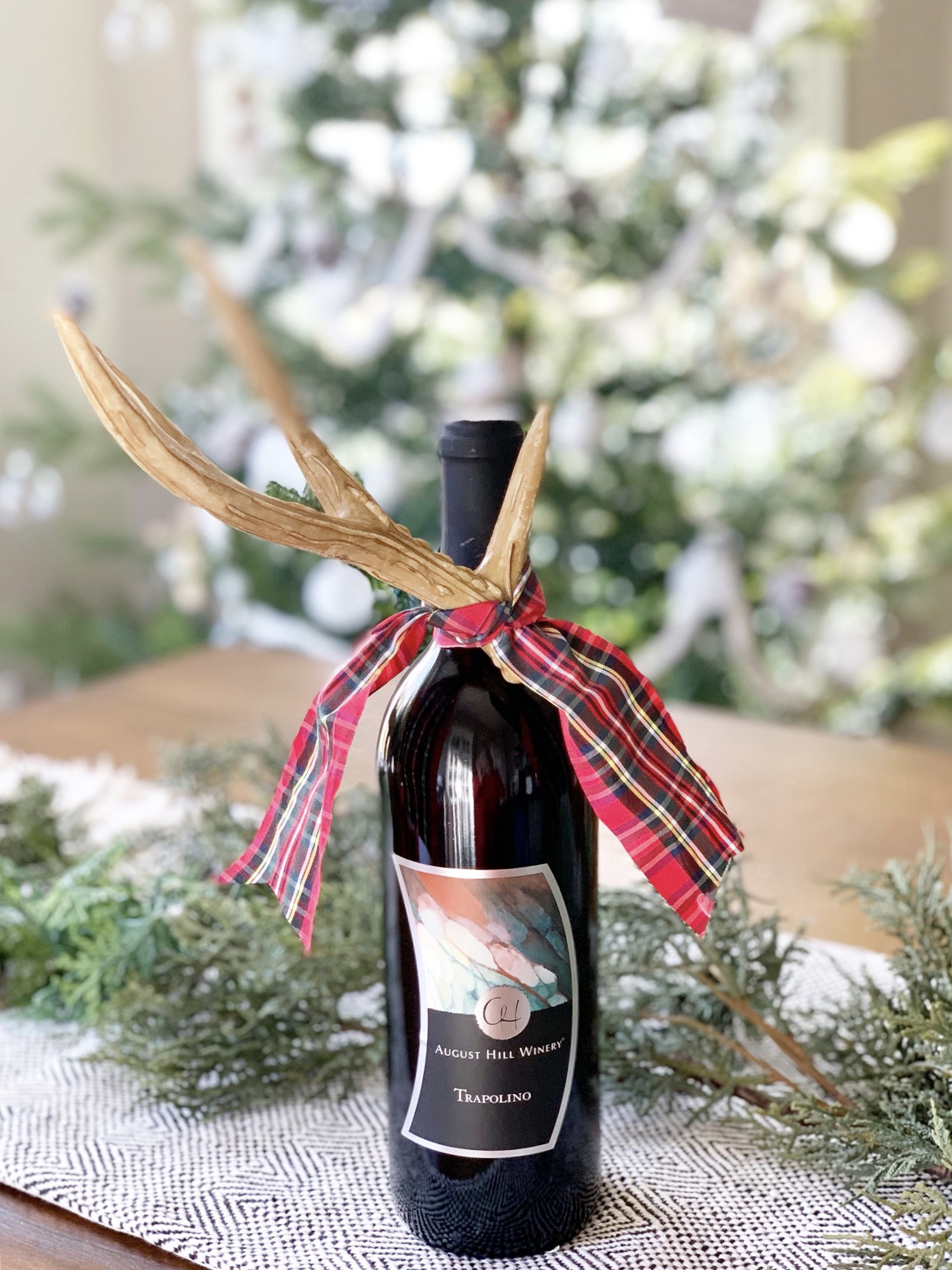 Tie a faux antler around the bottle with a pretty plaid ribbon. You can find these antlers in any craft section. I found this at Hobby Lobby, and simply pulled the wire out of it that the antler was on.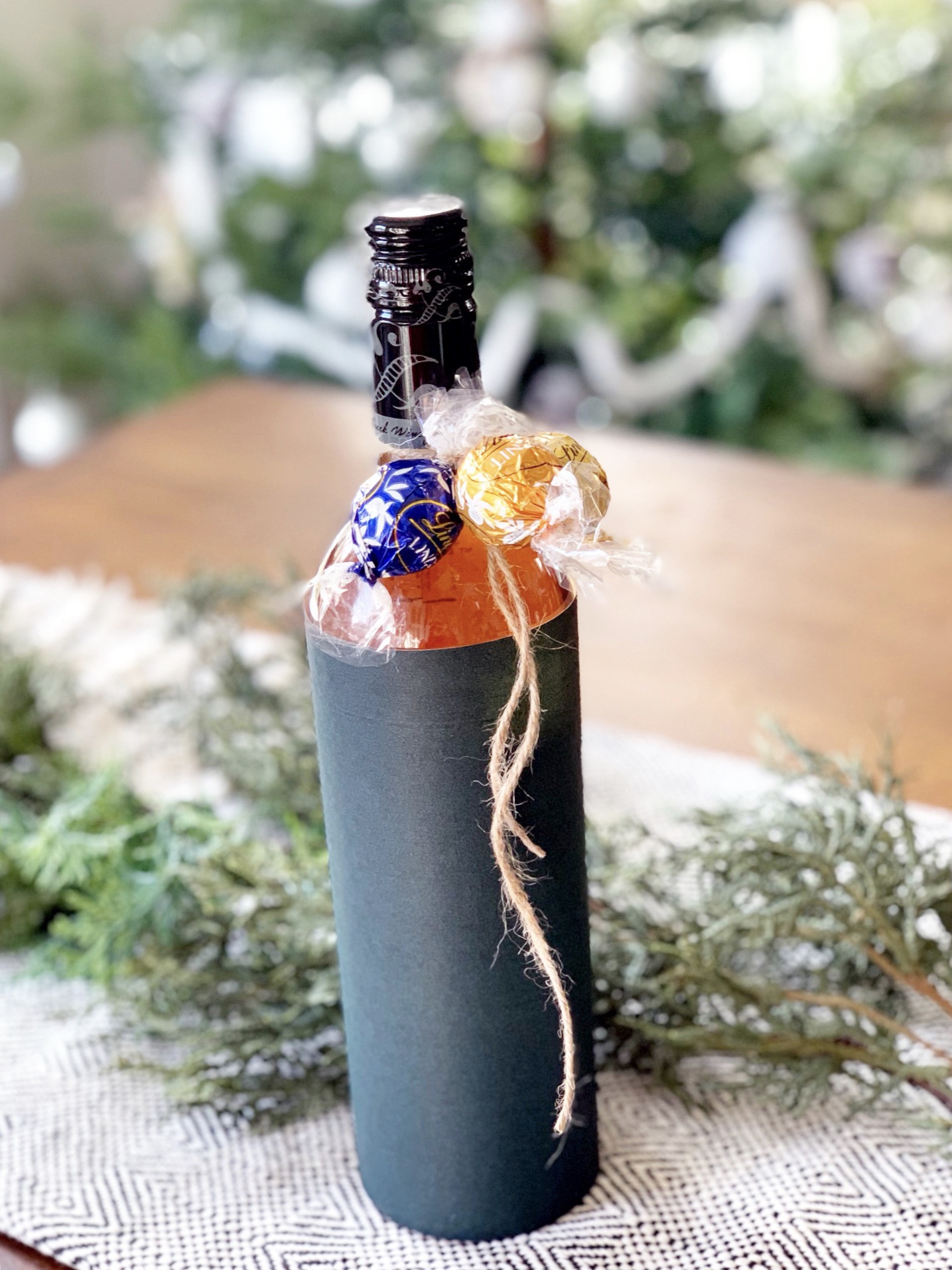 Wrap the wine bottle in some wrapping paper. Plaid, striped, festive, plain, or even brown craft paper, all would be so pretty! I added a few chocolates and tied them with bakers twine for a little added extra.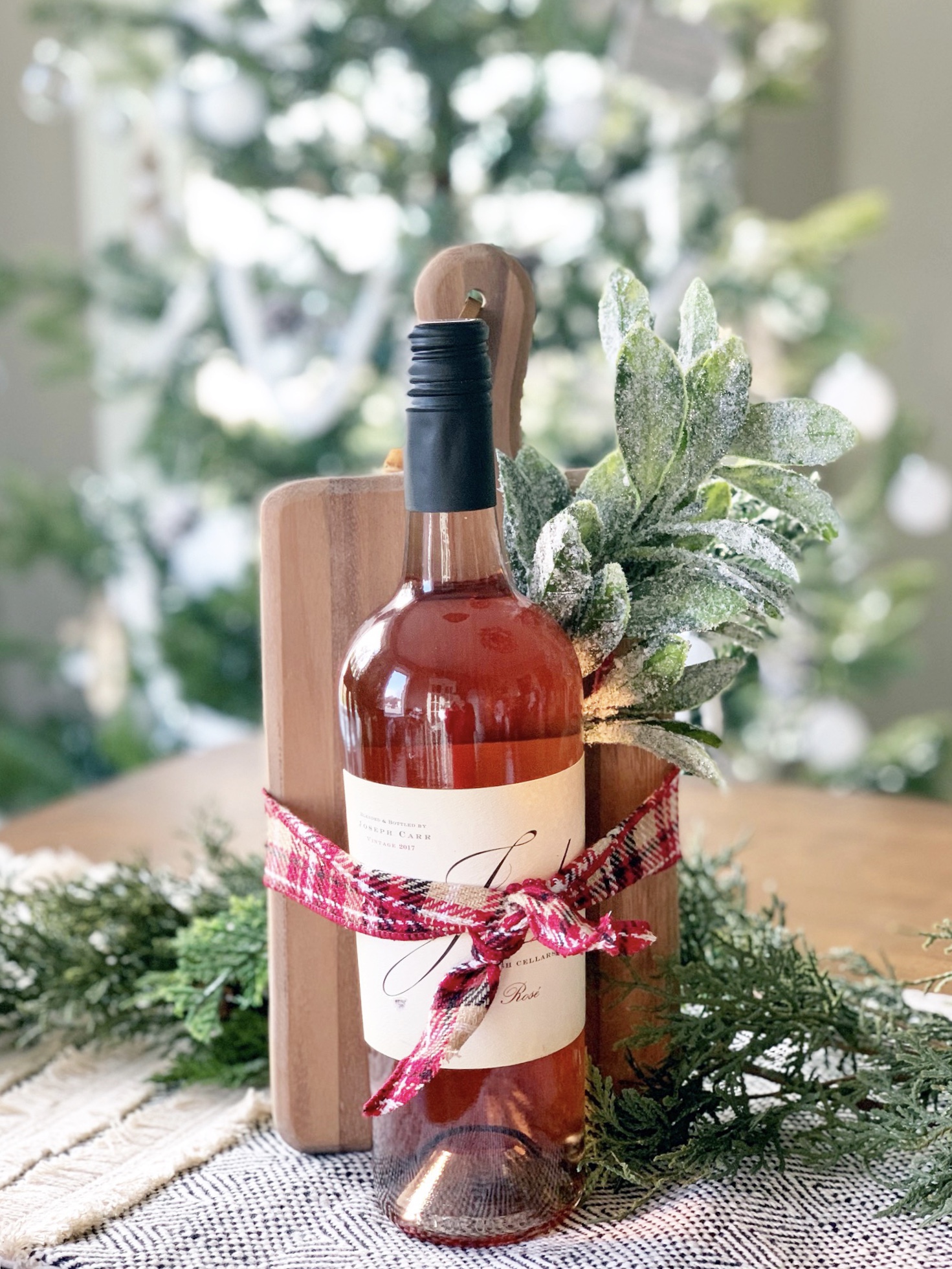 Tie a small cutting board to the wine bottle with a ribbon. Add in a festive holiday sprig of frosted greenery and you have a beautiful gift.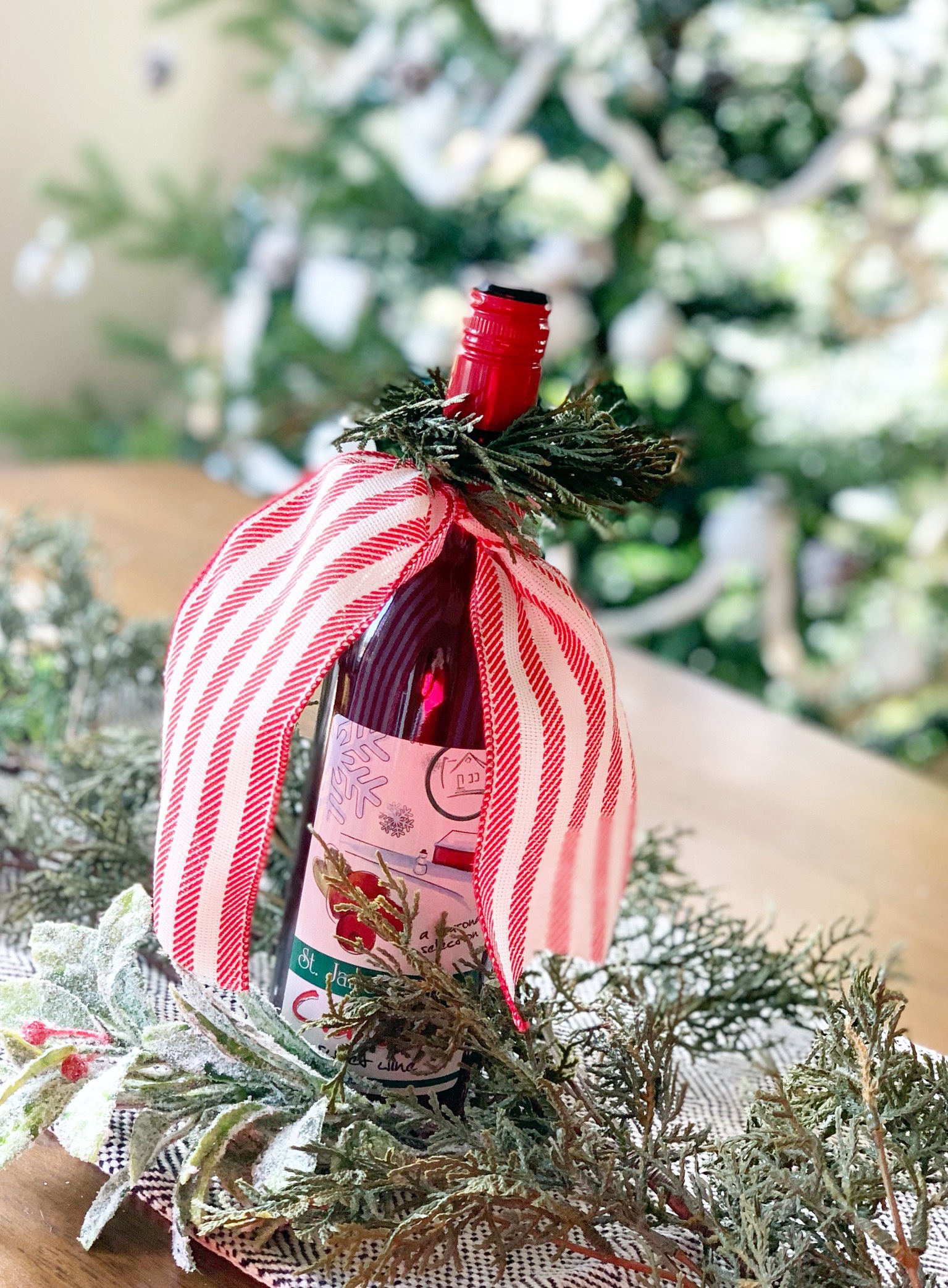 Tie a pretty ribbon around the bottle, then add some greenery. I used one of the gift toppers and just set it over the wine bottle.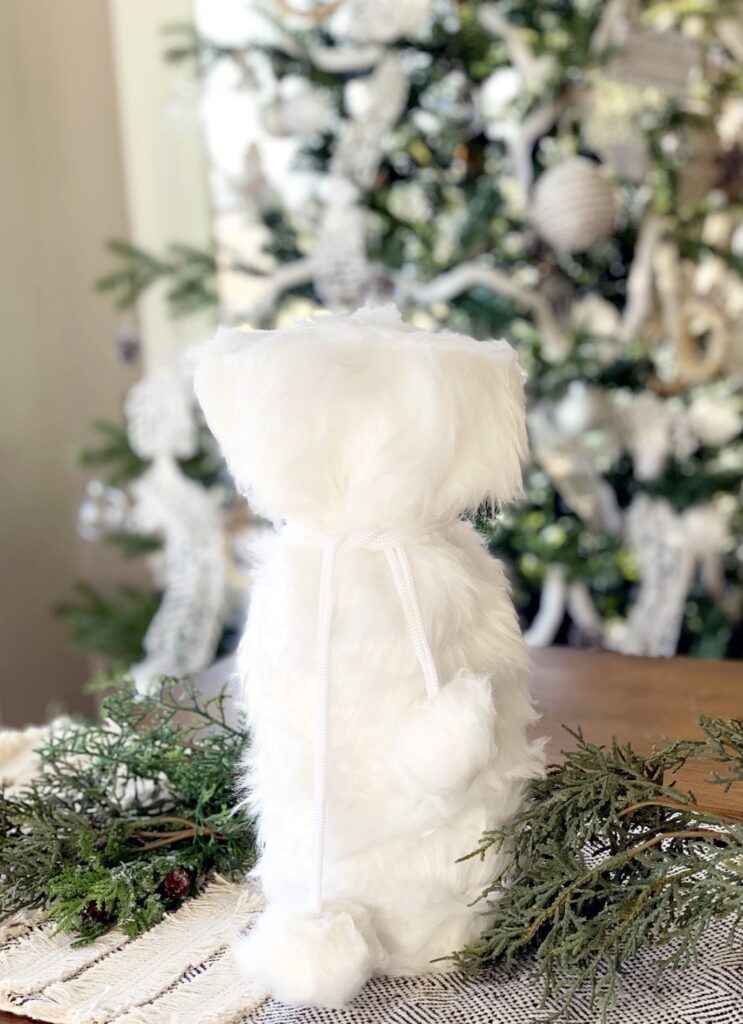 A wine bag is a quick and easy way to dress up a bottle of wine. Consider using a faux fur one that is perfect for the holidays.
Tie a gift card to the bottle for a quick and easy gift that is sure to be a hit.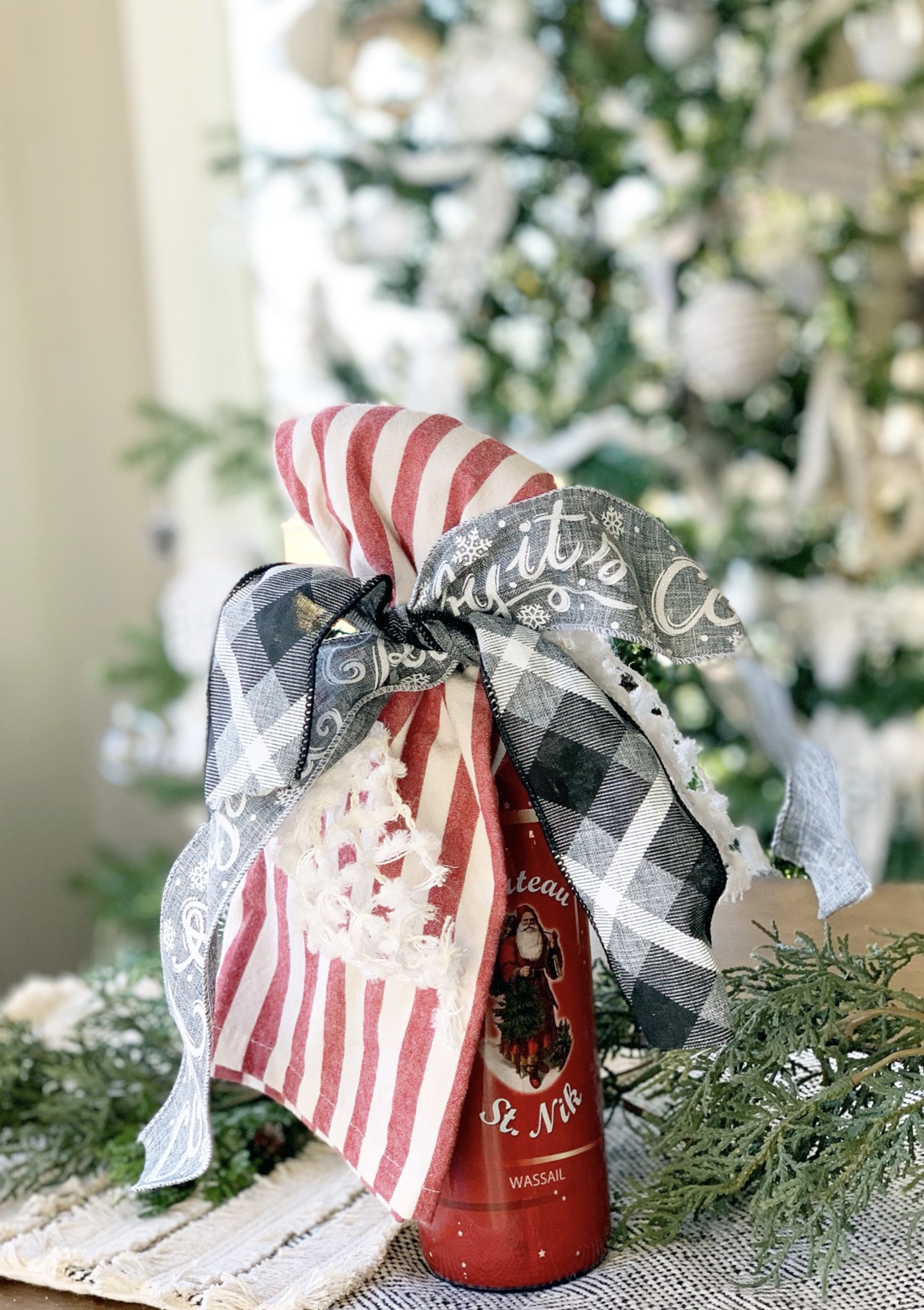 Using pretty wire ribbons, simply tie a holiday tea towel to the bottle.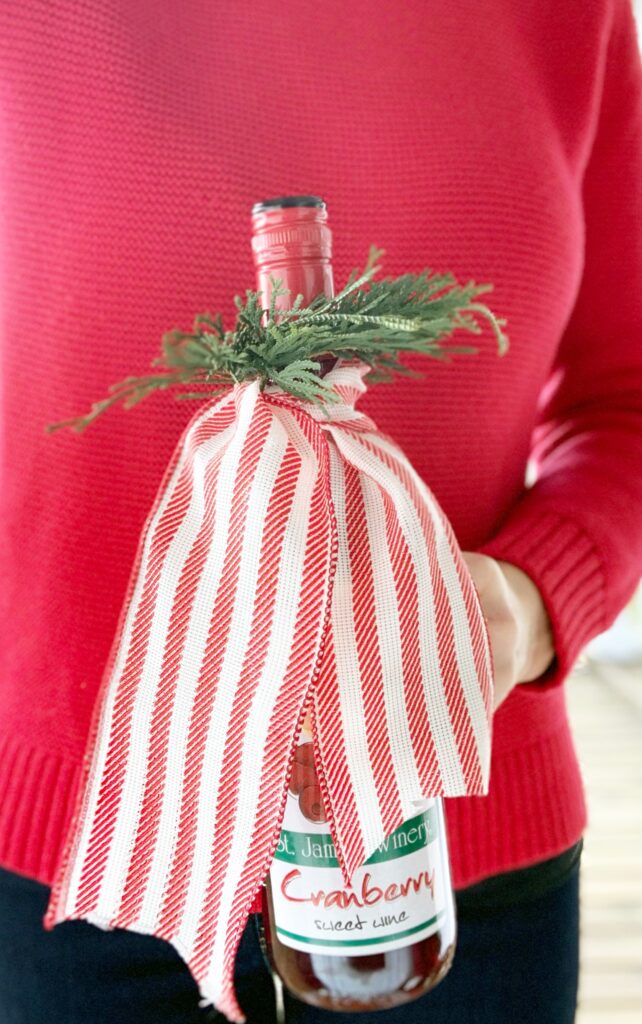 Cheers to a holiday season surrounded by those you love. ? And wine. Always.need.wine!?
?Callie
Disclosure: This site may contain affiliate links for products and services that we recommend. If you make a purchase through these links, we may earn a small commission at no additional cost to you.